Who Are Ya? Oh yes, Hartpury.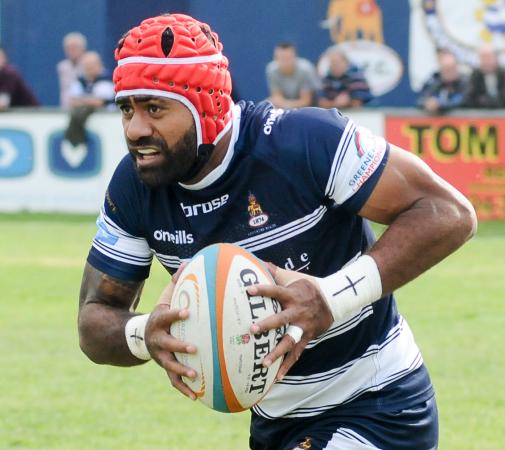 Flying Winger Alert
By AdminBTCov
February 9 2019
If Premiership players can't do it, who can?
Hartpury came to the Butts today, somewhat cynically loaded with nine Premiership squad players from Bristol, Gloucester, and Worcester, and, it has to be said, at times looked like the settled team of the two on the claggy old Butts pitch. Virtuoso performances from full-back and scrum-half threatened to unpick the Cov defence time and again, and a solid pack showing didn't exactly hold them back.
In contrast, for probably the first threequarters of the game, Cov looked disjointed, and were probably fortunate to get the better of the early exchanges - points-wise - and go in 7-3 to the good at half time, through a well-worked 13th minute try finished off by Rob Knox, and a superb touchline conversion by Will Maisey in the swirling wind.
That though was about it for the Blue & Whites, who seemed to lack a certain spark in almost every facet of their game. Hartpury's sole penalty goal on 35 minutes was probably scant reward for their efforts, but it must be said that few chances went either way with play concentrated between the two 22s.
It didn't improve any in the early exchanges of the second half, with the visitors executing a series of accurate pick & goes resulting in a converted try on 55 minutes to take it to 7-10, with Cov and their supporters looking somewhat dejected.
Cov did respond, however, with a long range Maisey (who kicked superbly all afternoon) penalty with the wind calming down somewhat as the half wore on. 10-10
This, and possibly a few tactical changes, seemed to gee the home side up, and during the final quarter they began to look like a side who knew how to play rugby, with some searing breaks from the back three, and generally a much stronger set-piece performance from the pack - even if the lineout remained unconvincing at times. I do wonder how Messrs Deacon and Stankovich approached their post match interviews.
A try on the end of a thing-of-beauty maul from the 22 for sponsors Man of the Match Scott Russell put Cov ahead by 17-10 following another Maisey conversion, and suddenly things looked slightlier rosier, and a sense of belief seemed to take the place of the earlier jitters. This was the Cov Dog baring its teeth once again, and it felt good.
And then, following an excellent move, Junior Bulumakau was released on the right wing to finish with a trademark dive, and with the conversion and full-time looming, Cov suddenly looked totally in charge at 24-10.
But... we all know how it works by now, and Hartpury once again found themselves in a position to drive it over, pickup by pickup, under the sticks. All just too late though, with Mr Doyle pointing to the changing rooms following the successful conversion, which made the final score 24-17 to Coventry.
A 4-1 win then. Enough to secure Coventry their place in the league? Who knows, but it seems likely. Satisfyingly, they now draw level with Nottingham in the Championship, but with Nottingham having a superior points difference. That fact alone makes it feel like we are once again looking up the table rather than down, and I'll take that. I'll leave the usual statisticians to fill us in on the facts and comparisons with previous seasons, but it has to be said that it's looking fairly rosy, all things considered.
Hartpury, however, are still not in a happy position. A bonus point may have helped them close the gap slightly on Richmond, but they needed a win to give them a clear view of the survival lane. And with Scottish gaining an excellent win in Jersey, and Leeds on a roll, it's increasingly looking like a fight to the death between the current basement two.
Cynical ploys aside, I know who I will be rooting for as the drama unfolds, and they don't play in Gloucestershire.
Coventry Scorers:
Tries: Knox, Russell, J. Bulumakau
Conversions: Maisey (3)
Penalty: Maisey
Coventry Unofficial Man of the Match: George Oram. Strength of a bull, carried like a Pickfords lowloader.
Attendance: 2098
Official Coventry Rugby Match Report: HERE
Official Coventry Rugby, Deacs' Take: HERE
Official Coventry Rugby, Junior's Take: HERE