Irish, Aye - Cov Not Smiling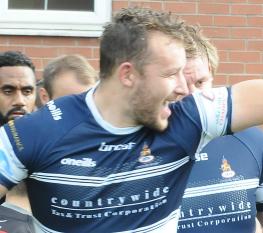 By AdminBTCov
February 17 2019
It was an unhappy return to the Madejski stadium just a couple of weeks after Cov's (closer) defeat in the Championship Cup.
The run-up to the game proved difficult, to say the least, with George Oram and Scott Russell - both so influential just seven days earlier - ruled out by a sickness bug, and the pack suffered further prior to the kick-off. First Phil Boulton was struck down by the same condition, and then fellow prop Josh McNulty pulled up during pre-match, leaving plans in tatters.
Down to the bare bones at prop, it was to be a tough day for the last men standing, with Donald Brighouse being forced to play the full 80 minutes, and options elsewhere also reduced meaning that both starting locks, Voss and Jubb, also completed the game. Not what Messrs Walshe & Co would have wished for.
Cov, though, were always game, seeing plenty of the ball at times, and may well have come away with a bonus point with a little more luck, scoring three second-half tries.
Tougher opposition in this league doesn't come up often, with only free-spending Ealing in touch and with any kind of hope of overhauling Irish - and that is looking like it will need something of a miracle.
More Championship lessons learned then, which will hopefully provide a few pointers when coming up against the aforementioned challengers in a few weeks time at the Butts Park Arena.
Meanwhile, a welcome break follows, giving a little time for healing in readiness for the next challenge of a home tie against relegation scrappers Richmond.
Surely nobody will be taking that one lightly?
Scoring Summary:
Irish try and conversion from Keatley in the opening couple of minutes (LI 7-0 Cov)
Cov pull three points back with a penalty from Dan Lewis on 26 minutes (LI 7-3 Cov)
Irish try from the maul on 31 minutes. Converted. (LI 14-3 Cov).
Tom Jubb Yellow carded on 37 minutes for not retreating at a penalty.
Irish try from David Porecki on 38 minutes. Conversion missed by Atkins (LI 19-3 Cov)
Last-ditch defence sees Irish held up on the line with the last play of the half.
HT LI 19-3 Cov
Hassell-Collins gets the Exiles' bonus try on 47 minutes. Conversion missed (LI 24-3 Cov).
Gerard Ellis replaces James Gibbons on 50 minutes.
Albert Tuisue goes over on 52 minutes for the fifth Irish try. Converted by Atkins. (LI 31-3 Cov)
TJ Ioane leaves the field on 57 minutes for a 10 minute break following an early tackle on Kessell.
Jubb goes over on 59 minutes, and Lewis converts for 31-10
31-17 Tolmie try, Lewis conversion on 61 minutes
Makaafi replaces Ben Adams on 65 minutes
38-17. Hassell-Collins goes over again, on 65 minutes. Conversion good. (LI 38-17 Cov)
45-17 to the hosts after 75 minutes (Macken/Atkins)
Macken scores for Irish, with Atkins again converting, on 75 minutes (LI 45-17 Cov)
Pete White pulls another back on 77 minutes. Conversion missed (LI 45-22 Cov).
Ojo with the final try of the day on 80 minutes, converted by Atkins, (LI 52-22 Cov)
FT London Irish 52-22 Coventry.
Overall - 8 tries to 3
Pics: Nick Meredith
Official Coventry Rugby Match Report: HERE
Official Coventry Rugby, Rowland's Take: HERE
Official Coventry Rugby, Heath Stevens' Take: HERE