England & Twickenham Tales III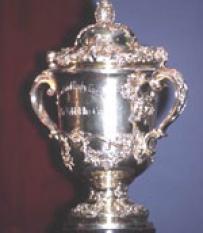 By Dave & Dan 11/3/05
March 11 2005
Dave and Dan went to OZ for the RWC, armed with rugby balls and pens hoping to get autographs of the England players as the days passed by they had little luck and then
England & Twickenham Tales III - 2003 - by Dave
Just as we all dream of going to Twickenham, many fans followed their Rugby World Cup dream down under to Australia in 2003.
One of those fans was one of our posters, non other than Dave of (Dave & Dan) fame. Not only did Dave send us through some super photos of their time down under when he came home see below Dave with the painted Lady and Dave with son Dan but he also recounts this tale for us to enjoy.
Dave writes Kath your Twickenham Tale I, is so familiar to me.............
When we embarked on our mission to Oz, we took with us two miniature rugby balls and special pens so that we could obtain autographs. Dan and I lumped these around with us everywhere we went but we never ever managed to get near an England player!
Now on the morning of the England v Samoa match we were in Melbourne market and I was engrossed in buying a pressie for my wife (as you do), when Dan gave me a dig in the ribs.
Imagine my astonishment when I turned around to see the whole of the England squad walking passed, you can imagine can't you the scene we were stunned. However, we spoke to Lawrence and then followed the lads into the local park and watched them while they had a casual line out practice.
England Squad training in Melbourne Park - Dave's son Dan in the foreground - all photos copyright of Dave
When they finished, we went to get said rugby balls and pens, we could not believe it we had left them back at Dan's place and then we discovered we had only 10 shots left on the camera and the spare film??? - yes you guessed it, back at Dans!!
Franticly we managed to borrow a pen and got Jonno to sign the only piece of paper I had on me - A Melbourne tram ticket!
*******************
So do you have a tale to tell?
Yes, then please send it to me england.kath@gmail.com we would love to hear it! Just send me the brief tale and I will put the story together for you.