Great Britain 7s Students Success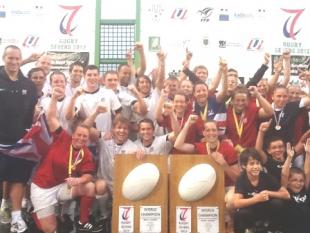 By Kath
July 18 2012
Great Britain completed a sevens double by taking both major titles at the World University Championships in Brive.
7s Double for Great Britain Students
at
World University Championships
The GB men's side – coached by England's Russell Earnshaw – beat South Africa 35-17
and the Women's team – under England's Susie Appleby – saw off hosts France 24-7.
The men's side had beaten South Africa 26-14 in the pool stages and duly turned on the style in the final.
Dan Bibby (Cardiff Metropolitan) touched down twice and kicked five conversions with Dante Mama, Joe Atkinson (both Loughborough) and Sam Edgerley (UCL) adding the other tries to allow captain Tom Mitchell (Oxford) to lift the trophy.
Earnshaw rated the win as one of the most satisfying in his coaching career and could see some of the squad setting their sights on being part of the senior GB side when the sevens code makes its Olympic debut in four years' time.
He said: "We talked at the start of the week about creating memories, having a great time and they've enjoyed every second. You don't get the chance to be a world champion very often and I think a few of this team could even go all the way to Rio in 2016.
"They did a fantastic job and Tom Mitchell led by example. His ability to get the best out of people around him was very positive. South Africa were an older side with more experienced individuals but we were an excellent team and scored some great tries."
England senior international Emily Scarratt (Leeds Metropolitan) lifted the women's title after scoring one of their four tries against France with the others from Sarah McKenna (Bedfordshire Univ), Sally Tuson (Cardiff Univ) and Scotland's Steph Johnston (Glasgow Univ).
"In the final we built up a lot of pressure, were patient when we didn't have the ball, then started to play to our potential," Appleby said.
"It's tricky coming together as a squad with limited preparation time but we grew together very quickly and I was so proud of the way they played."
RESULTS
GB Men: Pool matches: bt Malaysia 40-0, South Africa 26-14, Mexico 64-0, Italy 29-14; QF bt Romania 31-0; SF bt France 14-5; Final bt SA 35-17.
GB Women: Pool matches: bt Romania 27-0, Japan 31-5, Spain 24-0; QF bt Belgium 26-5; SF bt Italy 38-5; Final bt France 24-7.
Mens Great Britain Squad: Joseph Atkinson (Loughborough Univ), Christopher Banfield (Cardiff Metropolitan Univ), Daniel Bibby (Cardiff Metropolitan Univ), Samuel Cross (Cardiff Metropolitan Univ), Sam Edgerley (University College, London), Jake Henry (Cardiff Metropolitan Univ), Owen Jenkins (Cardiff Metropolitan Univ), Dante Mama (Loughborough Univ), Thomas Mitchell (Oxford Univ), David Smith (Newcastle Univ), Sam Shires (Newcastle Univ), Luke Treharne (Exeter Univ).