"la veda in Italia"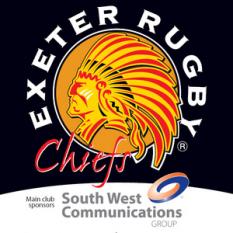 Chiefs Flag
By LittleMissChief
January 10 2012
LittleMissChief looks forward to the Chiefs (and her) trip to Italy in the Amlin Cup.
"I Capi di Exeter sta Venendo" – The Chiefs are Coming!
Round 5 of the Amlin Cup takes us to Italy, to face Cavalieri Prato in the away leg. This pool is finely poised, with Chiefs and Perpignanboth sharing top spot on 15 points. Only the pool winners will progress to the quarter finals of the cup and Chiefs stand a very good chance of securing top spot this weekend. In the home leg back in November, we beat Prato by a whopping 68-0, crossing the whitewash ten times. Pratois the only team not to win a game in this pool, and Chiefs are hoping it will stay that way. So hopes are high for securing a bonus point win away from home this weekend and place us in a very strong position for the Chiefs final pool match at home to Perpignan on 21st January 2012.
I along with a number of other fans will be making the long but eagerly anticipated trip to Italyto cheer on the lads. Some are flying out on Thursday, with the remainder of us will be flying out on Friday. Having just checked the weather forecast inPrato, it is forecast to be dry, sunny and about 11%, so looks to be ideal playing conditions.
So, I've been stitching some elastic onto my new headdress, trimmed about an inch off my Chief's flag pole so it fits in my suitcase, invested in a new tomahawk, packed my European Chiefs t-shirt and located my face paints and" BR Fan Club" Wrist Band. So with passport and Italian Phrase Book in hand, flight and hotel confirmation bookings printed off and currency obtained, Me and my son are ready for the off.
So, to all the travelling tribe "viaggio sicuro" and "la veda in Italia", translated as "Safe Journey" and "See you inItaly".
"LO VENGA CAPI" – "COME ON YOU CHIEFS"!
More Exeter Chiefs headlines
Exeter Chiefs Poll