A Crazy Classic!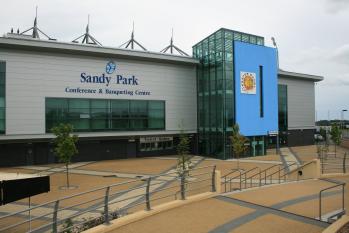 Sandy Park
By ExTeddChief
October 9 2012
What a game and what a result for Chiefs beating Quins 42-28
A Crazy Classic
Exeter Chiefs 42 Harlquins 28
I was up pretty early Saturday morning. Just recovering from a cold, Dad was swinging by so we could head off to the Pyramids for some overdue swimming. Grandfather was off in Sicilly and so Dad and I had tickets to Sandy Park for the match against Quins.

Swimming and breakfast at Costa's later, my uncle rings up, wanting to join us. Game on. A share of a Pizza Express pizza later, and we're off to catch the train to Digby and Sowton. For Dad, it was his first trip to Sandy Park this season. For me in was the first trip over on the train(and over the bridge) and first time finally in the NWT! Programme, check, uncle shows up...check.

Now, let's face it, the Leicester game was a disaster and that probably led to the team getting overhauled for this game. Plenty of Quins fans in town and it looked as though it was our first sell out of the season. Still, Quins are the reigning champions and while we don't have a bad record against them here, we certainly couldn't take anything for granted.
It was the Chiefs that were the first side on the attack and and it wasn't long before Quins conceded a penalty. Steeno slotted it, so far so good. Quins are no mugs however and both sides were fired up. Not only that but Quins Nick Evans is a pretty solid kicker in his own right...at least he usually is. He seemed a bit iffy on this occasion but he did slot an equalising pen at the second time of asking.

Then the real fun started. The Chiefs surged through...zinged the ball out to the far corner Sturgess took advantage of an overlap and soon Dad was yelling out "come on my boys!" Steeno converted.

A quick note on the older members of the family Tribe. My Dad and uncle were probably semi-regulars at the old County Ground as kids/teens in the early to mid 70s. Already my Dad wasn't quite sure that some of the play from the Chiefs was for real!

Not long after that though, Evans cut the gap with a pen and then Quins cut through with the Kiwi kicker grabbing a try.
Were the Chiefs done? Hell no, once again we surged through but TJ came up short this time around. Steeno slotted another pen anyway to make it 16-11.

However before half time, the Quins drove through again and this time Ugo MOnye claimed the try. Evans converted. The Chiefs were down by two points at half time but we didn't really have anything to complain about!

Halftime saw us in the Undercroft watching Derek the Otter on TV, Dad not really having seen the Chiefs play so openly. And then it was showtime again.

Of course at this point the Chiefs were attacking the opposite end of the ground and often I had taller guys blocking my view. Best I could tell we were on the attack then someone yelled "Try!" That was all we needed to know. White's try. Steeno's conversion. Chiefs back in the lead.

Quins still weren't done though and fastbreaked down our end. Before we could stop them, Karl Dickson had what seemed to be the easiest of touchdowns, Rory Clegg converting.

After that though it was all Chiefs, before we knew it's we'd gotten two tries in quick succession, both from Shoemark! At this point quite frankly I'd lost count of how many tries had been scored and I'm trying to work out if we'd picked up a WPB already! In the meantime Dad's Chopping like a regular!

Clegg eventually slotted another pen at their end, Sirelli grabbed one last try for us and I had to pinch Dad at this point. Dad said he'd never seen the Chiefs play like that before, I'm not sure I've seen a match like that at Sandy Park before.
It was a while before we made our way back to the train, Dad claiming the NWT ticket was "the best 30 quid I've spent for a long time". I know following the Chiefs is a rollercoaster ride but this was something else! Are you watching Leinster?
More Exeter Chiefs headlines
Exeter Chiefs Poll