Walkinshaw and Redpath face the fans on Wednesday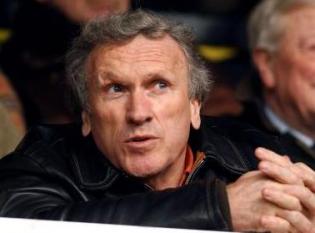 TW - answers
By Cherry Picker
June 15 2009
Gloucester owner Tom Walkinshaw and new coach Bryan Redpath will both face the club's supporters in a special fans forum at Kingsholm on Wednesday night, and now that the decision on the club's immediate future has been taken we are urging all fans to give them and everybody else at the club a fair crack of the whip.
Like all sport, rugby is all about opinions and there are a great many of those in and around Gloucester after the club's decision to dispense with Dean Ryan and give Redpath a chance as coach.
For every fan who agrees that Ryan had to go, there is another who thinks Redpath is not the man for the job, and even now there are still some who believe that Ryan should have stayed.
In addition, many supporters are keen to know the background of the decision to sack Ryan, the decision to appoint Redpath rather than a big-name outsider and why it took so long for the news to finally be announced late last week.
Walkinshaw says he will answer all the fans' questions, and he deserves credit for promising to do so. He has always made it clear that he believes the fans are as important as any other aspect of the club, even when Ryan's end-of-season comments suggested he thought that the supporters exist only to pay up and shut up.
So Walkinshaw deserves to be listened to and he and Redpath deserve the chance to see if the decision to give the Scot a chance as senior coach will work.
There are probably hundreds of fans out there who believe it is the wrong choice, but after a season that ended in bitter disappointment and a summer that started with bitterness and anger, now is the time to get together as a team on and off the pitch and put everything into getting ready for next season.
We are not preaching blind devotion to TW and blind agreement with every decision BR makes, but they both deserve our backing and the chance to get Glaws back on track and re-established as a club going for honours in every competition.
If they fail, we'll be the first to agree they have to take the flak, but for now let's give them a chance.

View a Printer Friendly version of this Story.
Walkinshaw and Redpath face the fans on Wednesday
Shedloads (IP Logged)
15/06/2009 15:23
What do you think? You can have your say by posting below.
If you do not already have an account
Click here to Register
.
Re: Walkinshaw and Redpath face the fans on Wednesday
15/06/2009 15:59
I agree ... it's time to forget last season and look forward to next. Redpath has got the job and hopefully he'll prove the doubters wrong.
Re: Walkinshaw and Redpath face the fans on Wednesday
16/06/2009 00:37
It is upto BR now and I am sure he will be given a fair crack at it. If there are to be no more signings then I think Glaws are potentially very exposed at 9 and 15 but money is obviously a big factor at Glaws currently (hopefully an area that TW will explain)
Re: Walkinshaw and Redpath face the fans on Wednesday
18/06/2009 10:53
Well it seems there wont be anymore signings as Glaws want a smaller more focused squad. BR wants the forwards to be more physical and a return to more offloads and attacking Rugby. TW said there will be further redevelopments at Kingsholm once the club is selling out 60-70% of games.
More Gloucester headlines
Gloucester Poll