Coach excited by Glaws pre-season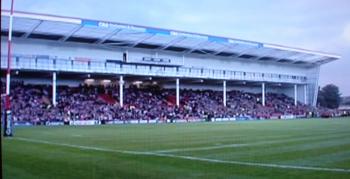 Kinsholm expects
By Cherry Picker
July 30 2012
Having set his sights on developing a family spirit at Kingsholm, coach Nigel Davies believes the groundwork has been done and now it's up to his players to reap the benefits when the season starts.
The new boss is a great believer in the value of team spirit and working together to achieve a common aim.
The squad's ten-day stay at high altitude in France is regarded as a major success by Davies, who says the work done there should stand the players in good stead when the real action starts.
The Glaws players did the usual fitness and coaching work during their stay in the Alps, but there was also a lot of bonding, largely achieved away from the pitch and the gym.
Davies told the Citizen: "We did some great team-building tasks, and they were very profitable as well.
"I think we learned to trust each other - that's important. We talked a lot about honesty and desire.
"When it comes to the crunch in tight games in the middle of the season, when you need that extra two per cent from your mate next to you, I think the players know they will be able to look at the guys around them and know full well they will get all that intensity and desire that they'll need from each other.
"You've got to have respect for each other, and you've got to believe in each other, and if you have that then you've got a chance of being successful.
"This is the end of the second phase and now we're ready to start our final phase of pre-season.
"We're going to keep training at full-tilt in this section, but we'll add in matches at the weekends as well.
"So it's going to be pretty tough, we're going to ask a lot of the guys, but from everything I've seen so far I honestly feel they are ready, and that's exciting."
Davies, of course, has the right pedigree and so far it appears Glaws have made a great choice in giving him the top job at Kingsholm.
He makes all the right noises, says the sort of thing the fans love to hear and apparently does the same for the players.
So far so good … roll on the real thing.
View a Printer Friendly version of this Story.
Shedloads (IP Logged)
Unregistered User
Coach excited by Glaws pre-season
What do you think? You can have your say by posting below.
If you do not already have an account
Click here to Register
.
Reply•Quote
St Marlowe (IP Logged)
David Lowrence
Date Joined: Sep, 2005
Location: NN1
Posts: 14190

Re: Coach excited by Glaws pre-season
Our coach is excited too - it keeps coming out of the garage - putting blacking on its tyres, clearing a space for the booze on the back seat. It really is getting silly.I just hope it calms down before we hit the M5

David L

What if there were no hypothetical questions?

"I can see the carrot at the end of the tunnel."
Stuart Pearce
Reply•Quote
Sorry, only registered users may post in this forum.
More Gloucester headlines
Gloucester Poll