Preview: Harlequins vs Saracens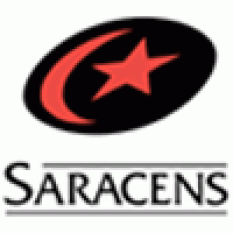 By Wyddy
September 26 2012
I recall a balmy September evening in a Kingston pub, watching Frank Bruno finally win himself a heavyweight championship against Oliver McCall. I think it was probably the first time I had seen a whole pub go mad for the result of a boxing match, and everywhere you went afterwards people were talking about it... Finally our boy Frank had done it. After the nearly fights, Bonecrusher Smith, the Witherspoon k/o, the Tyson battering, he'd managed to lift the title.
A non-Quins supporting friend of mine likened the experience of watching the Bruno fight as akin to when Quins finally won the league play-off final against title laden Leicester. Large numbers of neutrals cheering on a side which had captured the imagination playing against a stereotypical English pattern.

Watching us play Leicester last weekend, the architects of a certain style of playing in the English league. The way we played, admittedly against a Tigers side missing a couple of players, the team looked comfortable playing as champions. From the outset, at the hardest place to play away in the Premiership, the players looked to dominate a team eager for revenge for that sunny day in May. They did it by playing to a strict game plan, first attack - phase rugby, then the second attack a more orchestrated off load game. Gain an advantage in the first half and then stoically counter attack in the second half.

This was mature, adventurous rugby. Not the rugby of Quins of yore where plays were oft made with careless abandon and to hell with if it came off or not, it was the intention that counted, the style over substance.

However this crucial re-establishing of championship credentials came at a cost. Stalwarts Tom Williams, Jordan Turner-Hall and hugely impressive Mike Brown clone, Ross Chisholm all picking up significant injuries. Rather cruelly before the game a couple in the press had mooted how lucky Quins had been with injuries at the end of last season and the start of this one. Well thanks for the mockers!

From what we have heard, and my apologies in advance if any of this info is not totally up to date, Tom Williams has picked up a hip flexor injury (2-8 weeks), JTH picked up a shoulder injury (unknown) and Ross Chisholm, initially treated with gas & air at Welford Road looks to have a fibia injury (6-8 weeks). Our finishing back line, performed a remarkable job to keep it all together in the face of a Tigers comeback, and it certainly had an odd look about it what with Care playing at 14.

This impact will be keenly felt against a Saracens side that experienced their first defeat last weekend, where they lost to an Exeter team keen to put their own loss to newboys London Welsh behind them. I would expect Sarries to name a full strength side to try to take advantage of a perceived weakness in our injury reserves.

Saracens have had a start to the season which in the opening game hinted to a more progressive style of play than the usual, and perennially moaned about, kick / chase game play that has become synonymous with Sarries. They opened with what on the surface appeared to be a battering of London Irish in the other side of the London Double Header. The score-line probably flattered a little, but once Saracens had won the war of attrition in the first half, constricting and suffocating the width a disjointed Irish side had tried to bring to the game, they opened up in the 2nd half. Hodgson distributing well and Ashton playing intensely on his debut, despite showing a rash and needless shoulder-barge which culminated in a yellow, he showed good hands setting up a peach of a try with a pop up offload and also scoring his first tries in Sarries colours. It seems Sarries may only be comfortable trying this new approach when their foot is on the opposition throat. In subsequent games where the score-line has been tighter they have kept more to their familiar plan, and whilst at Sale this approach worked as they throttled the life out of an unimaginative Sharks side, they have come a cropper against Leicester and Exeter.

Their big 'home' game against Leicester was certainly there for the taking if there had been a touch more adventure from either side. Both sides acutely aware of the need not to fluff their lines against top of the table rivals... add to that the surprising downturn in young Farrells accuracy and this was a game that they could quite easily have put to bed. Against Exeter the conditions were ripe for them to indulge themselves, yet they found themselves undone by a reoccurrence of Ashtons immaturity. The days when you could get away with the odd shoulder barge are long gone in this new TMO age. You can only imagine what was said to him after the game when Exeter broke through down his undefended flank to score the only try of the game and condemn Saracens to their first loss of the season. Will we see Ashton dropped for his second brain fart in 4 games? Unlikely as the rest of his play has been pretty good. However I'm not sure his team mates will be too happy with him, particularly if he's going to get involved in a maul and then hit his own team mate. Plonker.

We can expect a typically physical Sarries pack to pitch up at the Stoop, If Schalk Brits continues from the bench we will see yet another challenger for the England No2 shirt for Joe Gray to see off, this time in the shape of youngster, Jamie George who didn't have the best of games against Exeter. Alongside George will be Vunipola, freshly called into the Saxons squad and either baby faced penalty machine, Matt Stevens or veteran Carlos Nieto. No changes expected in the Sarries engine room with both Borthwick and Botha looking to challenge what has so far been a rock solid line out for Quins. Last week Quins managed to cause chaos in the Leicester line, with Robshaw having deciphered their calls Quins frequently lifted the jumper in front of Tigers receiver, either snaffling or ruining clean ball. However with the aforementioned Jamie George or indeed Brits, unlikely to deliver the filth that was thrown last week by Tom Youngs this should be a much closer area of contest.

In the backline Sarries look a little underpowered compared to Quins options. Youngsters Jackson Wray and Will Fraser marshalled by Kelly Brown will be right up against it, whichever trio Conor O'Shea goes with from Fa'asavalu, Easter, Robshaw, Guest and Wallace. However Quins coughed up regular ball on the floor against Leicester so this may be an area that Sarries look to target.

Moving to the backs will McCall continue with his 2 on / 2 off rotation policy at fly half? If this is the case we can expect Hodgson to start, which would probably be Sarries safer option given the radar blips Farrell has had so far this season. Outside of him will be Barritt and presumably league convert Joel Tomkins, yet to show the style that persuaded Sarries to part with the best part of 400,000 nicker for him.

The back 3 should be an interesting skirmish. Quins will be down a man at least here, with Tom Williams not making the game, this should give an opening to one of the youngsters either Seb Stegmann or Sam Smith. Hopefully war wounded Mike Brown will make the game or it will be down to recently promoted academy boy, Ollie Lindsay-Hague to make the step up. Sarries by contrast will play with a more or less settled unit of Ashton, Goode and Short. As mentioned previously Ashton has played well on the whole, Short continues his development however he hasn't shown the form of his breakthrough season in 2010-11 and Alex Goode continues to show that he is Mike Brown's closest competition to replace the now injured England No15 Ben Foden.

For Quins, after a monumental stuffing of a London Irish side, including plenty of triallers this week, expect very little to change up front, even given Darryl Marfo's impressive performance. However, James Johnston will be looking to correct last weeks frequent pinging at set piece time, where he was consistently penalised for being turned in and collapsing. There could be a possible rotation in the back row to bring in the unlucky Tom Guest who has been playing out of his skin or this weeks A team captain, Luke Wallace for more foraging prowess. Conor's pick for 12 will be interesting, the main candidates being Clegg, Botica and a freshly recovered Tom Casson. I'd go for Botica, so far we have seen him in a couple of cameos and the potential is there, if Clegg were to be on the bench we would have good cover across both 10 and 12. As Lowe is still likely injured whoever fills the 12 berth will be playing alongside Matt Hopper – fleet footed line breaker or Baldrick-esque defensive liability? Somewhere in between is probably fair, as has been noted by hirsute observers of the game, it's sometimes not his positioning that lets him down defensively but the timing of the tackle. Whatever happens it looks unlikely we will have the same robustness in defence in the centre channels.

Tight, tight, tight. Too close to call this week. Sarries by 2 pts, hope I am proven wrong.