And now for something entirely different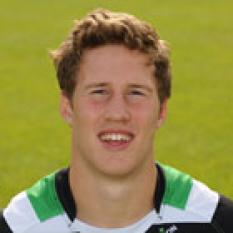 Best game for Leeds
By Haxbytyke
March 26 2012
If your television schedule included, entertainment, drama, mystery and suspense, farce, and a bit of violence, with a few repeats thrown in, you might expect to be watching for a few hours. Had you been at Headingley this afternoon, you'd have got the lot in just under 90 minutes.Leeds Carnegie missed a glorious chance to close the gap on the teams above them, when they failed to pick up a victory after territorially dominating their game against Bedford Blues. Their performance was a far cry from last week's abysmal showing, and the 24 each scoreline reflected the effort, but they paid the penalty for failing to do the basics, and it was this, more than anything else which denied them a victory.
With the ground, (and the paddock), bathed in glorious sunshine, Bedford kicked off, and Lee Blackett took the ball into the visitors pack. When it came back, Williamson collided with Titterrell, but Ford found touch with a superb kick deep into the Bedford half. At this point the Leeds skipper had to leave the field with a blood injury, but the hosts were not hanging about. Burrows, Lucock, Barrow and Ford were prominent as Leeds made ground, but despite the pressure could not put points on the board although the first bit of farce occurred in this period. Joe Ford took a penalty kick at goal, one touch judge raised his flag, the music came on, the other flag stayed down, the scoreboard showed 2 – 0 to Leeds. The kick was deemed to have missed so 0 - 0 it stayed. It was no surprise when on their first visit to the Leeds 22 the visitors won a penalty which Pritchard slotted over with 20 minutes on the clock. Titterrell was back on, but Scott Barrow was now injured, and Jordan Davies replaced him.
Leeds were level 5 minutes later when Joe Ford kicked a good penalty, but four minutes later the Blues were back in front, when McColl made a complete hash of a kick through, and from the scrum, Bedford won a penalty and restored their lead. McColl made some amends with a good break, but Leeds were again penalised for going over the top, and from 40 yards Pritchard made it 9 – 3. The repeats of our season long failings were haunting us again.
We were then treated to a bit of violence and farce together. 3 high tackles went unpunished by the referee, (the third one was so high, I thought the Bedford player had stood on a stepladder to get up there), but Leeds did get a penalty which Ford lined up to take. As he stepped back from the tee, Mr. Pearson informed him he (Joe) was in the wrong position, and made him retreat 5 or 6 yards, but it made no difference as Joe put the ball between the sticks to reduce the deficit. Shortly after Ed Williamson made a good break, and an excellent cross field kick from Ford took play into the Bedford 22. When Leeds won another penalty, Ford landed a good effort from 40 yards, and the teams went in level at 9 apiece, scant reward for Leeds first half effort.
The second half got off to a terrific, if frenetic start. Bedford caught the kick off, but Halani Aulika stole the ball, and Will Cliff darted for the line. He was held short, but Sean Hohneck was on hand to take his pass and stretch over by the corner flag. Ford's conversion attempt teased, but struck the outside of the post.
Time for another repeat, as Leeds drops the restart, and from the scrum, Bedfordswings the ball out wide, and they too cross in the corner. The try was awarded, but it must have been a close thing as the corner flag was sent spinning to the ground as Dodge crashed over.
Leeds were back in front in no time. As Bedford tried to clear their 22 with a kick, Jordan Davies charged it down. The ball crossed the line, and Davies followed up,
unchallengedto restore the lead. Ford converted, and Leeds were well on top, playing some of their best rugby of the season. Leeds applied the pressure, a drop kick by Ford struck the post, and Lucock, Beck and McColl made driving runs deep into Bedford territory. It was one way traffic, but there then followed another repeat, only this one was to have a distinct bearing on the result. Leeds won a penalty in front of the posts, 15 yards from the Bedford line. Joe Ford reached for the ball only to be overruled by his skipper who opted for the scrum. Leeds lost the scrum, and Bedford had escaped. Leeds still attacked, but they fell for the sucker punch 26 minutes into the half, when on a rare visit to the Leeds half, Bedford moved the ball along the line, and James Pritchard took advantage of some weak tackling to go 30 yards and cross by the posts. He converted his own try, and the sides were level again. With the referee playing a Leeds advantage, Ford restored the lead with a drop goal, but amazingly, Leeds watched the restart bounce about before eventually claiming the ball and clearing to touch. They then worked hard to turnover possession, and won themselves a scrum just inside their own half, but yet again they conceded a penalty, and Jake Sharp landed a good kick to restore parity.
Only minutes to go, but not even, Brian Rix, or Dick Francis could have scripted what was to follow. There were 46 seconds showing on the clock, and Leeds won a penalty 1 yard inside their half, and to the amazement of most of the crowd, Ford decided to go for goal, (did he think it was the last play of the game)? His attempt only just failed but the game restarted with a 22 drop out. Leeds tried to work forward again but dropped the ball, and Bedford whipped the ball out wide. A Leeds hand shot out but missed the ball and Bedford looked certain to score the match winning try, only for Iain Thornley to make a marvellous tackle with player and ball going into touch. More drama. Our recently demoted international referee had awarded Bedford a penalty and despatched Joe Ford to the sin bin. Sharp lined up the kick, stepped back to deliver it, only to be told to wait, while the leading actor went to speak to one of his supporting cast. He then waved his arms to signify it wasn't a penalty, Joe Ford returned like a greyhound to the pitch, and the curtain came down with everybody, players, and spectators', wondering what on earth was happening.
Sadly what did happen after that, saw one or two Leeds players show their frustration with each other, and Lachlan Mackay taking the role of Henry Kissinger. I can only assume this was a result of Leeds failing to take the earlier penalty kick which would have put daylight between the teams.
The game was entertaining, and on the balance of play Leeds deserved to win, but Bedford has shown they do not give in, so probably deserved some reward for that. I would also imagine they, more than Leeds are disappointed at how the game ended.
So for Leeds another winning opportunity gone, and it was a shame. Every player did his bit today. McColl made up for a couple of early mistakes with some strong running, Lee Blackett showed how much Leeds means to him, (at the end of the game as well), Davies and Thornley and Lucock all had solid performances, and Joe Ford had possibly his best game in a Leeds shirt. Aulika and Young put in a very solid shift, and the back five stole line outs and made valuable yards with ball in hand, each of them making a massive contribution.
This week my bottle of plonk is on its way to Richard Beck, to go with his official one. Great line out work, solid defending, and some barnstorming running from the talented young forward just edged him the vote.
Leeds played well enough to have won, but so many of their previous faults stood out again, and were to prove costly. Still, the 1782 crowd were well entertained.
However, all is still not lost. We are the only team in our pool not to have won a game, and sit 4 points behind second place Cornish Pirates, but there are still 3 game to go. Beat the Pirates at home, and that puts us level with them, the task now is to win our next two away games. Logic says we can't do it, but today I saw a side who were committed to getting to the next stage, and with a bit more care, and a bit of luck, and a decent referee, can maybe set up a grandstand finish to the pool games when the Pirates come in April. Let's hope so.
More Yorkshire Carnegie headlines
Yorkshire Carnegie Poll