The return of the Prodigal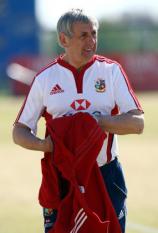 Yorkshire's favourite
By Wildwillie
August 5 2012
Leeds Carnegie have made what could turn out to be the best signing that the club has made for many years when they announced that Sir Ian McGeechan will be joining the club as Executive Chairman. Geech, for those of you who are too young to remember, is a former player back in the Headingley RFC days......
Sir Ian was born in Headingley and went to Allerton Grange school. He made his debut for Headingley in 1964 and was capped for Scotland in 1972. He toured with the Lions in 1974 and 1977 collecting 32 Scotland and 8 Lions caps. His subsequent career in coaching is well known - Scotland, Northampton and Wasps have all enjoyed his leadership.
There has been a constant, if somewhat forlorn, hope amongst Leeds supporters that the prodigal son would return home one day. well tthat day has arrived.
Commenting on his appointment on the official club website Sir Ian said "If we can achieve sustainable success here at Leeds Carnegie it will be up there with all my other achievements in my career. There is an incredible opportunity here and when I spoke to Gary Hetherington and Chris Gibson I was excited to be a part of it.
This is my club and I do not think I would have taken up this type of role with any other club. My first job will be to listen to people and get to know the club and for them to get to know me but I am very exciting about the future here at Leeds Carnegie" .
Leeds fans will be heartened by those words. The structure of the club has changed since last season, seemingly for the better. Geech has wheelbarrows full of experience. If he can impart just a fraction of that to the coaches and players then we can look forward to happy Sundays next season.
More Leeds Carnegie headlines
Leeds Carnegie Poll