Reasons to be optimistic!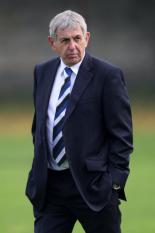 Suits me.
By LeemingTyke
August 16 2012
As the comings and goings of the close season end and the squad for the new season takes shape it is the time of year when supporters of every club will be looking at their new look teams and attempting, as objectively as possible, to come to some sort of conclusion as to how their side might fare in the coming months.......
A brand new league table which sees your team sitting joint top on zero points along with every other team in the leagueis a sight which is full of promise for the forthcoming season but as you look at it you inevitably begin to wonder how it will look at the end. When it's all done and dusted, where can you reasonably expect your team to be? It's theclassic trade-off between Optimism and Realism.
In the case of Leeds Carnegie fans that trade off canseldomhave been more apparent than at the beginning of this season. Over the course of the summer the club have taken huge strides forward with the appointments they have made and we are in a much healthier position now than we were at this time last year. With this in mind and having enjoyed several recent seasons in the big time the desire for us to return as soon as possible is naturally huge.
However, this must be balanced against the fact that we have a very young squad, one which has immense potential but is still in the process of learning how to turn that promise into consistent performance on the field. Also, for me, there are still huge question marks against the ability of the Head Coach. Whilst not wanting to take away from the overall optimistic nature of this piece it would be remiss of me not to mention it, however, this season he is free to concentrate solely on coaching and I give him the benefit of the doubt and hope he proves me wrong.
So where does this leave us? Well,maybe not where we want to be but, in my opinion, exactly where we need to be at this moment in time.
Promotion for Leeds last season would have been an unmitigated disaster which would have ensured nothing more than the continuation of the yo-yo years. I honestly believe we would be in serious danger of a 0 and 22 season if we were in the Premiership this season.
Instead we will be competing in a Championship competition which is rightly being touted as the most competitive ever. Newcastle have a Premiership squad with Premiership management and funding and I also expect Jersey to be more competitive than Esher were last season.
Falcon's last minute relegation is, however, a massive positive for us. Their deserved status as nailed on promotion favourites allows our young team a season to develop without the huge weight of expectation on their shoulders.
One thing is for sure, three other teams will qualify for the play-off lottery along with Falcons and if one of those three can beat them over two legs in the high pressure environment of a play-off final then they will have proved beyond doubt their readiness for the Premiership.
As Leeds supporters we stand staring into the dawn of a new era andwhereas promotion might be the ultimate goal I don't see it as the target or the expectation for us this year. This is the beginning and 6th place or higher, in a league which is more competitive than last season, will represent progression.If we make 4th then we enter the play-offs as underdogs and with no pressure on us, it's all good experience and anything can happen.If not then hopefully the influence of Sir Ian can keep the team together and we can look forward to a fantastic, promotion winning season the year after.
These are exciting times, we have a young squad of our own players who have the potential to develop into an outstanding Leeds Carnegie teamand if we keep our expectations realistic and get behind them, there is every reason to be looking forward to the new season with renewed optimism.
More Leeds Carnegie headlines
Leeds Carnegie Poll