Jersey rocks as Leeds rolls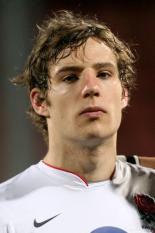 Led from the front
By Wildwillie
September 8 2012
The Championship newboys came to Headingley Carnegie last night looking for a first win in the league. For half the game it looked as though they might just do that with the sides tied at the break. Then Leeds took control.....
I was more than a little nervous when I saw the size of the Islanders' pack plus the familiar face of Steve Boden at no.2. My fears were alayed somewhat by our customary good start. A try from the hard running Josh Griffin inside 8 minutes came right out of the blue leaving several would be tacklers in his wake. A line-breaking centre! Whatever next? Well we exchanged penalties and then came the (also) customary "wobble". Large gaps started appearing in our defence so the visitors felt obliged to run through them. To be fair Dave Docherty did exactly the same to them, everytime he touched the ball! Jersey scored in the corner and shortly after were winning 13-10. To make matters worse we were getting shunted around the park whenever the ref gave a scrum. Fordy had his shooting boots on so we managed parity at the break.
Leeds made a number of changes at half time. McColl, Beck and Hemingway failed to come back on. Green and Barrow beefed up the pack, Docherty went to 15 and Jamel Chisolm came on for his debut. Despite having the better of Jersey in the backs the forwards collectively fronted up and took the game to their opponents. Rolling mauls and pick & drive were the order of the day. After sustained pressure the Jersey 9 was binned and Jacob Rowan burrowed through for the second try, converted by Joe. Then, for me, came the turning point of the game. With a man in the bin Jersey surged forward and camped on our line for 5 minutes. Time and again the attackers were downed just short of the line until the ball was cleared. Injuries took their toll but the introduction of Tussac and Harris gave us enough muscle to get the scrum going forward.
Joe Ford made a couple of variations in the play, one of which was a diagonal grubber kick to the corner which bounced over the defending winger into the outstreched armes of young Chisolm who crossed for a debut try. With the forwards now on top the ever alert skipper picked up the ball behind a ruck and darted over for the bonus point. we were then treated to a huge "Gary Owen" from Joe Ford which created panic in the Jersey defence. The visitors pressed for a losing bp but by now the home defence was solid and they were denied.
A 5 point home win for Carnegie. Debut tries for Griffin and Chisolm. A full shift from Myerscough, Burrows and Rowan in a pack which is developing quite an attitude. We have 3 tough games coming up but at the moment the signs are good. Long may it continue!
More Leeds Carnegie headlines
Leeds Carnegie Poll