Our thoughts turn to......Plymouth!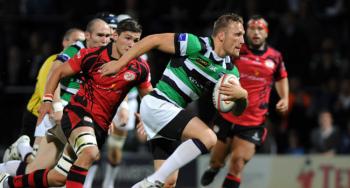 Battering ram?
By Wildwillie
September 9 2012
This week the lads travel down to Brickfields Stadium, home of Plymouth Albion. In the corresponding fixture last season Carnegie was beaten following a hapless performance. After registering a win against Jersey expectations of a win in Devon will be high........
Albion have struggled in recent years but have made a similar start to the season as us. A home win and a defeat at Pirates (where the Janners could have won) leaves Plymouth one point behind Leeds in the table. According to a report on the club's official website the Albion has a strong pack and several dangerous backs. Our first roadtrip this season saw schoolboy errors turn a 20-3 lead into a defeat at Meadow Lane. In the first half against Jersey we again endeavoured to gift points to the opposition.
The performance in the second half last Friday was really something to build upon. The forwards got on top of their opponents and then really asserted themselves. The way the team was selected meant that we had a lot of muscle on the bench and this showed when the likes of Barrow, Green and Tussac took to the field. The contest "upfront" will be key to the fortunes of both sides. Carnegie must not allow the pack to be shoved backwards as it was in the first 40 minutes against Jersey. I suspect that Green may start ahead of Hemingway which should go some way to rectifying that. As always the backrow have a critical part to play. Young Beck went off injured last week so there is a doubt about him playing. Barrow came on for him and had a very good half so if Beck is not fit then Barrow should start. Burrows and Rowan both played well against Jersey. Buzz has started the season with some great performances and is shaping up to become much more influential in games than he was last season.
I am yet to be convinced that Doherty should be our starting 9 though I would start with Ford at 10. Burdon and Griffin look to be the makings of a centre partnership with Goss due back from injury. For once we seem to have good pace in our back three. McColl should start at 15 if fit and ought to be accompanied by the two fastest wingers.
I think it will be a close game, no more than one score in it. If our pack reproduce the form that was apparent in the second half last week then I predict Leeds to win by four points.
View a Printer Friendly version of this Story.
TykesRugby.co.uk (IP Logged)
Unregistered User
Our thoughts turn to......Plymouth!
What do you think? You can have your say by posting below.
If you do not already have an account
Click here to Register
.
Edited 1 time(s). Last edit at 2012:09:23:08:39:33 by Wildwillie .
Reply•Quote
Mark_C (IP Logged)
Original Cult
Date Joined: Sep, 2004
Location:
Posts: 8506

Re: Our thoughts turn to......Plymouth!
You must be watching a different Doherty to me, WW. The bloke is everywhere and at the heart of a lot of good rugby. Agree about Buzz, he's had a storming start to the season, along with Jacob. Let's hope Becky isn't too badly injured as he's carried on from where he left off last season, too.

Should be a good game!
Reply•Quote
John R (IP Logged)
John R
Date Joined: Mar, 2005
Location: Selby
Posts: 3586

Re: Our thoughts turn to......Plymouth!
I thought scrum half Doherty had a good game last week and certainly should retain his place, though I do rate Craig Hampson, who will get better with age.

Hopefully those injured last week will be fit and if they all play as well as they did in the second half last week, we should be in for another win!

Up the Carnegie TYKES !
Reply•Quote
Sorry, only registered users may post in this forum.
More Leeds Carnegie headlines
Leeds Carnegie Poll