Carnegie shows class..but hits the snooze button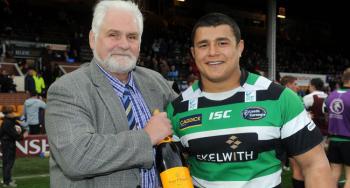 Awesome!
By Gelbel
September 25 2012
In the early autumn drizzle, Leeds Carnegie ran riot over a "lack lustre" Bristol (quoted by a Bristol fan) with pacey backs scoring for fun. Then the second half kicked off and it all deteriorated as fast as my note taking with each swig of Port taken to celebrate Bristol's tries. And that sums up the game – exciting stuff from Leeds with running backs linking with hard working forwards via a commanding James Doherty and a confident Joe Ford, followed by a slump. If Tristan Roberts had put away his team's penalties and converted their tries, Bristol could well have sniffed a win, picked their heads up and come away with more than a four-try bonus point.

It was all exciting stuff – from the kick-off Leeds were attacking with several tries denied before Ford scored the first penalty. Wilson was further denied when Goodridge put in a high shot and was binned for his troubles. Another penalty awarded from the resultant line out saw Leeds attacking the width of Bristol's line with McColl scoring the first try. After another penalty, we were treated to, what I can only describe as, a wonder try. It started from just inside our half, after a few passes back to our 22, McColl took off, chucked it to David Doherty who did a lovely kick around the orange one (we think he'd had a spray tan while in the bin as he'd definitely changed colour in that 10 minutes) to score. 20-0 after 25 minutes.
The backs were doing well – so what about the forwards? Bristol have historically had a pack who controlled the dark arts – not this match. Time and again Leeds dominated and were awarded a penalty for their efforts. Ford missed but soon after Wilson scored with some deft side-stepping and gazelle-like jumping over the opposition after picking up an off load from Lockwood who'd made a break any back would be proud of.
Half time and 27-0. Photos were taken of the score board – it was true, we had not over indulged in pre-match pints of Black Sheep. But this is Leeds we are talking about – not a team for those of a nervous disposition to watch and within minutes I took my first swig of Port as Bristol scored their first try from a penalty at the scrum. More lack of discipline took place, the referee had enough and our captain was given 10 minutes in the cooler. More penalties and another drop of Port.
Leeds scored a penalty and, with the score at 30-10 and 25 minutes to go, the ship was somewhat steadied as Leeds scored a try with just two players involved from deep within their half – James Doherty passing to Burdon who ran in from the half way line. But they did not press on after securing the four-try bonus point. Another flurry of penalties saw more Port being consumed. This was swiftly followed by another successful penalty for Ford, a second Bristol binning and Rowan showing some nifty footwork to score a try. Bristol took the last points of the game as I took my fourth and fifth glugs. With conversions, the final score was 50-31.
So the positives – our backs are flying due to the service they are receiving, the forwards are competing – something we've not seen for a few seasons. We're not aimlessly kicking possession away – I counted just three times (although I may have stopped counting once the Port was uncorked) and two of those we did not chase, the third we were only just out-jumped to retain the ball. James Doherty is fast in feeding the ball to Ford, which must be helping his regained confidence, as he's controlling play. Burrows puts in some lovely smashes. A forty minute match would suit Leeds at the moment as the break is interrupting their momentum and we switch off, giving away silly penalties, our defence goes to sleep and how many restarts have we fluffed this season? Bristol were poor yesterday and we know even half-decent teams punish our sloppy play. Bristol fans were amazed they can score five tries on the road and still lose – welcome to our world!
While the second half was not quite the horror story encountered at Nottingham, we could find ourselves at the wrong end of a cricket score if we switch off against Newcastle on Friday. But if we tighten up our act and deliver for 80 minutes an upset would not be impossible.
More Leeds Carnegie headlines
Leeds Carnegie Poll