Tigers v Harlequins Final Preview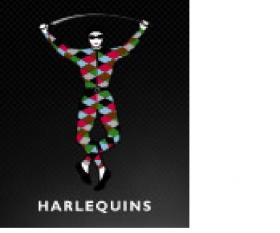 By ChrisC
May 20 2012
Animal House Have you ever thought how odd it is that so many of us choose to share our lives, and often our homes, with animals? I had just started to write this article when our cat decided it was time for me to do something else and walked onto my keyboard, sat down and, through squinted eyes, fixed me with a questioning stare.
Of course being a cat she wasn't clear as to her requirements and the usual guessing game was soon underway with my asking questions and she looking at me as if I'm the biggest fool to draw breath, but then again it was me talking to a cat!
"Do you want to go out? Nope, think again! Food? Nope, again! Water? Nope, oh for heaven's sake man! Milk then? NO! A light snack, maybe some Dreamies, you know you love those? NO! NO! NO! Follow me you fool"
So off I trooped behind the white harridan and realised that the door to the kitchen, while open, wasn't open quite enough to be suitable for her unrestricted passage and of course pushing it open (as she does when she spies a mouse or a bird) was quite out of the question. I, her servant, was required to make the necessary adjustment. And did I get a thank you? An acknowledgement? Some hopes. They have a deep sense of entitlement do cats.
It got me thinking though about all the creatures we've shared our lives with; fish (my God they die easily), cats (which of course humans live with, not the other way round), horses (the most efficient way of turning money into manure known to man), birds (see fish) and of course dogs.
We've had various breeds of dog over the years; a Springer Spaniel (her owners went abroad so we got her), an Irish Setter (her owners got divorced so we got her) a Labrador (her owners had a baby and she was surplus to requirements, so we got her too) and three Dobermans. One of which we bought as a puppy, the other two we received from the RSPCA (I think we were on their computer under the heading "soft touches") who'd taken them in from abusive owners.
As a child, brought up in London, my pet ownership was limited to a series of Budgerigars (all called Prettyboy – I know. I know!!) which my mother routinely killed with misplaced kindness. I think it was about the fourth of them that, while taking its Sunday morning exercise, hit the wall and fell into the kitchen sink. My mother rescued it and decided that as it needed drying, and as it obviously didn't think much of a brisk rub with a towel, the best way to achieve this was to put it into the oven on a low heat – it ended badly for Prettyboy IV!
I like dogs. I like their loyalty, their companionship and were it not for an aversion to picking up faeces in a little plastic bag and then having said bag as an unwelcome companion for the rest of the walk, we'd have one now.
Our Dobermans were fiercely loyal and protective of us, not unlike a rugby supporter's attitude to his/her team.
There's nothing faux about a dog and usually nothing faux about rugby supporters. Of course some clubs feel it necessary to induce support by offering free tickets, travel, refreshment, apparel and as much confetti as is required to make fools of themselves but happily this is not a charge that can be levelled at the combatants for the final of this season's knock out cup.
There'll be flags, replica shirts, silly hats, soft toys and all the customary paraphernalia. I especially like the striped blazers and rowing caps that some of the Harlequins' supporters wear, looking as if they've taken a wrong turning en route to Henley Regatta.
But gatherings or marches led by Quins' head man; David Ellis or Tigers' Simon Cohen will not be in evidence I'd bet.
They're a resilient bunch down at the Stoop; they survived relegation and came back an immeasurably better team. They survived "Bloodgate" and again came out stronger on the other side and they have an enviable record in their recent selection of Directors of Rugby with both Dean Richards and Conor O'Shea inspired choices, both being the right man at the right time.
The south London side were spared the major depredations inflicted upon Tigers by the World Cup and played some sparkling rugby in the first half of the season, building a substantial lead at the top of the Premiership in the process, a league they topped from the early part of the season until its conclusion, albeit with their lead whittled away to a solitary point.
During that early season the pundits, as they do, immediately built a nice pigeonhole for Quins and branded them as "Show Ponies" who could only play a certain style of rugby and while, like a horse having led the Grand National from start to finish, they were caught at the "elbow" they still got across the line first, albeit in a short head of a finish from Tigers and Saracens who were one and two points behind respectively at the end of the season.
Tigers meanwhile struggled under the burden of international call ups and injuries during that early season period but once those trials abated steadily climbed from 11th place in the league to second.
By the end of October the pundits had written Tigers off for the season. Richard Cockerill's days were to be numbered in single digits and indeed for a while things looked bleak but here we are again, back at Twickenham for yet another final. While Quins will be making their debut appearance in the concluding match of this odd end of season competition.
I watched the league winners play Northampton a week or so back and it was anything but a all singing – all dancing performance by Quins and the pundits have had to dismantle their pigeonhole. It was a gritty and tough encounter as the two side pummelled away at each other. It wasn't a classic by any means and Mr Small didn't help matters by producing a display of mind numbing pedantry as he completed his "I Spy Book of Law Infringements" but for all that it was enthralling for a neutral such as I and somewhat ironic that Quins' winning score came from a rolling maul, that seemed to involve almost the whole team, seeing them again inch home by just a couple of points. One dimensional Show Ponies? Ask Northampton.
Later in the afternoon Tigers hosted Saracens in an exciting match as Saracens tried to shake off their Brendan Venter inspired shackles and play some open rugby. Tigers were held until half time, going in a solitary point to the good, in spite of seeming to be slowing their defensive line speed as if to say "come on, show us what you've got" and then just submerging Saracens with play of extraordinary intensity in the second half. It was as if the visitors disappeared into the Welford Road turf at the breakdown. Had it not been for referee Mr Pearson failing to correctly apply the scrummaging laws and instead taking a humanitarian stance things could have been worse for the Watford based team, much, much worse.
Quins suffered similarly at the hands of the Tigers a few weeks back but that chastening experience will have been put behind them and they will be focussing on remedying their shortcomings that day, of which, in truth, there were few, in time for this weekend's match.
Joe Marler once again underlined his credentials by dominating Saints' Brian Mujati and was ably supported by the excellent Joe Gray. Samoan behemoth James Johnston was on duty on the tighthead side and, if I'm honest, benefitted from some benign officiating from Mr Small who cannot include scrum management amongst his skill set. Wayne Barnes is something of a martinet when it comes to scrummaging so my hope is that whatever laws he decides to use he's consistent in their application.
Tigers' front row is pretty settled these days and it'll be the Argentine force of nature that is Marcos Ayerza with George Chuter, who must be glancing more and more over his shoulder at the emerging talent of Tom Youngs, and either Martin Castrogiovanni or Dan Cole to face the tonsorially challenged Marler. It'll depend on how the scrum is refereed of course but I think the Quins' trio will find it tougher going than they did against Saints who've been struggling, without Hartley, to hold it together and as a consequence Tonga'uiha, who's looking very weary, is far less effective than he was last term.
Ollie Kohn brought his power to the Quins' engine room, ably assisted by the indefatigable George Robson. These two not only give their front row enviable power but make the lineout an area of near certainty, for most of the time anyway, and both are always impressive in open play although they do seem to suffer from some kind of palsy that sees them become lifeless at the defensive breakdown and do an impression of rag dolls as they collapse in a heap over the opposition ball!
George Skivington, who'll sadly be playing his last match for Tigers and the cerebral Geoff Parling, will be asking them questions that Saints didn't and doing a bit of collapsing themselves I've no doubt. It's essential that we don't see a repeat of Mr Barnes lop sided display at Twickenham last Christmas.
It'll be important that the teams latch on to whatever is Mr. Barnes' "Infringement de Jour" as he'll blow for it incessantly, even if it's not been committed, while others he'll ping and then move on and sanction randomly thereafter, happy that he's ticked the box and hoping he's edged his way off the IRB's naughty step and will soon be restored to what I'm sure he considers his rightful place as an elite international referee.
The contest between the respective front fives should be close but I just sense that Tigers have enough to edge it.
With Maurie Fa'asavalu one of the hardest of ball carriers the Tigers' fringe defence will have to be on high alert as the fourteen time capped Samoan will burst though anywhere and defensively he's ferocious.
Chris Robshaw is the heartbeat of the Quins team and if Tigers can subdue him then the match is there for the winning. Subjugation is not something that fits with the England skipper's mind set though but Tigers must try to keep him quiet, whether they can do so is of course another matter entirely. Similarly since being declared surplus to the requirements of Stuart Lancaster's brave new vision for England (I do so love all this management speak. Have we had a mission statement yet? If not one is sure to be on its way)for the Six Nations he's been playing like man possessed and has certainly made his own mission statement; "I'm not past it yet Mr Lancaster, not by a long chalk". Some of the big man's running lines are superb and he'll be an enduring danger around the tackle area. It will continue to take all of Tigers' defensive efforts to bring him to ground if he gets underway and prevent him from off loading in the process.
Tigers of course have the equally excellent Steve Mafi who has his own talents when it comes to support play and his line out work is of the highest order. If the dynamic Tongan sees a hole anywhere in the Quins' defence he'll be through and I guarantee Quins will be acutely aware of him following his exploits at the Stoop a few weeks back.
Julian Salvi was injured for the Saracens' match and Craig Newby stood in on the relatively unfamiliar open side and put in, for me, a Man of the Match performance, his offload for Mafi's beautifully taken try was just sublime. Just Mr Pearson stood between the Kiwi and the official accolade as the random penalty selector was brought into use and his own "I Spy Book" was duly completed.
Thomas Waldrom, who is wanted on voyage by Mr Lancaster, produced another bravura performance against Saracens in both attack and defence and so the contest between the respective breakaway forwards is going to be intense and I for one can't call it.
Danny Care was suffering from a recurrence of shoulder injury, so against Saints Karl Dickson lined up opposite sibling Lee with the two of them at times behaving like it was still bath time for 5 year olds, which was a shame as I really rate Dickson (Karl) who must have bitten though his bottom lip when his brother scooted home for a try that so nearly denied Quins an appearance in the final.
As I write this I don't know if Care is recovered but while the sniping play, for which he is renowned, is a valuable weapon I think that maybe the steadier Dickson could even be a better option as Tigers are not a team to play fast and loose with and errors that come inevitably from Care's more expansive play book could be costly.
Ben Youngs play with ball in hand is pretty much back to its best and I've noticed a change in his kicking style with it having a flatter trajectory these days, which is just as well as a misdirected hoist to the heavens against Saracens very nearly led to a try for Quins' old boy David Strettle, a last ditch effort by Tuilagi senior being required to dislodge the ball.
All Black Nick Evans is finding some good form although on the last two occasions I've seen him he hasn't been at his imperious best but cometh the hour and all that, so I'm expecting the Kiwi to have a corker of an outing but who'll he face?
Word has been that Toby Flood's injury, sustained against Bath, could see him miss out again and if so it'll be George Ford, who had a wonderful outing against Saracens, making a bit of a mug out of Owen Farrell in setting up Alex Tuilagi's try. It wasn't an error free performance though and his kicking from the tee needs work (not Dave Aldred please!) but it would be interesting to see how he goes against the best fly-half in the Premiership, who only Flood can match when he's also in form.
Against Northampton Jordan Turner-Hall, who's off to South Africa with his "partner in crime" George Lowe, were unable to commit their usual grand larceny as they battered themselves to a standstill against the uncompromising James Downey and George Pisi. Similarly Tony Allen and Manu Tuilagi pounded away at Farrell and Barritt but with a bit more success.
These are two high class centre partnerships, in fact for my money the best in the Premiership. Both Allen and Lowe look to unpick the opposition with surgical precision while Turner-Hall administers the iron hand in the iron glove (velvet is SO yesterday!). I think Tony Allen may have his Scout locksmith's badge on this weekend and I can just see the glimmer of a chance for him if Turner-Hall comes up too quickly. Manu Tuilagi has largely eradicated this tendency from his own game so there may just be an edge here but they'll need to watch the devastating kicks over or though the defence from Evans – I don't think they'll be caught twice and Youngs must be diligent when sweeping behind the defence just in case.
The Tigers' half backs will also need to watch for Fa'asavalu coming through on Ford, if he plays or on Flood if he doesn't, with Easter running an arcing support line. Think Jacques Burger but without the hair!
Tom Williams stood in for the injured Ugo Monye against Saints and was partnered by the impressive Sam Smith who is deceptively strong in staying on his feet when tackled forming a bridgehead for his support players. He hasn't scored in the Premiership since Quins were in their early season pomp but he's an ever present threat.
Alex Tuilagi will be another making his farewell appearance for Tigers along with his wing partner Horacio Agulla. My goodness Tigers will miss these two and I wouldn't bet against either (or both) having a final try scoring hurrah and Williams and Smith will doubtless watching them like multi coloured hawks. But Tuilagi senior must watch his defensive alignment against the Quins back three as he'll not get away with bad positioning twice on the trot.
Of course in making their ideal farewell they'll need to get past the hard tackling and ever present Mike Brown, who'll be the latest to try and run rings around the wily Geordan Murphy. I'm not expecting to see either get much change from their kicking but Brown's running could be decisive in deciding the battle of the full backs.
Once more its questions rather than answers I have to offer but if the match is as compelling and of the same high quality as the last time these teams met then it'll be a cracker and nobody will be lampooning the winner.
And Tigers will be cats with no sense of entitlement when they run out onto the Twickenham turf that's for sure.
This is my last preview of the season so may I thank everybody who's read my ramblings over the past nine months and especially those who have been kind enough to say nice things about them. I wish everybody a great summer and hope to be back with some more meanderings in September.