Tigers v Harlequins Preview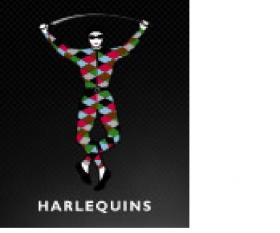 By ChrisC
September 17 2012
07.37 The 07.37 wasn't my train of choice, my routine that World Cup winning year, when the England soccer team had its only success, was to join my fellow commuters on the 07.57 which just gave me time to negotiate the London Underground and squeeze into work by 9am.
On that misty September day I was commanded to be at the office early so found myself, bleary eyed and ill tempered, standing on the platform waiting instead for the earlier train when suddenly there she was, walking toward me was quite the most perfect girl I'd ever seen.
She was with an older woman I surmised to be her mother and when we boarded the train they took what appeared to be their customary seats. Commuting was a matter of ritual; the same people occupying the same seats on the same trains every commuting day with interlopers, such as I, left to sit wherever there was space or most usually to stand, as it was unthinkable that a male would sit while a female remained standing.
I edged my way through the crowd until I was nearer to the girl at which point she paused from reading her magazine, looked up at me and smiled. My breath caught and my stomach did back flips.
From then I was on the 07.37 every day. On the fifth day the girl was unaccompanied and as we left the train at Liverpool Street I gave way to let her pass and, as was then usual when courtesy was extended, she smiled and thanked me. Seizing the moment I introduced myself and she responded by telling me her name was Linda and from then on we chatted on every commute until I plucked up the courage to ask her to go to the cinema, an invitation which, to my amazement, she accepted.
We thereafter enjoyed a wondrous time together until we were invited to a party and a girl from the office, who I was surprised to see there and with whom I'd had an innocuous drunken clinch at the Christmas office shindig, returned from a visit to the Ladies Room talking with Linda, who she'd obviously buttonholed within those mysterious, cloistered confines. The world stood still as the events of the Christmas party, months earlier, flooded back and I was overwhelmed first with guilt and then with fear. I sweated as they talked, for what seemed hours, as they re-entered the room.
Linda said nothing of the conversation and, as things appeared normal, I exhaled. The following Wednesday we were to go out and, when I arrived to collect her, as usual she invited me in to her house which was strangely quiet with her parents nowhere to be seen, even though their car was parked on the drive.
She asked if I'd seen her talking to the girl from the office and a sense of foreboding gripped me, my mouth was suddenly arid, all I could do was dumbly nod and she nodded slowly in return, her blue eyes softly glistening. I was then unceremoniously dumped, no telephone call and of course back then no texts or emails, the coup de grace was conducted her beautiful face to my fast greening visage.
There was no rancour, no histrionics and no recriminations from Linda just an expression of sadness and disappointment at how things had turned out. I was toast. There were to be no pleas heard in mitigation, there were to be no excuses, no reprieves, it was final. I'd had my chance and I'd blown it.
I guess Toby Flood and Charlie Hodgson could be having similar feelings after Saturday's turgid match at Wembley. Both had their chances to snatch a last gasp victory for their teams and both blew them, although to be honest neither team deserved to win with referee Mr Fox playing his full part in a match of ineptitude and low quality.
Maybe it's the lowest common denominator thing that saw Tigers reduced to such a display of uninspired play. It was awful and I was pleased when it drew to an end.
Meanwhile Quins eventually beat Sale comfortably and continued their early season form, starting from the second half against Wasps when they produced a stunning fight back against the run away half time leaders who'd shot their collective bolt.
Last Saturday Quins pummelled Sale at the scrum with Marler and his gang of desperados gaining dominance and permitting Danny Care and Nick Evans to guide their team to another high paced victory, albeit one which, after they came out of the blocks like Yohan Blake with an Ugo Monye try, contained an unfamiliar degree of inaccuracy from the home side who, for a good period of the first half, looked second best to the visitors until Turner-Hall scored a lovely centre's try, running a superb support line to that man Evans.
Then they had to wait until the closing minutes of the game before first Robson and then Brown got tries to provide another bonus point win for Conor O'Shea's charges.
As was the case for the protagonists in the Tigers vs Saracens match, this weekend will be Quins' first match against one of the teams who can be expected to be in or around the top of the league come the season's end, the south London side thus far having seen off teams more likely to be toward the other end of the table come May. To add to their first big examination Harlequins have to travel to Welford Road to sit it.
Both sides look to play an attractive style of rugby which is more than can be said of Saracens and I suspect Richard Cockerill's mind set and game plan will be significantly different to that which he employed at Wembley last Saturday. The Tigers' Director of Rugby, knowing how Saracens were likely to play and that any lead afforded them would be fatal, met tedium with tedium and succeeded in harvesting two valuable match points, like a judicious squirrel, from an arch rival, and away from home at that.
The Sale pack has been struggling in these early weeks of the new season but Quins will find the Tigers' eight a very different proposition, their having overcome the strong Worcester pack and edged the contest against Saracens.
With Ayerza still messing about in the southern hemisphere I'd expect to see Mulipola again take the loose-head berth to face the giant James Johnston and look to expose the Samoan's sometimes suspect technique, while it looks like it's Castrogiovanni's turn to have a toe-to-toe with Joe Marler. I expect Conor O'Shea to stick with Gray at hooker on the basis of not trying to fix that which isn't broken and Gray had a good outing against Sale, showing all fifty shades of his talent. For Tigers I suspect George Chuter could replace Tom Youngs at the start to ensure that line-out ball is secured with Youngs coming on later to bring his bullocking open play to a tiring Quins' defence.
Quins don't have Tigers' strength in depth in the front row and it will be interesting to see if the Quins' starting trio again go the full eighty minutes as they did against Sale or whether their reserves will be exposed to the Tigers' replacement front row. I see a close contest from the off but that Tigers Fifth Cavalry will tip the balance in favour of the home side later on.
George Robson continues to be the heartbeat of the Quins' side getting himself over the try line for his third try in as many games while being the anchor for their solid line-out and an ever present in loose play. Last week he started alongside local lad Charlie Matthews who was immaculate at the set piece, making just his second start in the Premiership to replace the injured Ollie Kohn.
There weren't many that will want to be remembered for the match at Wembley last Saturday but Steve Mafi put in another top rate performance at the line out and supported Kitchener and Geoff Parling admirably and so, I guess, it will be so next Saturday with this trio capable of giving the usually rock solid Quins' line out a thorough examination and maybe even getting an edge at the set piece.
Tigers' back row repeatedly fell foul of Martin Fox at Wembley, although so random and inconsistent was the referee's management of both the set piece and the breakdown I shouldn't think the players knew whether they were on foot or horseback half the time.
I don't see any change warranted for Tigers against Quins so the highly mobile combination of Julian Salvi, Thomas Waldrom and Steve Mafi will need to be at their best against the visitors for whom Nick Easter and Chris Robshaw look nailed on to start, the question being whether the speed and skill of Tom Guest, who remains a particular favourite of mine, will again be preferred to the power of Samoan Maurie Fa'asavalu.
Quins will look to carry and carry and carry again through the heart of the Tigers defence, which incidentally is what Tigers should themselves have done against Saracens last Saturday rather than keep trying to get the ball wide when faced with a persistently off side defensive line, an offence to which Mr Fox and his officials seemed blind and, as both sides employed the same tactic, they had plenty of opportunities to release the match from its shackles by applying an appropriate sanction.
Tigers will have to be vigilant around the tackle area and stop Quins getting up a head of steam as is their wont. Quins will be similarly engaged and wary of Tigers' breakaway forwards reciprocating however the Tigers' trio will have to be more patient and more persistent in their endeavours and not try to rush things by spinning the ball wide when circumspection is indicated, especially as Sale got some change going through the middle of the Quins defence even though it largely held firm against the visitors' best efforts.
While Danny Care and Nick Evans played with tempo the Tigers duo didn't against Saracens. In part of course this was due to the mess that the breakdown became under Mr Fox's stewardship and Saracens being continually off side, nevertheless Sam Harrison looked callow at the base of both the set piece and the ruck and I have real concerns as to how he'll fare against Quins. If he repeats his performance from last Saturday, when he dillied and dallied, then Toby Flood will once again see his space closed down, this time by the on rushing Jordan Turner-Hall and the Quins' breakaway trio, which, if Fa'asavalu is on duty, could see the England Fly-Half ending the afternoon with very sore ribs. With Youngs and Young both injured I wonder if it's time for the experienced Phibbs to get a start to add to the eleven minutes he had as a replacement against Worcester.
Last season the Aussie played twice each for Exeter in the Amlin Cup, the Premiership and the LV= Cup and slotted two tries. During his seven seasons with the Brumbies , who he joined from Saracens for the 2004/5 Super Rugby season, he made seventy appearances with twenty-three starts, scoring eight tries in the process. Against Care experience will be important and Phibbs has it whereas Harrison could be badly exposed.
If Evans was assured and made an almost regal progression against Sale's Danny Cipriani's continued introspection and misfiring boot, then Flood was anything but against the prosaic talents of a similarly badly misfiring Owen Farrell. Flood's kicking from the tee was of a good standard but once again his kicking from hand was, at times, painful to watch and with poor service from his scrum half conspiring with, largely unpunished, illegal defensive tactics he had a bad day, which he can't repeat against Quins or they'll run riot with Evans the agent provocateur in chief.
It's difficult to form a view on the Tigers' back division on the basis of the Wembley debacle other than to say they defended robustly with Manu Tuilagi showing how much his perceived positional defensive frailties have been worked on.
In Turner-Hall Tigers' Tony Allen will have a similar furrow to plough as he did against Brad Barritt and if the ex Gloucester man can get some ball without Turner-Hall or a Quins' back row forward attached to it he could get past the Quins' man, who can become rooted when wrong footed in defensive situations, and release Tuilagi however if Tigers don't get their defensive play around the breakdown spot on then Turner-Hall's support play through the centre will get George Lowe into play, who's obviously relieved to be back in the familiar thirteen shirt after his nightmare against Wasps when he was on the wing and repeatedly skinned by Wade and Varndell. Quite why O'Shea preferred to play the influential Lowe out of position that day rather then start the lightening fast Ross Chisholm and leave Lowe in the centre, where he's so often the lynchpin of his side's defence, I've no idea.
With Monye fit again, and in good form, I've no doubt he'll be paired with Tom Williams even if my personal preference would be for Chisholm, although he may be injured as he wasn't in the match day squad against Sale and I can't think of any other conceivable reason for his omission.
Niki Goneva had a fine defensive match against Saracens and showed how well rounded his game is as he also gave the Saracens' defenders plenty to think about, as he will Tom Williams who could be charged with setting his 84kgs frame against the 95kgs of the Fijian. My guess is that Goneva will spend time in Williams' channel!
On the other wing at Wembley Scott Hamilton found himself dragooned into the familiar full back position when Geordan Murphy went off injured early on and it wouldn't be a disaster if he had to fill in again as his performance there was typically calm and full of intelligence, in fact "Murphyesque". If Hamilton is thus employed and both Tait and Benjamin are still injured, as I believe they are, then we may see something of new signing Adam Thompstone who will be chomping at the bit to show what he can do and anxious not to become a second Lee Robinson.
Hamilton is as safe under the high ball as his club skipper as he'll need to be as the bang in form Mike Brown will be giving the Tigers' full back plenty of practice and joining with Turner-Hall in running powerful support lines off the back of their forwards' driving play, the Quins' full back so often being the genus of his side's scores.
After such a lack-lustre display against the stifling Saracens I hope to see Tigers' backs get some decent ball to play with and if they do then they'll need to execute with laser like accuracy against Quins who'll be looking forward to the challenge of replicating their last meeting with the Tigers.
It'll be a close contest, in fact too close for me to call, but I do know that nobody will want to leave Welford Road on Saturday evening feeling that they blew their chance.