Sale v Tigers Match Preview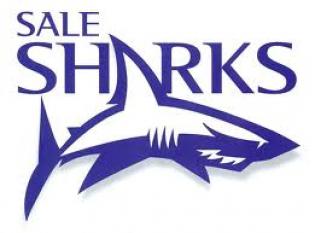 By ChrisC
October 1 2012
Fame In 1968 Andy Warhol made the iconic observation that "In the future, everyone will be world-famous for 15 minutes." My "fame" predated his observation by sixteen years and, while fleeting, lasted for twenty-four hours and not fifteen minutes but didn't extend beyond England.
April 2nd 1952 was the date when I was the subject of a photographic spread across the centre pages of the Daily Mirror and it was my "crowning glory" that got me there sharing the pages with stories about a twenty-seven stone pub landlord from Hinderwell in North Yorkshire who had taken to a diet of Cod and lettuce with varying degrees of success.
Meanwhile seventeen year old Jeann Marsh was reported to be making her debut on BBC radio's "One Minute Please". While a Harry Sibley (aged 14) had got into hot water for a April Fool's prank that put the security services on full alert and led to questions in the House of Commons after the lad delivered an envelope he'd "found in the street", which contained "atom bomb secrets", to Highgate police station in North London. The scamp was later visited at home by the gullible Bobbies and got a "telling off" – if it happened now he'd be extradited to the USA never to be seen again.
In parliament there had been a furious and fractious debate about NHS charges with Mr Marquand; The Minister for Health, getting on the wrong side of his Labour colleagues – same old, same old eh?
Adverts for New Star razor blades extolled their virtues and all at just five blades for a shilling (five pence) while Puritan Soap was said to be strong yet extra mild.
But it was I, your humble correspondent, who held pride of place and it was my mop of blond curly hair that got me there. As a small child I had this one notable characteristic which made my mother proud to be the envy of her peers while I was bullied unmercifully by mine. How I longed to cut the damn stuff short, how I longed for it to disappear. I needn't have worried though as, obviously taking offence at the verbal and physical abuse it suffered over the years, it started to depart of its own volition before a further two decades had passed.
In the austere ration book, bomb cratered London of 1952 the entrepreneurial flame still burned in the soul of one Minnie Sydney who came up with the idea of a children's only hairdressers where the customers sat not on wooden boards perched across the arms of a barbers' chair as was usual but instead in toy cars and aeroplanes and on toy horses. The photographer from the Daily Mirror, deployed to cover the story of this unique venture and looking for a suitable subject as a model, spotted me passing by with my mother, saw my hair, and I was enlisted, although had Mrs Sydney actually clipped a curl from my head my mother would have broken the hairdresser's arm!
The yellowing pages of the newspaper were still proudly amongst my mother's possessions when she died over thirty years later and I have them still, a reminder of my moment in the sun, or rather the Mirror.
Arguably one of the most famous of current English rugby players; Danny Cipriani will probably be on duty next Friday when Tigers visit the latest home of Sale Sharks.
My fame, transitory as it was, carried none of the issues that young Cipriani endured when he first came on the scene at Wasps and was embarrassingly over hyped by the media, seemingly finding his way onto the front pages as much as he did the sports' section. He then went off to Australia to presumably "find himself", as the famous are apt to do.
Another claim to fame for the north-west based side is that in Tony Buckley they have the heaviest player in the Premiership, the twenty-five time capped Irish prop tipping the weighbridge at 138kgs. Happily, as I'm always telling people, size doesn't matter!
In an effort to avoid an infamous start to a season Bryan Redpath made a whole raft of changes for his squad's trip down to the Recreation Ground where they were well beaten by Bath in spite of Chief Executive Steve Diamond taking over from the sacked Steve Scott.
I wasn't surprised to see Sale's most famous player; the aforementioned Mr Cipriani, dropped to the bench in favour of McLeod who I thought looked a good player when I saw him last term and the Sale attack certainly gained more purpose the previous week when he came on. Dwayne Peel was injured for the trip as were the impressive Henry Thomas, ex Gloucester man Alaisdair Dickinson and another high profile signing; Richie Gray. Somewhat oddly Richie Vernon seems to be out of favour or maybe he's injured which would more sensibly explain his absence.
Earlier Tigers were at Welford Road for the second of their back-to-back home fixtures and hosting Exeter Chiefs. Suffering once again from a big injury list that seems to grow with every passing minute, other than at fly-half that is where all the candidates for the shirt were fit and where, in spite of a poor run of form, Toby Flood was again partnered with young Sam Harrison while the very experienced Pat Phibbs gathered splinters on the bench until late on.
I'm sure that smoke could still be seen rising from the seats of the Tigers' players shorts such a roasting they'd obviously had during the preceding seven days, while Exeter seemed caught unawares, after the bore-fest against Saracens, as to what to do when opponents play with pace.
The Tigers' pack were in fine form led by the irrepressible Mulipola and the scary Dan Cole and with Mr Wigglesworth presumably having the new Mk IX version of the "randometer", which worked beautifully enabling the breakdown to be an inconsistent shambles and later the same chaos was brought to the scrum where, hitherto, Tigers had been totally dominant.
Meanwhile at The Rec, Ollie Barkley bid farewell to Bath (again) with a valedictory sixteen points from his trusty boot to add to a penalty try, an ironic reward for Steve Diamond's new improved coaching of the forwards following the socceresque sacrificing of Steve Scott. Further Bath tries from the newly elevated David Wilson and lock Stuart Hooper saw to it that Sale left empty handed, Leota scoring a solitary try for the visitors while they racked up twice as many Yellow Cards with Andy Powell and Tom Brady both having breathers as Mr Davey proved that his lungs were in the rudest of health.
It was poor stuff, only notable for a mad showboating backward flip from Powell very nearly conceding a try, the Sale pack getting another working over and that had MacLeod not fluffed a couple of kicks Sale would have gone in for their cup of tea just three points adrift which would have been a fair reflection of two blunt attacks and two resolute defences. The second half was a bit better with Cipriani trying things but Bath eventually canteried home and had Mr Davey, for some reason best known to himself, not disallowed a perfectly good try from Bath's Perenise, the score-line could have looked even uglier. In the event though Sale were still left with another loss and Powell in the Sin Bin after a high tackle which, after a display of petulant bad temper, could see him hearing more from the powers that be.
So Tigers, in 4th place after the weekend's action, visit Salford on Friday hoping to add to Sale's woes as the Manchester based side sit anchored at the foot of the Premiership and thanking Worcester for their victory over London Irish at least keeping Sale to within a single victory of escaping from the smell of sulphur seeping from the trap door to the Championship.
The Sale front row struggled against Bath regardless of the combination tried and it was fortunate that Mr Davey lost interest in Welshman Eifion Roberts repeatedly failing to bind correctly, while on the tight head Buckley put himself about in the loose to some effect but his scrummaging remains his Achilles heel. Ex Wasp; Kiwi Joe Ward, replaced young Tommy Taylor late on so I expect to see the experienced Ward start against the Tigers and surely Moldovian; Vadim Cobilas will be reinstated to complete the trio with Roberts who's clearly in favour having started every match as had Cobilas before the experiment with Buckley against Bath.
It'd be a brave man who'd back the Sale front row to prevail over the likely Tigers' front row of Castrogiovanni, Chuter (if he's recovered) or Youngs who's throwing was better on Saturday and his play in the loose is a thing of rare forward beauty. These will probably be joined by Mulipola who's destroying tight heads for fun but I bet he's having to write out 1000 times: "when I get over the try line put the ball down"!
The injured Richie Gray was replaced by his compatriot; Fraser McKenzie who, with Kearnan Myall, did a decent job at the line out and the breakdown. I rather liked the look of Myall when he was at Leeds and he continues to be a real solid performer and if Gray's selected then I'd expect Myall to be with him.
Tigers' regular pairing of Geoff Parling and Graham Kitchener made a mess of the usually redoubtable Chiefs' line out so it'll be interesting to see if Parling can unpick the Sale set piece with such alacrity.
Andy Powell and, later, James Gaskell were also strong at line-out time for Sale and given their work at the breakdown I wouldn't be surprised to see them start alongside David Seymour who just doesn't know when to give up and together with young James Doyle, who looks a real good prospect on the blind side, worked himself to a standstill but somehow it didn't click, there wasn't cohesion, it didn't look like a team effort somehow.
Eternally wounded warrior Julian Salvi put in another fine scavenging show and had a distinct edge over Scaysbrook until he was forced from the field of battle while Jordan Crane, although wearing the #6 shirt played at #8 (maybe they didn't have a shirt in his size, who knows) and is getting rid of his rustiness which still surfaces in the efficiency of his heavy lifting at the line out but he makes a good combination with Waldrom who seemed to be auditioning as one of those Duracell rabbits. He was everywhere. It's to be hoped that Salvi is recovered for the trip to the north-west but if not maybe we'll get a look at Richard Thorpe who, when at London Irish, was denied match time by Steffon Armitage but when he did get the chance he impressed.
If Tigers are not to boss the tackle area then the Sale trio will need to be as one in their efforts so it'll be interesting to see what Steve Diamond achieves in the shortened period between matches.
With Dwayne Peel injured Irishman Cillian Willis, who's been signed from Ulster having also spent time at Connacht and Leinster playing in the old Magners League, got the gig at scrum half and did not have an entirely fault free afternoon looking a bit out of his depth at times. He was supported by young Nathan Fowles so I wonder where Will Cliff is? I rather like Cliff and so if he's not on the treatment table I can't imagine why he's out of the squad.
Willis joined up with Nick MacLeod who took over from Danny Cipriani in the starting line up and had a similarly unhappy time and it wasn't until Cipriani came on that Sale looked to have any adventure about them. True he wasn't on anybody else's wavelength and his ambitious moves landed like lead balloons but he did bring welcome pace and variation to the visitors' endeavours and it'd be surprising if he didn't start against the Tigers.
Sam Harrison had an altogether happier outing against the Chiefs blessed with the luxury of space and time behind his dominant pack and looking the better for it, there are though much sterner tests to come and it is a relief to hear that Ben Youngs is likely to play some part up at Salford.
Toby Flood also put the horrors of the Quins match behind him and was good with the boot although some of his plays looked risky and badly executed he did straighten, asking questions of the opposition defence. Give a player like Flood time on the ball and there'll be consequences. I bet he'll welcome Youngs back with a bouquet so pleased he'll be to see him.
We were teased by Richard Cockerill with a vignette from George Ford who gave a thirteen minute synopsis of his talents – can he really have only had an aggregate of thirty-five minutes of game time this season? How can Richard Cockerill be so profligate of such a talent?
International centres Kiwi Sam Tuitupou and Samoan Johnny Leota are real pair of bruisers in the Sharks' midfield and to describe their approach as direct is to understate their physicality and as they have thus far started every match this season it's likely they'll be thundering over the Mancunian turf again on Friday evening and if Cipriani can show some of those deft touches of yore and bring them onto the ball at pace there could be challenges for the Tigers' defenders.
Whether Manu Tuilagi is fit remains a huge question mark but after a truly memorable performance from Matt Smith in the Tigers' 13 shirt it would be harsh on this ultimate club man for him to be dropped from the starting line up. I am not though a great fan of playing somebody out of position just to get them on the field, which always seems to me to be an exceptionally poor reason for selection. If a player is performing well he gets to keep the shirt – simple in my book.
New boy Daniel Bowden got his first start for Tigers against Exeter and I thought he did pretty well, also benefiting from the extra time awarded the midfield. He's certainly an accomplished distributor of the ball but I had hoped to see more of him straightening the line as he did so effectively for London Irish and that he'd deploy his kicking game which is, after all, currently his USP over Tony Allen who, Lazarus like, appeared not only on the bench but to replace Bowden when he went off injured. Allen certainly looked more threatening as he repeatedly went to the advantage line and crossed it. His flick to Goneva from his own tackle was a lovely piece of skill and led to Tigers' third try.
Out wide for Sale down in Bath were the venerable Mark Cueto who had a quiet sort of game seeing little of the action. Cueto has lost a yard or two of pace but still has all the craft, while Tom Brady continued to look for action. He was unfortunate in picking up a Yellow Card at the behest of Mr Davey and had he not made a deviation in his run before felling Skirving in mid air contrition might have done the trick but it was not to be. Mr Davey was in uncompromising mood.
Tigers' new wingers looked threatening at Welford Road with Goneva displaying great pace and balance while Thompstone seems to have that special talent for being in the right place at the right time and he finished all three of his chances with considerable aplomb. So no change there for Friday then.
Cumbrian try scoring machine Rob Miller is a fixture at full back for Sale but has yet to add to his reputation by adding to the ten tries he scored in last year's campaign. He's a wonderful counter attack runner but repeatedly found himself wrong footed defensively when Donald and Barkley pushed through teasing grubber kicks so I'm sure that the Tigers' backs will try their luck with this tactic.
With Geordan Murphy amongst the injured and Scott Hamilton a late withdrawal Niall Morris got his chance at full back and grabbed it with both hands showing security under the high ball, some strong counter attacking and a lovely chip and catch. On that showing Tigers may have found another dynamic Irish full back, now he just needs a chance and should keep the shirt.
The injury ravaged Tigers will be feeling more confident as they travel north-west for Friday's encounter while Sale will need to discover their confidence and their coaches need to find a way to get their players, and there are some talented ones there, to play as a team if they're to finally get a win.