Memories Part 3...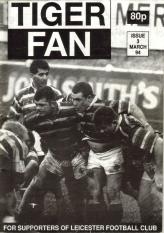 By Sally Coles
July 19 2014
My introduction to Welford Road was in the 1982-83 season. It all came about because my son was introduced to mini-rugby that year as an 9 year old, and very quickly he wanted to see how the "proper" game was played.
Before that, I think I'd watched the Varsity match and the 5 Nations games on TV, but hadn't ever seen it in the flesh. We all went down to Welford Road as a family, and met up with friends. It was a sit-where-you-like arrangement then, so we used to get there in time to get a spot in the Members' stand near the halfway line, and then the kids could just roam until kick-off - there was usually time for a bit of passing practice up on the ash bank. Meanwhile the adults could sort out beers, flasks, programmes, etc and catch up on Tigers news. No Sportnetwork forum or Tigers website in those days, so it was what you read in the Merc, or snippets of gossip that came down the grapevine from somebody whose brother was Les Cusworth's milkman, or some such - a bit like Chinese Whispers....
This was back in the days of amateur rugby, when the half-time refreshments for players were a plate of orange slices standing out in the weather on the pitch, and the pre-match warm-up consisted of a few drags of a Park Drive and a flick through the match programme. When you look back at the forwards of those days, and stand them next to the likes of Dan Cole, Tom Youngs and Marcos Ayerza, with their fitness programmes and strict diet plans, any similarities are purely coincidental. The Redfern boys ("Granite" and his younger brother "Pebble"), Peter Wheeler, Nick Joyce, Dosser Smith et al were the prime specimens of their day, but you could always find them in the bar after the game, sinking a few pints and a steak and kidney pie to re-fuel. Van Hopkins would be there, after his stint on the mike on Radio Leicester, and old Sid Chamberlain would be tapping everybody up to buy raffle tickets (or was it lottery cards?)
Meanwhile, the backs were just as keen on a post-match pint - Dodgy, Dusty and SCW were all there with a glass in their hands, but always happy to sign autographs for the kids in between sups. My son was given numerous pints to hold, while his heroes scribbled their names on his match programme for the umpteenth time that season. It was during one of these autograph hunts that my son asked Dodgy if he'd come and do the judging at our primary school fete - much to his amazement, Paul said yes, and a couple of weeks later, duly turned up with his wife to spend an afternoon as a guest judge. His patience with the queue of kids wanting autographs and photos was endless, and he judged a Knobbly Knees competition without batting an eyelid. And of course, amateurism meant there were no appearance fees or perks for him - he willingly gave up 4 or 5 hours of his time, with a bouquet of flowers for the missus as the only thanks he would accept. A true gentleman then, and now.
A few years later, we were on our way down to Franklins Gardens for the game versus Saints. I was driving, with a friend and a couple of the kids. Not far down the motorway, we were involved in an accident when some idiot pulled out in front of me, and we ended up on the hard shoulder, quite shaken, with a battered car, unsafe to drive. The Police were called and were quickly on the scene, and who should step out of the patrol car but a certain P.C. Dean Richards - his last call before going off shift and down to Northampton! Once the formalities were completed, he was off. We were left sitting on the hard shoulder waiting for the breakdown truck, and no way of getting to the match. Minutes went by, and still no sign of the breakdown truck. Then over the horizon came a knight on a white charger - well, no, actually it was Deano in a Land Rover Discovery.... "No point in you all missing the game," he says, "I'll give you a ride down and a lift back if you need one". So the rest of the tribe headed off into the sunset with Deano the hero, and left me to deal with the debris. Another of Leicester's best - he's made his mistakes along the way, but he'll always be a bit special to my family. And Tigers won that day, too....
Visiting some of the old clubs back in the day was a joy. Going to Orrell for the meat pies - and it was there that we bought tickets for the 'meat raffle' and ended up with a leg of lamb in the boot on the journey home. Sale's old Edgehall Road ground, where the Tiger mascot had his tail snipped off by angry fans when they missed out on European qualification, and BarbeDwyer told the Sky interviwer to feck off. Some of the "friendlies" against the old Welsh clubs stick in the memory too. Anyone else remember Rhys Morgan from Newport? One of the biggest, ugliest scariest props of those days. They don't make 'em like that any more. Paul Doran-Jones? Pah, just a pretty boy. And I remember when we used to reckon what Tigers really needed most was a decent second row - a couple of handy locks would make us really special (see, we said it first). And then along came Martin Johnson, Ben Kay and Louis Deacon. Wowsers, that should do it then.
The most vivid memory of my early days as a supporter was the sheer speed and agility of the wingers - Barry Evans or Clive Rees sprinting down the touchline to score was something the television coverage just didn't convey. I was hooked. And I still am now, 30-odd years later, despite all the commercialism and self-publicism which has changed the face of the game in many ways. From Tigers being a mile out in front, in so many facets of the game, the salary cap and professional management have made the Premiership a much more competitive contest, and European achievements are made more difficult because of inequalities in the system. But it's still the best sport in the world for me.
These are some of my Welford Road memories. But now I'm looking forward, not back - to next season. Bring it on.