They've run out of Guinness down stairs!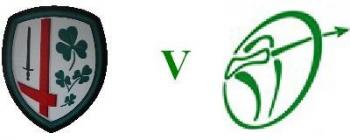 By bisach
August 11 2012
"They've run out of Guinness downstairs." Not the sort of thing you want to hear any time, let alone on the first day of the new (albeit pre) season. And seeing Big Bob on crutches would have caused consternation at the start of any of the previous 10 seasons but not today. It was just good to see him still around.
So the season kicked off with some new foes for the pre season now that London Welsh have gone and got themselves promoted. Nottingham Rugby in their Blue and white kit were the new preseason warm up for London Irish, probably arranged with the assistance their previous head coach, now our forwards coach Glenn Delaney. Martin Haag, their new coach, was sitting behind me and was very helpful when asked questions like "who's this 'Silky' chap you keep raving about?" and "what time is it?" when London Irish has scored their second try.

According to the team sheets supplied, these were the guys who were going to be facing each other.

London Irish: 1 MaxLahiff, 2 Scott Lawson, 3 Leo Halvatau, 4 Bryn Evans (Captain), 5 Matt Garvey, 6 Alex Gray, 7 Ofisa Treviranus, 8 Chris Hala'Ufia, 9 Tomás O'Leary, 10 Shane Geraghty, 11 Conor Gaston, 12 Joe Ansbro, 13 Jonathan Joseph, 14 Topsy Ojo, 15 Tom Homer
Replacements: 16 Brian Blaney, 17 Halani Aulika, 18 Cai Griffiths, 19 James Sandford, 20 Jamie Gibson, 21 Steve Shingler, 22 Darren Allinson, Unnumbered Luke Peters
Kit: Green shirts, white shorts, green socks.

Nottingham Rugby: 1 Matt Parr, 2 Scott Wright, 3 Michael Holford, 4 Joe Quinn, 5 Nic Rouse, 6 Phil Eggleshaw, 7 Brent Wilson (Captain), 8 Alex Shaw, 9 Finlay Barnham, 10 Rory Lynn, 11 Rhys Crane, 12 Joe Munro, 13 Tim Streather, 14 Ryan Hough, 15 James 'Silky' Stokes
Replacements: 16 Matt Shields, 17 Rupert Cooper, 18 Sean Romans, 19 Mitchell Todd, 20 Dan Montagu, 21 Joe Cobden, 22 Jack Cobden, 23 Andy Savage, 24 Tom Calladine, 25 Dave Priest, 26 Alex Boggis, 27 Jack Bradford
Kit: Blue shirts, white shorts, blue socks.

Sir: Matthew Carley
Assistant Sirs: Gareth Copsey, Andrew Watson

Now, I've never been very good with names but the sheet looked accurate for London Irish at KO but, as I don't know them, I've no idea if it was accurate for Nottingham Rugby. And I apologise to James Stokes if he's not 'Silky' but Martin Haag said 'Silky' was their full back so I've put 2 and 2 together and hopefully got the right result.

So, the game kicked off and, if you're reading this from the main stand area, we were playing from left to right (if you're not then we weren't,) and our new old boy (or is it old new boy) Shane Geraghty kicked off into touch which resulted in a few murmurs from the stand. Don't fret though, in my view, he didn't do anything wrong from then on.

Now, you know what it's like when you don't listen to your wife, you can get yourselves into so much trouble. I should have listened before we came out when she said she's got a recording device on her phone, but I said "don't worry, I've got a pad and pen". Now I'm sitting here trying to understand my writing and I can't make out what I meant by "GD sir". I can only presume I mean good decision sir, but why would I utter/think such nonsense? What ever it was, it preceded a driving maul by LI in the Nottingham red zone (one of hopefully many this season against other opposition,) which was followed shortly after by Topsy crossing the line to … damn, sir says "held up". But. fortunately, his mate on that far side said it was a good try so Topsy had made it 5 – 0 after 6 minutes.

Tom Homer takes the conversion from about 23 out, right on the left hand touchline but his kick hits the right hand post and bounced away.

My next notation says "Leo leaves a couple on their @rse" and this was a theme throughout the game from our South Seas contingent. With all 3 of Leo, Ofisa and particularly Chris doing lots of ball carrying into and sometimes though the Nottingham line. Ok, so later in the game they lost control of the ball on occasions, but they gave it their all throughout.

Now, that's more like it "Finally, holding on pen". Sir seems to be letting the attacking player hold on whenever a defender is trying to steal the ball at any tackle. But he finally does pick up on it. Fortunately, Nottingham were penalised for this first time. As for staying on your feet at a ruck, obviously not a priority in Sir's book tonight. But it's the same for both sides so at least he's consistent.

Back to the action and Alex Grey breaks their line and makes a nice run down the left hand side and gets the ball to Ofisa who makes it 10 – 0 to London Irish after 15 minutes. Now I know the team and supporters relied on Tom a lot last season with his golden boot, but that's the 2nd try scored bang in the left hand corner and Tom, this time, slides the conversion to the right of the left hand post … unfortunately, it was to the right of right hand post too.

A couple of minutes later and Sir declares "Tea Break" I get the view from the supporters around me during the break, the most sensible one being "Mr Bump plays for Nottingham."
Seilala O'Mapusua was visiting from Japan tonight and he tells me he'd be coming on in the 2nd half.

Sir gets the game going again but not much happens in the 2nd period. Too many cream scones with their tea.

There was a nice bit of sweeping by Scott Lawson after Nottingham had overthrown their own lineout in our 22 enabling us to run the ball right to left and clear our lines. And Alex Grey blew a good chance running onto the ball and knocking on down our left hand side.
Tomás O'Leary seems to have found his bearings of the Sunbury pitch too, shown by a nice grubber kick to put the ball into touch inside Nottingham's 22. Let's hope he learns the Madejski contours quickly too.

Half time comes with the score 10 – 0 to London Irish. I think we've edged the game so far but Nottingham haven't threatened to score.

Being a pre season, half time brings on a raft of replacements. Steve Shingler replaces Shane Geraghty. Brian Blaney replaces Scott Lawson. Darren Allinson comes on for Tomás O'Leary and Jamie Gibson comes on for Alex Grey.

And this is when I hear that the AG has run out in Fitzey's Bar.

The (what turns out to be) 3rd period sees Nottingham make their only serious try scoring opportunity but their maul is held up by London Irish in LI's left hand corner and LI get the scrum put in. This is shortly followed by the bane of LI's game last season, an aimless boot up field, when Steve Shingler hoofs the ball from his own try line only for it to be countered by Nottingham when they catch it on our 10m line. Nothing comes of it though. Fortunately, we didn't do it again in the remainder of the game. Phew!

The scoreboard bods are roused from their slumber though when, after Nottingham don't roll away at a ruck, Steve Shingler kicks at goal from about 42m out and 7m from the left hand touch.

13 – 0 to London Irish at the end of the 3rd quarter.

Max Lahiff strolls by and, when asked about his new, shorter, hair do, he says he had to get rid of it because "something was living in there." Although I didn't write it down, that must mean he's been replaced by Cai Griffiths for the 4th period. Luke Peters comes on for Tom Homer too.

The 4th quarter only sees one real try scoring opportunity by London Irish when, after a nice approach with good hands and lines of running, Ofisa knocks on over the try line. The quarter was more disconcerting for the hobbling off of both the Huff and Cai Griffiths. But, asked after the match, Glenn Delaney says that they're ok and sitting with ice on their injuries. The Huff was replaced by Alex Grey and Cai by Halani Aulika.

London Irish seem to tire during the period and Nottingham's youth took over but without any point scoring opportunities arising.

Full Time is blown by sir with the score at London Irish 13 – Nottingham Rugby 0

So what impressions did I get from the game? A couple of things …

It seemed to me that Tomás O'Leary and Shane Geraghty have quickly formed a good playing relationship. We were quick to get the ball out of the ruck in the first half and Shane had a good mixture of standing flat or slighty back depending on the situation.

Our South Sea Island contingent seem "up for it". Let's hope they can "stay on the field" every game.

Forwards? Difficult to tell. We tried a driving maul … but only once. We were turned once at a scrum and didn't really dominate in that area. Having said that, we weren't dominated by them either. We held our own at the breakdown, but so did Nottingham. Equality against a Championship team ... will that be good enough for the season ahead or were we just blowing off pre-season cobwebs?

Backs? For a first time with this combination not too bad. Passing, for the most part was accurate but we've got to convert any opportunities we get.

Defense? We stopped any scoring attempts by Nottingham. But give them credit too, because any kicking opportunities they had, they chose to kick into the corner. If they'd kicked at the posts, the score could have been a lot closer.

Dissapointed that Maps didn't come on for the 2nd half.

If someone could order a whole pig for the hog roast, you'd have thought they could have order a full cellar of AG too.

Good to see so many old and new faces.

Bring it on!