The Jack Wakefield Trophy returns home to Sunbury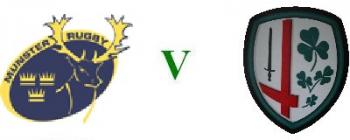 Jack Wakefield
By LKR
August 28 2012
We arrived late (for my usual arrival time of 1 and a half hours before kick-off) as the team were coming out for warms up. This was due to picking the car up from the very nice people at Kevin O'Leary group Silver Springs garage who had managed to squeeze our car into their schedule to replace the water pump which broke in Cork on Thursday evening. The weather was dry but these were large grey clouds around which could make the paper too wet and a match report and the pitch too wet for the team – at least there was no fear of water draining off the pitch, leaving me standing in a river as at Dragons the previous week.
As warm up progressed, a number of Munster supporters were pleased to see Tomas O'Leary back – Although maybe less so by the end of the game. As the pack warmed up we used James Doherty as the forth prop but as he played in the back row, I guess he can't help us out if Jerry is not here for next week.
On to the game itself – Munster came out in back, we were in our green, which looked quite similar, but didn't seem to be an issue to the ref (although some Munster supporters might disagree). Right near the beginning, Scott Lawson charged down the ball – just one of many excellent pieces of play from him during the match. We worked hard in defence initially but then got a penalty at a line out just beyond the 10m line, which Steve put just wide. He has been taking the kicking duties when on the pitch in pre-season rather than Tom – I am not sure why but despite this early narrow miss he has shown we have two very good goal kickers.
In the next passage of play there are a couple of kicking exchanges, then we give away a penalty for offside but win the ball back when Munster opt to kick for the corner. After a couple more kicking exchanges we kept the ball and get a penalty for Munster not rolling away. Steve kicks this to make it 0-3 after 18 minutes. After a couple of errors in the next period of play, we get the ball and pass it through the hands, with Tomas, Steve, JJ and Tom all involved before Topsy gets the ball and runs round to score under the posts, which Steve converts to make it 0-10 after 24 minutes.
The Munster supporters behind us were not very impressed with the start made by their team. A few minutes later we conceded a penalty for holding on but Ian Keatley puts it just wide (DanR43 thinks form his photo that it may have gone over). When we win a penalty 4 or 5 minutes later, a Munster supporter voices the view that the referee doesn't give them anything. Steve kicks it anyway, with clear evidence on DanR43's photo to make it 0-13 after 32 minutes.
Munster then exerted a lot of pressure by our try line in the far corner from where we were. We concede a penalty and Munster opt for the lineout and set up a maul and drive towards the line. The ref gives it as help up (TMO DanR43's camera zoom does not quite go that far!). Our defence holds out and we get a penalty (Blame their first score on JonR43 for praising Shaun Edwards's defence coaching). However, they win a scrum penalty just at half time and Ian Keatley puts it over to make it 3-13. Good to see our team spirit as the 15 players on the pitch were clapped off and patted on the back by the subs.
A few minutes into the 2nd half, at a ruck, Joe Ansbro went down injured. He was down for a long time. As it happened a man next to DanR43 got a phone call and was heard to say words to the effect of 'Oh dear, it needs an ambulance' before running off. There was a lot of attention to Joe from the medics. Eventually he was taken on a stretcher to an ambulance which left a few minutes later. As I write, there has been no news - so hopefully no news is good news and it was only precautionary.
At the scrum restart, we get a penalty which we kick to the corner and then another penalty in front of the posts for a Munster player not releasing, which Steve got to make it 3-16 after 44 minutes. It appeared that Losi had gone to 12 and Marland, who had replaced Joe, had gone to the wing. This seemed to me to be a good solution to the absence of a 12. We again pass the ball through the hands and Munster knock on when they try to intercept. We get a free kick from the scrum and continue to pressure, winning another penalty, which Steve takes successfully to make it 3-19 after 49 minutes.
We bring on Darren and Kieran Low to replace O'Leary and Skivington, while Munster also make replacements, see the Munster site for more information on them. Our next penalty was to make it 3-22 after 55 minutes, after which Munster started to apply more pressure but we held out, Gerard Ellis comes on for Ofisa, who had been struggling a bit for a few minutes. We started to go forward against and after some scrappy play in their 22, a knock on from Munster meant Scott picked up the ball and popped it off to Steve who ran in to score our 2nd try to make it 3-29 after 59 minutes. More replacements were made, Alex Gray, Halani, Shaun Malton and Conor Gaston came on for Jamie, Leo, Scott and Tom, along with 3 Munster replacements. A few minutes later Foster Horan came on for JJ.
In the next period of play a long cheer went up from the Munster support as we gave away a penalty. Munster kick to the corner and are looking good but then knock on. The assistant referee has spotted something, the referee then talks to Bryn, from his signalled about pulling back. Munster get another kick into the corner but against knock on from the lineout. Munster make two more subs and start to mount the pressure again. They try a quick throw but the ref calls them back – he is not very popular with the crowd. Another round of knock ons by Munster, a penalty to us but another big cheer when Munster then get a penalty. The cheers do not last as we reach into a ruck from their tap and go penalty, pass the ball out to Marland, who races 70m to score in the corner, making it 3-34.
We bring on Doherty and Bryn and some people start to leave, DanR43 asks if we're at the Stoop. The very pleasant Munster supporters around us, ask us to be nice to them in the match report. Munster get another penalty (no cheers this time) and kick to the corner. O'Leary comes back on for Darren who appears to have picked up a knock and Mike Ward is on for Steve Shingler. After the lineout there is a scrum and Max is given his first ever yellow card (according to him). We do not bring Leo back so it goes to uncontested scrums. Munster retain the ball from the lineout and push over the try line in the last play. Shaun Henry scores the try with Scott Deasy converting to make the final score 10-34. It was good to see five or six of our players running up to try and charge down the conversion – playing the full 80 minutes.
It was great to have beaten Munster at Musgrave Park for the first time (I've seen). Even better to win back Jack's trophy and get our 2nd piece of silverware before the season has really started.