Hope spings eternal...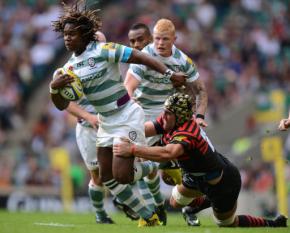 By Griff
September 4 2012
It has been all-change at London Irish over the summer, with many club stalwarts departing for pastures-new, including the management team. Brian Smith's new side had a mixed pre-season. Messages coming from the camp sounded positive - the army-training seemed to do a good job of bonding the players. A scrappy win over Nottingham was followed by a loss in the pouring-rain at Newport and then a very good win away at Munster.
Along the way the PR department had been putting-out many positive messages about how the side was shaping-up, the icing on the cake was surely the first piece of silverware since the Middlesex sevens win of 2009 with Irish taking the JP Morgan Sevens crown in the first premiership competition. Feelings amongst the supporters were very positive that this year we might get a good-start. Sure, we had a limited-sized squad and injuries may hurt us later in the season but the majority were expecting a bright start, even if it wasn't to be a win against the very-good Saracens side.

Now, long-suffering Irish supporters should, at this point, have noticed the warning signs - we're never allowed to hope. We shouldn't. It's just not the Irish way. We have to expect the worst and, if there's a big win, it feels all the better. Hope can only make us miserable...

So it was to be. All that expectation came crashing-down in a genuinely turgid affair. Many said it was the worst Irish performance they've seen, I disagree - I saw an awful lot of much worse performances under Gary Gold and Dick Best (to name but two). The difference, for me, was the gulf between the expectation and the reality.

The first half was won by Saracens 12 - 3. It could've been level had Tom nailed all his kicks but (and here was another warning sign) even the normally kick-perfect Mr Homer had a shocker and missed three from four.

The only other things worth mentioning were that Saracens had a try disallowed for a forward pass and both Ofisa Treviranus and Saracens' new-boy Chris Ashton were given yellow cards for pretty-much identical offences.

These three incidents were also interesting as they were all picked-up by the TMO with referee Mr Barnes using the new regulations that allow use of the TMO for on-pitch reviews leading up to a try and to spot missed incidents of foul-play. For me, the forward pass was fairly obvious and should've been picked-up by the on-field officials and neither of the yellows were particularly merited. Trev simply hit Charlie Hodgson with such pace that his arms couldn't wrap the fly-half up quick enough. Ashton definitely shoulder-barged Shingler (really stupidly given that Trev had been done for just that) but there was little in it. I'd say Ashton's was the worst but I would, wouldn't I? The jury is still out for the new system for me, it was used repeatedly over the rest of the game but I didn't feel we gained much in accuracy of decisions and we sat an waited a lot.

If the first-half was poor from an Irish viewpoint the second was even worse.

The first try was horrible. Saracens simply shredded a badly-aligned Irish defence. I imagine Shaun Edwards has breathed-fire about this as pretty-much no part of the Irish defensive-line fired and Chris Ashton romped onto an inside pass to cross the white-wash. Hodsgson converted it.

The second-try was also poor but more from an officials point-of-view. I count two forward passes in the move. There was also one (that Wayne Barnes clearly called "backwards!") before the ruck but Barritt's to Wyle and then Wyle's pass to Ashton both looked forward to me. Ashton's little flick backwards back to Barritt for the centre to score was sublime, though. Again Hodgson got the extras and the game was pretty-much away from Irish.

The third was quick-thinking by Neil de Kock at scrum-half for Saracens (and not by Irish). De Kock took a quick-tap at the back of a ruck from a penalty and got a pass away to Hodgson who put Ashton through a splintered and disinterested Irish defence. Again Hodgson added the two points.

The bonus-point try came from London Irish old-boy Nils Mordt. Irish knew they were out-of-it and the Saracens pressure was relentless. Another one reviewed by the TMO to check for forward passes. For me the pass from Asthon was forward (he was standing a the top of the 5m sode-line when he made the pass and Kelly Brown was further down that line when he caught it). The ESPN team kept going-on about the "hands facing backwards" but I'd have thought lines on the pitch are a more fundamental than which way the passer's hands were facing but hey-ho. Brown failed to complete his pass but the ball went to ground and Mordt snaffled it up to breach the line for a fourth try. Hodgson completed his perfect conversion-rate and the game was over with Saracens 40 - 3 Irish.

Much fuss was made of Tagicakibau's selection at inside centre when the team was announced and he wasn't the revelation we'd hoped for. A better 12 might have made a bit of difference but it was a team-loss. With the exception of Marland Yarde, who played out of his skin, the rest of the team had a complete shocker.

I complained bitterly that Barnes wasn't preventing Saracens from killing the ball and stealing it illegally from rucks but, given the complete hash Irish made of actually using the ball they got I'm not sure if he had stopped this it would've made a bit of difference.

It was, quite simply, a very bad day. There's little point in supporters analyzing it to see what went wrong because from the moment the whistle blew it was just about everything from an Irish stand-point. Sarries were poor in the first half but picked it up at half-time. Irish were just bad.

There's much for the Irish coaches to work-on this week if we're to have a chance of keeping our recent home-form against Gloucester. The only upside from this year's double-header is that it just could not get any worse... could it ?
View a Printer Friendly version of this Story.
Hope spings eternal...
Posted by: The Craic www.londonirish.org (IP Logged)
Date: 04/09/2012 18:46
What do you think? You can have your say by posting below.
If you do not already have an account
Click here to Register
.
Sorry, only registered users may post in this forum.