Bath Rugby - My Part In Their Downfall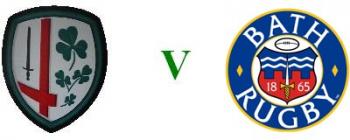 By SirBurger
September 25 2012
Now I'm not going to begin by claiming to be some sort of lucky charm, but I do like to think I played my part in driving London Irish towards their first win of the season. While Irish's record against Bath has been pretty appalling of late, the Exiles have always been victorious in games that I have been the designated Craic match reporter!
While I only average one or two reports a season, my decision to put myself forward to cover the Bath match proved to be an inspired one (but no, I won't be writing the reports every week from now on!)

Bath began the match in the style that they adopted for the remaining 80 minutes: by kicking. Olly Barkley's drop goal attempt after just a few minutes was rather speculative and didn't show much ambition. Thankfully, Irish responded in a rather more exciting fashion with with Treviranus running the ball out of the Irish 22 and into the Bath half. A spell of decent Irish pressure followed this, with an improved catch and drive and scrum becoming apparent from an early stage. However, Bath were able to eventually clear their lines and apply their own pressure at the maul. A penalty was henceforth won and Barkley punted his side into a 3-0 lead.

The early stages of the game followed this pattern and Treviranus again took Irish close to points with a superb burst through the middle of the Bath defensive line. Eventually, some pressure at scrum time from fellow Pacific islander Halani Aulika won Irish a penalty and Shingler levelled the scores at 3-3. Not that it stayed this way for long, with Irish ill-discipline giving Bath the chance to edge ahead again shortly after. A quick succession of penalties of their own though allowed Irish to take a 9-6 lead. I note at this point there seems to be much more 'bite' to the Exiles game, with Gibson's chargedown attempts and Garvey's general disruption at ruck time causing no end of problems for the Bath half backs.

It is Bath, however, who grab the first try of the afternoon with a simple move from right to left. Joseph allowed Abendanon a bit too much space on the outside and the full back was able to feed league convert, Kyle Eastmond for an easy run in. These two players were by far and away Bath's most dangerous attacking threats and Bath fans must have been slightly disappointed that they did not see more ball.

Irish responded in strong fashion though and began to find their groove. O'Leary was starting to get quick service from the base of the ruck and his wrap around plays off phase ball were becoming an ever increasing feature of Irish's play. Excellent link-up play between Lawson and Danaher eventually caused Bath to infringe, with Shingler making the score 12-13. Irish were able to add to their tally just before half time, with their first try of the match. A well taken line-out by Garvey was driven into the Bath defence until Lawson was held up inches out. Aulika, the powerful Tongan picked the ball up from where Lawson was stopped and powered over for his second try of the season. At this point I remarked to Lady Burger that he was therefore our top try scorer so far this season. She seemed to find this incredibly amusing!

A 19-13 lead at the interval didn't last long as Barkley slotted an early penalty in the second half. The following passage of play was a period of real niggle from the Irish pack. Strong mauling and a Gibson chargedown gave Irish possession inside the Bath 22. An O'Leary loop around with Danaher fed Humphreys who dummied and then timed a beautiful short pass to Yarde, who had come off his wing. The youngster managed to float a pass over the head of the would-be Bath tackler for Joseph to run in unopposed. It was a brilliantly well-worked try that highlighted the danger that the Irish backs can pose when their individual excellence is able to come together.

Bath responded with intent, forcing successive penalties and the eventual sin-binning of Gibson. Heroic Irish defence followed this, with Danaher, Lahiff and Treviranus putting in a series of huge tackles. Eventually the Samoan back rower, enjoying an outstanding game both in attack and defence, won a turnover at the breakdown and Irish were able to clear their lines.

Gibson eventually returned to the field. This meant that Irish went the ten minutes with him in the bin without conceding, although Barkley did remedy this immediately with a kick at goal.

Bath were beginning to turn the screw and were gaining the upper hand over a previously dominant Irish scrum. The Irish defence though remained resolute and special mention must go to substitute Jon Fisher, who remained in the defensive line for a number of minutes, even after it had become apparent that he had suffered a relatively severe injury to his forearm. The sort of commitment shown by him was typical of the team at large. He was subsequently replaced by Jerry Yanuyanuwata, the monstrous Fijian prop forward, who despite beginning his career in the back row, probably did not expect to be featuring here on his debut for Irish! While further penalties followed for Bath, allowing them to close the score to 26-22, good driving play from Paice and O'Leary put Bath on the back foot and won the Exiles a penalty of their own: 29-22. While Bath threw everything at Irish in the final five minutes, the defensive effort was enough to hold out Bath. In particular Danaher and Evans led by example, with the Kiwi pinching a line-out and holding up a Bath drive single-handedly and consequently winning the put in at scrum time. When the final whistle blew the relief on the players faces and on those of the fans around me was obvious. It hadn't been a beautiful match, but there were clear signs of progress and reasons for optimism.

My observations: the half back partnership looks like it could be an excellent one. O'Leary's service was quick and he also poses a real threat around the fringes, while Humphreys showed moments of pure class. When he is fully fit he will cause opposition defences no end of problems. The real positive though was the intent in the pack. From one to eight they all tackled their bodies into the ground. Lahiff, Garvey and Gibson were not fully fit yet and still they put in really important shifts. Additionally, in Scott Lawson Irish have captured a real gem. The battle for the number two shirt between him and David Paice will spur both of them on. That sort of competition is exactly what we need. Treviranus put in a faultless performance while he was on the pitch. His attacking instincts often catch the eye, but upon rewatching the game on Premiership Rugby he made more crucial tackles than anyone else. I am sure that his stats won't have matched those of Danaher or Evans, but the quality of the hits he did put in were crucial during the ten minute spell when Gibson was in the sin-bin. And that brings me onto Bryn Evans and Declan Danaher, London Irish's two leaders. Their start to the season, both individually and as the leaders of a faltering group of players, has been pretty poor. On Saturday they were brilliant. Most importantly, however, the improved driving and scrummaging suggests that Glenn Delaney's impact on the forwards is finally beginning to be felt. Worcester on Friday night will be a different, and possibly more difficult, test for this group of players, but the performance against Bath gives me every reason to think a win should be attainable.