I killed the Craic – Bordeaux match report.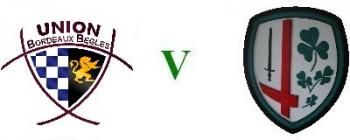 By Jon_r43
October 23 2012
Some advice if you ever offer to write a match report for this site. Be careful to take notes or get yourself a DVD of the game or any coverage as soon as you can after the match otherwise if you get side tracked and don't write it several things will happen ...
a) You will be approached by the site editor and another well known supporter (One who dresses in a green habit and temporally got lost in Bordeaux with my son!) at the next home game and asked where the report is.
b) You will struggle to remember the game when you try to write the report in 2 weeks time and you can't find the tries on the web sites any more. (thanks LKR)
c) When the Craic disappears and you know nobody can stay in touch you will feel personally responsible even if you have applied for a job, attended two A games and organised some mini bus trips in the period in between.

Anyway on to the report of what I can remember of the trip to Bordeaux.

Left the house at 8.30 on Saturday and headed to Gatwick late breakfast in Frankie and Bennys at the airport rejoicing at the lack of snow (remembering the lack of a trip to Toulon two years before) Flight out and arrived at Bordeaux at 2.00… Bus to the town. Spotted a sign for the hotel, got lost but found the team Hotel. Waltham gets directions to the Ibis, arrived and greeted by Tony Byrne (He always seems to be their first!!) Quick trip to the rooms then a game of hunt the bus (Dan and I striding off confidently but not sure really while BQFM and LKR worry that we're going in the wrong direction.)

Bus to pre match meal but the restaurant is closed and the guy who arrived while we were standing outside didn't seem to know we were coming. Others arrive and other staff open restaurant nice meal with some of the UBB supporters (Mr Monk arrives late!). Walk to the ground to watch warm up (left Dan with Mr Monk (See above)) Dan arrives at ground just before kick off, panic over!!)

Teams come out and slightly dodgy start. Nasty long injury to one of their players, noticeable that our boys are practicing handling during the time off while the UBB players are still standing around. Much better next 60 minutes with tries for; Chris, Topsy (inside pass from Ian) Aluka (What a find – Well done Toby) Losi (x2) and JJ (intercept from 90 meters is a long way) final score was 16 – 43 to us (For tries see http://www.ercrugby.com/fra/matchdaytv and select amlin challenge cup

9.00 local time kick offs mean a late finish so a few conversations with the players and then it's off to find the Tram back to town. The tram is being extended and maybe in two years time will reach the ground but for now a long wander eventually leads to the end of the line. Meet up with Bren and Lynn and Annie and Martin on the tram and try to explain to a French supporter that the side printed in the programme was the A team side that played in Bath the week before and only Guy from that team had started. Sleep….

Breakfast, usual away discussion about the performance with the other traveling support. Quick trip around the town…. Got lost again (sorry BQFM) well I knew where I was it just wasn't where I wanted to be. It rained so Tram ride to the outskirts of the town and back. Wait at a bus stop and the heavens opened, soggy trip back to the airport. Waiting for the plane… Why is a player on our flight?

Back to Gatwick and home on time for a confirmation service all in 36 hrs.

Review of the weekend…. My worries are easing and more so after Mont-de Marsan last weekend but let's see if we're all positive after next week against Quins (At least with this report there will be a board to discuss it) Personally really happy with the way the 9 – 10 combination is bedding in and hope that we can keep the momentum going.