The twenty matches that defined the Wasps Golden Era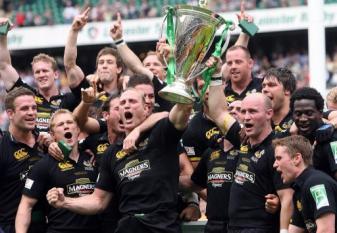 By Shrek
June 18 2012
In a short series, Shrek gives his thoughts on the twenty games he feels were definitive of Wasps in the Golden Period Of Gatland. Here is the first part - Games 1 through to Game 5. Enjoy.
1) London Irish v Wasps, 29th September 2002
When Warren Gatland came to Wasps, the first thing he set about changing was fitness levels. The season before saw a significant amount of injuries, as well as the team struggling to match the physicality of other sides. In that season the side were pretty much beaten up at the Madejski, in what turned out to be Nigel Melville's last match at Wasps. Gats knew things had to change, and change they did.
The first half saw top draw Rugby from both sides, but London Irish simply couldn't live with the Wasps attack. Alex King put Wasps 3-0 up with a penalty after nine minutes, before Paul Sampson followed up Rob Howley's quick chip ahead a few minutes later. Howley then sneaked through a gap to score by the posts after some excellent forward drives and then Shane Roiser started, and finished a fantastic team try to make the score 24-0 to Wasps at half time.
Craig Dowd secured the bonus point as the game crept towards the final quarter, before Mike Worsley responded a couple of minutes later. Declan Danaher added a quick brace in the dying minutes, but it was merely consolation. Final score: Irish 21 Wasps 31... and Connor O'Shea reportedly said his team played well. Wasps played a hell of a lot better.
2) Stade Francais v Wasps, 18th January 2003
The reaction of many DWs when it was confirmed Wasps would be spending a season in the Parker Pen Cup as it was back then was "Great! Not blooming Stade Francais". Annoyingly despite Stade twice beating Wasps convincingly the season before, domestically their form wasn't great and so they faced a season in the lower tier European competition. In many ways it was a shame the two sides met in the quarter finals, but it did mean, in a low key environment, Wasps showed exactly what their forthcoming success would be based on – Blitzing the opposition.
Having won the first leg 35-22 Wasps knew Stade would come out fighting. Having lost 40-10 and 31-0 in their last two visits to the Stade Jean Bouin, Wasps had been pretty much written off by the locals. How wrong that proved to be. The French struck first, but on 15 minutes their job got a lot harder as Kenny Logan made a break. He was dragged down on the 22, but with a massive overlap, Fraser Waters crossed to put Wasps 8-6 up. Diego Dominguez kicked a penalty to put Stade back in front before Logan showed what the blitz defence was about. With Stade having a 2 to 1 overlap, Logan had to make the right call – and he did, intercepting and racing over 70 meters to score under the posts. King converted. 15-9 Wasps.
A few minutes later, Stade panicked and strayed offside. From 52 meters out Logan added 3 more points. King did the same to make the score 21-9 to Wasps at half time. Stade would need to score 26 more points than Wasps.
That never looked like happening. Dominguez kicked a further three points just after the break, but that was it for Stade, despite plenty of pressure (the official report on the Wasps site says Stade spent 80% of the second half in the Wasps 22). From what I can recall Wasps only got in the Stade half of the field once during that second half, which makes the fact that Wasps still won the half 6-3 all the more staggering. Logan kicked another penalty from inside his own half, before King added another. Despite Wasps finishing with 14 men (Craig Dowd in the sin bin) and Stade setting up camp on the Wasps line, there was no way through. Final score 27-12.
When the final whistle went, I stood up, cheered, hugged the nearby Wasps fans and then turned around to shake the hands of the Stade Francais fans sitting near me, only to see a surreal sight. 5 and a half thousand Frenchman had seemingly vanished in around about 5 seconds. Good losers this lot!
3) Gloucester v Wasps, 31st May 2003
This was the first time the winners of the end of season play offs would win the league title. Whilst many people did not like or buy into the concept, Warren Gatland most certainly did. Wasps had finished in second place, 15 points behind Gloucester, and beat third placed Northampton to make the play off final. The week before the final they beat Bath in the Parker Pen final. Gloucester meanwhile had a couple of weeks off.
On the Monday after the Parker Pen final, I was on a break at work and sat down to read the Guardian, which featured this interview with James Simpson-Daniel: http://www.guardian.co.uk/sport/2003/may/26/rugbyunion.comment1. By the time I finished it, I knew there was no way Wasps would lose.
The 80 minutes was a nightmare for the Cherry & Whites. Wasps struck first with Josh Lewsey on hand to finish after Stuart Abbott made a classic weaving break. Ludovic Mercier hit back with a penalty for Gloucester a few minutes later, but Alex King insured the score board ticked over, with a couple of penalties and a sweetly struck drop goal. Josh Lewsey then rounded off another try just before the half time whistle. 23-3 to Wasps.
The second half saw little go right for Gloucester. They lost ex-Wasp Andy Gomarshall to the sin bin after three minutes, and Alex King carried on with another two penalties and a drop goal. With a 29 point deficit and time running out Wasps forced a mistake and Joe Worsley scooped up on the loose ball to score another Wasps try. Final score Gloucester 3 Wasps 39.
As the rest of rugby learnt that day, you didn't need to finish first and just work towards that all year in order to be champions.
4) Wasps v Newcastle, 2nd November 2003
Those who remember the last of the Loftus Road days will have painful memories of Newcastle's last visit there. The match was a battle royal and with minutes to go Wasps had a penalty to go 27-26 up. Alex King slotted the points and then Paul Sampson kicked a massive drop goal from inside his own half to make the score 30-26. Wasps had a late penalty and just needed to put the ball out to win. Alex King missed touch, Newcastle countered and won 33-30.
This match, almost two years later, showed just how far Wasps had come. Wasps battled to a 17-15 after 50 minutes, before a key moment. Shane Roiser intercepted to put Wasps 24-15 up. Newcastle fought back to make it 30-26 going into the final minutes, which saw Newcastle pile on the pressure. Unlike two years before there would be no late try, and Wasps secured another league win.
5) Perpignan v Wasps, 1st February 2004
Many people talk about the Munster and Toulouse matches in that season's Heineken Cup, but to me this was one the best match. Perpignan was a force at home and needed a bonus point win to get out of the pool stage. Rumour was they were so confident; they had already booked the Olympic Stadium in Barcelona for the quarter finals.
Excepting Perpignan to come out fighting, Gats & Shaun Edwards devised a clever game plan designed to stop Perpignan by draining their players and attacking on the counter attack.
The day itself lives long in my memory. It was a glorious day, with the temperature around 20 degrees. Wasps had an early penalty which King missed, stumbling in the run up. Manny Edmonds made no such mistake to put the home side 3-0 up, before Mark van Gisbergen took over the kicking duties, adding a penalty. Wasps then scored an excellent try through Jonny O'Connor. The final minutes of the first half saw Perpignan camp on the Wasps line. Alex King was instructed to keep the ball in play when he had the chance to kick it out in order to keep Perpignan running at them. The idea was if the defence held strong, Perpignan would tire and Wasps could come through at the end. The defence held strong and just a penalty was all the Catalans could manage to make the score 10-6 to Wasps at half time.
The second half was more of the same. Gizzy added another penalty, against the tide, before a moment of magic from Trevor Leota. He nabbed a Perpignan player around 30 meters out, ripped the ball from him, fed Rob Howley, who fed Tom Voyce to score in the corner. Gizzy added the extras. Wasps score two more tires, the first a classic counter from turn over ball, with Gizzy making the break and feeding to Ayoola Erinle, who just about scored and then Lawrence Dallaglio drove over to secure a 34-6 win.
To give those who weren't there an idea of how tough it was, I was standing outside the ground, talking to Trevor Leota, when the physio approached. Trevor said to him "Jeez you look shattered mate". There were so many off the ball incidents, that the poor guy had been rushed off his feet for the whole game. Later Wasps made 12 citings against 5 players. It seemed excessive to some, but the truth was it barely scratched the surface.
It was an hour or so after the final whistle, when congregated outside the bar inside the ground what we had seen began to sink in: Wasps, our tiny club from west London, had gone down to Perpignan, one of the fiercest, sides in Europe, who hardly ever lost at home and not just won, but did so with a bonus point.