Shrek's Twenty Matches - Part Two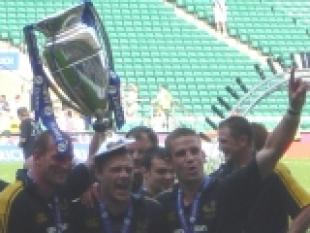 Remember this?
By Shrek
July 5 2012
Following his critically acclaimed first five, here are Shrek's games 6 - 10 for your delectation and discussion.
6) Bath v Wasps, 7th February 2004
Six days after that emphatic win over Perpignan, Wasps went down to Bath for a vital league match. The build up wasn't great. King & Howley were both carrying knocks from the Battle of Perpignan, the England players had been off with the national side for half the week, and the late decision to switch the match to a Sunday, meant that different players were booked on different flights back, meaning there were only two proper days to prepare.
Olly Barkley and Gizzy swapped penalties early on, but it was clear the match would not be a high scoring game. With minutes to go Tom Voyce made a break, chipped ahead and Gizzy was first to collect the ball and strolled in for a try he converted. Barkley kicked a second penalty just before the break to make it 10-6 to Wasps.
The second half was another battle. Bath threw everything at Wasps but to no avail. They did come close to scoring, before being penalised for being offside. Wasps also had their moments with Josh Lewsey intercepting a stray pass and racing in, only for the score to be disallowed for a Wasps knock on.
This nearly led to a potentially embarrassing moment for yours truly. The nearby Sky cameraman had, unnoticed by me, focused on my celebrations, then the realisation when it hit me that the try had been disallowed. Fortunately the pictures switched back to the action just before I silently mouthed a four letter word. It was just as well as my parents, and Grandmother were watching the match at home!
In the end, neither side scored. Wasps had their vital win and were back in the race for the league title.
7) Munster v Wasps, 25th April 2004
There's not much that can be said about this match that hasn't already been said – a true all time classic. The first half tense, the second half even more tense, building up to a climatic finish.
Wasps had found themselves 10-9 up, Lewsey scoring early on, when the match turned. Ronan O'Gara, who had been battling with Paul Volley from the off, walked off injured and was replaced by Jason Holland. To be fair to Holland, he played well, but ultimately was not an out and out fly half. He briefly put Munster into the lead, before almost right away being charged down by Howley, who fed Paul Volley to score. Holland added another 3 points; 17-15 to Wasps at half time.
Wasps struck first with Gizzy crossing in the first minute, before the Munster onslaught. Holland kicked another penalty before the game turned on its head. First Anthony Foley was awarded a try, despite a clear knock on from Simon Keogh. Minutes later Jim Williams crashed over, both tries converted and a 22-15 lead had become a 32-22 deficit.
With time running out Wasps upped the tempo again, with King kicking a penalty to reduce the arrears to seven. Then Rob Henderson redefined the term "once a Wasp, always a Wasp". Entering a ruck from the wrong side, Hendo found himself joining Donncha O' Callagha in the sin bin.
With the tempo raised and Munster short on numbers a loose kick lead to Wasps mounting an attack and a hole appearing for Tom Voyce to run through and round near the sticks. 32-32.
Wasps attacked from the re-start and when Tom Voyce found space it took a last gasp tackle to stop him scoring. The pack drove on and King fed the ball out to Trevor Leota who crashed down. Nigel Williams went to the TMO and after what felt like 5 minutes (in fact it was just over a minute) the try was awarded.
There was still time for Big Trev to flatten a Munster forward and time for Christian Cullen to make a break, however the Wasps cover defence forced Anthony Horgan to knock on. From the scrum that followed, Peter Richards kicked the ball out, and Wasps were through to the Heineken Cup final.
8) Wasps v Toulouse, 23rd May 2004
This was always going to be a match where Wasps would have to defend for their lives if they were going to win. That said, I think very few of us realised just how much they would have to defend. Statistics show Joe Worsley made 32 tackles that day. To restrict Toulouse to one try was an astonishing effort.
Toulouse made a shock call in their selection, picking Yann Delaigue at fly half, Freddie Michalak at scrum half, and Jean-Baptise Ellisade on the bench. Most people thought it was an attempt to play mind games with Wasps; even the programme publishers didn't believe it and printed Michalak at 10/Ellisade at 9.
The Toulouse attack was sublime up to a point, but the Wasps attack was precise. Toulouse had the better of the early exchanges, leading 6-3, before Stuart Abbott finished off an excellent team move with a trademark side step past the last of the Toulouse defence to score. Toulouse scored just before half time, making the score 13-11 at half time. Toulouse should have been in front, but all too often the final pass didn't happen, and Delaigue's kicking was on the erratic side.
Wasps struck first after the break; King making a break and feeding to Mark van Gisbergen to race in from 40 meters. 20-11. Then came the onslaught. With Dallaglio in the bin, Toulouse brought Ellisade on for the hapless Delaigue and Ellisade made it 20-14. It stayed that way until the 70 minute mark when Ellisade made it 20-17. King then hit the post with a drop goal, Toulouse countered and Will Green was penalised for not rolling away. Once again, Ellisade held his nerve.
With the score at 20-20 Wasps played for territory, a move that didn't look like setting up a winning position. That was until Rob Howley snatched the ball from the grasp of Tom Voyce and chipped down the line. Clemont Poitrenaud attempted to guide the ball over his try line, to ground it for a 22 drop out, but Howley, flying through the air, snatched the ball from his grasp and got it down for the try. The conversion went over, just, and Toulouse was too stunned to respond. Wasps were the kings of Europe.
9) Bath v Wasps, 29th May 2004
A week after conquoring Europe, Wasps faced another Twickenham final, with Bath standing in the way between them and a second Premiership title. The Toulouse game had been a match of epic proportions to the extent where the entire focus in the week leading up to the game was recovery. Wasps started well, having two tries, from Howley, in what would be his last ever match, and Waters, disallowed in the first twenty minutes. Despite the early pressure they were unable to get on the scoreboard in the first half, trailing 3-0 at half time.
A spat between ex-Wasp Martyn Wood and Dallaglio (You'd have thought seven years of playing at Wasps would have meant Wood would have known better...) in the tunnel at half time inspired Wasps into a fight back and the second half was less then a minute old when Alex King knocked over a drop goal to level the scores. Chris Malone responded with a drop goal of his own as Wasps struggling to gain a foothold in the match, largely down to the fact Bath had spent the bulk of their three week gap between matches analysing the Wasps line out. After Trevor Leota lost his 11th line out out of 15 attempts, Garland decided it was time for a change and brought on Ben Gotting.
The change gave Wasps a platform to build on and moments after one Wasps fan at the front of the Drunken Wasps section decided now would be a good time to get a pint, Wasps did what they do best and blitzed the Bath attack. Paul Volley, in his final game for Wasps, crashed into Malone, who seeing Volley charging at him and thrown the ball away as quickly as possible. The lose ball was snapped up by Tom Voyce who sent Stuart Abbot racking clear for another Twickenham final try. Gizzy converted from the touchline, just as the thisrty Wasps fan returned, beer in hand to roughly 2,976 requests to get people a drink...
The final exchanges were tense. Bath hammered away and both Malone and Mike Catt failed with drop goal attempts. As the clock went over the 80, Bath turned down a kickable penalty and were promptly turned over in the ensuing attack. As injury time dragged on, Bath got another penalty and went for the corner to set up one last attack. They drove to the line but the Wasps defence held firm. Final score Bath 6 Wasps 10. Wasps were champions home and abroad.
10) Leicester v Wasps 15th May 2005
The 2004/05 European season was not Gatland's finest hour. Wasps reward for winning the tournament was a draw consisting of Biarritz, Calvisano and Leicester. Wasps started well winning at home to the French and away in Italy, but started badly against the Tigers at Adams Park, trailing 22-6 after 18 minutes. Wasps battled back vailiantly, leveling the scores at 31 a piece with minutes to go, despite Nigel Williams failing to notice the ball being knocked out of a Wasps scrum half's hands for the second time in less than 8 months. Andy Goode put Leicester back in front by six points as Wasps pounded away at the Leicester line. Despite the threat of a penalty try, Leicester held out for the win and followed it up with another win the week after. Wasps got back to winning ways at home to Calvisano to set up what appeared to be a straight forward shootout against Biarritz for the pool. Harry Ellis had other ideas, snatching a late losing bonus point at Welford Road, which meant Wasps would need to beat Biarritz with a try bonus point to be sure of going through. That game started well enough, with aoogie going over for an early try, but Biarritz came back into it as Wasps, impacted by the loss of Stuart Abbot, tripped by Serge Betsen(whatever happened to him?!) made errors. Matt Dawson, ignoring an overlap on the inside had a try ruled out, and Alex King failed to kick a simple penalty into touch from five meters out. Biarritz won the game and Wasps went out in the group stage.
The league saw Wasps struggle with injuries and early defeats, before doing something they hadn't done during Gatland's reign - toping the table after Round 21! That didn't last as a 45-10 thrashing at Welford Road saw the Tigers claim top spot. Leicester then chose to ignore the fact there was one game still to go and thank the crowd for their support and say goodbye to Martin Johnson and Neil Back who were retiring. The Wasps team stood on the field watching all of this determined that it would never happen again. Wasps beat Sale in an entertaining semi final to set up a chance for revenge.
They knew they needed to start well and that's just what they did. A penalty by van Gisbergen after a cheap shot punch from Back on Joe Worsley, that only the most partisan Tigers fan would argue was anything but a straight red card which saw both players (Joe with a lip almost as big as his head) get a talking too, before the blitz worked again, setting Tom Voyce in for a try. An Alex King drop goal meant that after a frantic eight minutes Wasps were 13-0 ahead. The next hour of play saw both sides swap three penalities a piece, before things became frantic again.
In his final game for Wasps, Will Green pounced on a loose ball and Simon Shaw burst through a gap feeding the ball to Giz, who ran in from 35 meters with Paul Sackey and Joe for company to put the result out of doubt. A Wasps penalty, consolation Tigers try and a range of substitutions followed before one sub, Rob Hoadley scored a try to apply the final icing on Gatland's farewell cake. The Kiwi returned home a Wasps legend with his third successive Premiership title, as Wasps fans wondered what the McGeechan era would bring...