The DWs Best Ever Wasps Fifteen - Part 1: Front Row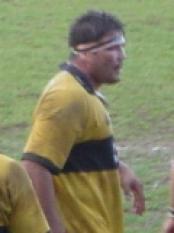 Winner by a mile
By Hangover
August 9 2012
Ok here is Part One of our 'Best Wasps Team Ever' as voted for by the DWs, first up the infamous Front Row Union. There have been a number of candidates in this category, but one man won his position by a country mile.
Results
CD, RI, JP = 3 votes

CD, TL, JP = 2 votes

CD, RI, WG = 4 votes

CD, RI, TP = 1 votes

CD, RI, PV = 1 votes

PR, RI, JP = 2 votes

CD, TL, WG = 2 votes

PR. KS, JP = 1 votes
It must be said that the Loosehead Prop position was fairly cut and dry (13 votes to 3). The man mountain that is Craig Dowd won by a country mile. I suppose a guy with 60 caps for the All Blacks was always going to be hard to beat. He only spent four playing years at Wasps (2001-2005) but what a period of success that was and we all know he had a lot to do with it. Paul 'The Judge' Rendall picked up the other three votes and was always a firm favourite with the B&G faithful.
Now, on to the Hooker. This was taken fairly comfortably by Raphael Ibanez (11 votes). A few years back Saracens fans voted Rafa one of their 'Worst Signings Ever' (and that is phrasing politely). Well all I can say to that is only they could take a silk purse and turn it into a sows ear. The 98 capped Frenchman joined us in 2005 and became a firm favourite. An almost shy, quietly spoken guy who played with utter intensity on the pitch. No Wasp will ever forget his work in the 2007 Heineken Cup final against Leicester. A mention must go to Trevor Leota (4 votes), the JD drinking, KFC demolishing, wrecking-ball of a hooker that we all loved.
So to the Tighthead Prop, this was a much closer affair, Will Green and Jeff Probyn slugging it out as usual. But it was Mr Probyn who took the honours (8 votes to 6). Even though he got 37 caps for England many people thought it should have been a lot more. With his 'sloping' shoulders and ability to 'work' the ref he was invaluable at Wasps for over 10 years. On one occasion he drew a penalty from a Leicester scrum and was accused of 'dropping it' he famously replied 'I didn't drop it, I just got fed up with holding them up'. Nevermind Will Green, you won an awful lot of other stuff with Wasps over the years.
That's settled then, the Front Row is:
1. Craig Dowd
2. Raphael Ibanez
3. Jeff Probyn
Onto the Locks, some would say this is going to be easier but I don't think so. Will it be Ian Jones, Richard Birkett, Simon Shaw or Stormin Norman Hadley ? you decide. Lets have a few more votes this time, people!