The Best Wasps XV Ever - Part 2: Second Row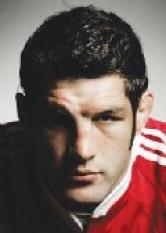 Smiler!
By Hangover
August 21 2012
Here is Part Two of our 'Best Wasps Team Ever' as voted for by the DWs. Second in the voting was our selection of the two Locks to power the scrum and win the majority of the lineout ball. Again, there have been a number of candidates in this category, but one man again won his position by an overwhelming majority. In fact, until he moved on, I can't remember a major Wasps match I have seen which didn't include this player, or the player selected to play alongside him.
Results
SS & RB = 8 votes
SS & TP = 6 votes
SS & IJ = 5 votes
SS & MW = 1 vote
SS & AR = 1 vote
MC = 1 Vote
MG = 1 vote
Lets be honest about this, one man was always going to be picked as one of our best Locks if not THE best ever – take a bow Mr Simon Shaw. 339 appearances for the club over 14 years, the man was the power in our engine room when Wasps were at their very best. If anybody wants to know how to stop a rolling maul watch Simon. But it wasn't all about strength with this giant, he had a beautiful deft touch with the ball in hand as well. Some feel he never got a real chance in an England shirt but he did manage 71 caps, add to that 3 Lions tours and you have a true legend of ours and the game.
The second spot was a much much closer affair. Considering Ian Jones had such a short spell at the club it is amazing the impact he had on our game and our memories. One of our returning sons Tom Palmer scored very well, and you never know may go on to pick up one of these places in the future. But the man with the most votes for the second Lock position was Richard Birkett. Having just passed the 250 appearances mark last season Mr B rightly takes his place with the best. Great in the line-out and terrific around the park, as shown by his ability to cover the back-row as well. Well done Richard, heres to another quiet season !
So the engine room is sorted:
1. Craig Dowd
2. Raphael Ibanez
3. Jeff Probyn
4. Simon Shaw
5. Richard Birkett
Onto the glamour boys of the pack 6,7 and 8. Wasps have never been short of class in this area. So will it be the likes of Paul Volley, Dean Ryan, Francis Emeruwa or HRH LBND – you decide.