The DWs Best Ever Wasps Fifteen - Part 5: Centres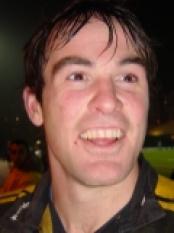 Mr Posh
By Hangover
September 19 2012
Getting close to the end. This latest article runs through the considerations for the best centre pairing we could have put out onto the paddock. There were a few combinations, but all of these "centred" around one key player - guess who?
Right, the votes are in for the Centres who will be added to the DW Dream Team:
Results
Waters & Abbott = 15 votes
Waters & Flutey = 6 votes
Waters & Lewsey = 2 votes
Waters & Henderson = 2 votes
Let's say the first name on the list does not come as much of a surprise. With all 25 votes its Fraser 'Muddy' Waters. Over 10 years and 220 games he is a legend of the Black and Gold. Whether it was carving a line through an oppositions defence or organising our troops to repel another attack he was always there. Unbelievably Fraser never seemed to get the recognition at international level that he did at club and only made 3 appearances in the white of England. But what trophies he missed on the international stage are more than made up for by the bucket load he won with Wasps. Heineken Cups including Man of the Match, several Premierships, Amblins etc etc. This midfield general was always around when Wasps were at their best. So who else could it be but the Poshest No13 in the Prem, its Fraser Waters.
So who to partner with Muddy? Well it had to be his old 'whipping boy' from their prep school days in South Africa, Stuart Abbott. Sonic played 100 games for Wasps and scored 15 tries. But that does not tell the whole story, when Wasps needed something special to happen Stuart was our man. He could cut a line like no other Centre in the Premiership. It wasn't all about crash, bang wallop with Sonic it was about timing and acceleration. He was a joy to watch, so much so that he got the call from England and won a World Cup winners medal. But for a bad injury perpetrated by 'him who shall remain nameless' I think Abbott would have gone onto add even more caps but there you go. He only blotted his copy book in one way and that was by signing for the HairyQuins in 2006. However we will always see him in the B&G blasting his way to the try line.
So that's this lot sorted:
1. Craig Dowd
2. Raphael Ibanez
3. Jeff Probyn
4. Simon Shaw
5. Richard Birkett
6. Joe Worsley
7. Paul Volley
8. Lawrence Dallaglio
9. Robert Howley
10. Alex King
12. Stuart Abbott
13. Fraser Waters
Now its all about pace pace and more pace. The flyers on the wings, will it be Roiser, Josh, TV1 or 2, Sampson or Sacks. And who's going to be fullback? FatBoy, Ufton, Gizzie, there's a few to consider. Get thinking!