London Welsh v Cornish Pirates - Championship Final 2nd Leg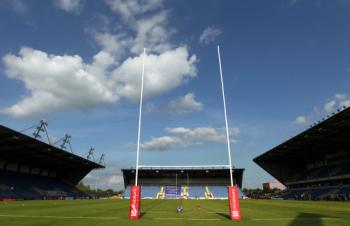 By Mark W-J
May 28 2012
The Championship play-offs bring a new challenge to the league's top sides as they fight for the right to call themselves the Champions. London Welsh seem to have paced themselves to perfection, finishing fourth in the regular season but dispatching Bedford in the semi-finals before producing a clinical display in Penzance last week to possibly put one hand on the silverware. Whether that's the same as one foot in the Premiership is another question altogether…
Many people have questioned the club's decision to move arguably the most important game in the club's history 50 miles from our traditional home, with some Pirates supporters suggesting that we have effectively conceded home advantage. Perversely, however, even this could be construed as working in our favour. We had the best away record in the division during the regular season, collecting 35 of our 67 points on our travels and suffering just four defeats at the other teams in the top five. In the play-offs, however, we've revisited all four of those clubs, and returned with three wins – at Nottingham, Bedford and Pirates - and a draw at Bristol. And while last Wednesday's 37-21 win at the Mennaye may not be the Pirates' heaviest home defeat in recent years – Bristol won by 22 points, 35-13, in the inaugural Championship season of 2009-10 – they haven't conceded as many as 37 points at home since 2003-04, their first season at this level.
The Pirates, as they proved in the first leg of their semi-final against Bristol, are arguably the most dangerous team in the division when they hit their straps. Many Welsh supporters identified them as the team we wanted to avoid in the knockout stages, particularly given our patchy form against them in recent seasons. In the regular season they were second-highest try-scorers with 77 from 22 games at an average of 3.5 per game (Bedford scored 82; Welsh were fifth with 62) and they've scored a further 25 in the play-offs, thereby breaking the century mark for a second consecutive season, having scored 101 tries last season - although they were outdone by both Worcester (113) and Bedford (112). The only time we have scored more than 100 tries in a league season was in our promotion-winning season of 1997-98, when Clive Griffiths' side crossed 121 times in 26 matches in the old Jewson National League One (level three). Top try-scorer for the Duchy side this season is winger David Doherty, who played a single game on-loan to us from Wasps back in December 2007; he's scored 14 times, but is leaving at the end of the season to return to Leeds, the club where he started his career. He'll be joined at Headingley by scrum-half James Doherty, who has made only ten appearances (five starts) this season, while hooker Dave Ward and centre Drew Locke will be stepping up to the Premiership to join Harlequins and Gloucester respectively, and prop Carl Rimmer is believed to have signed for the Chiefs.
While the 'home' supporters will be hoping that their team will not be content to sit back and defend a 16-point lead, the Pirates have no option but to win, and win big. They've won only five of their 15 away games this season - by an aggregate margin of just 20 points - while drawing a further three, but losing at Bristol, Bedford and Leeds twice each. In fact, in the three-year history of the Championship they've won just seventeen of 44 away fixtures, including four times from eleven in the play-offs, three of them on the way to last year's final. Last year they won at Nottingham and Birmingham by a margin of more than 16 points (10-36 and 28-61 respectively), while their biggest win at ODP was by 17 points, 15-32, on 13th November 2004, with two tries from Matt Jess (who played every single minute of the Premiership season for Exeter this season, scoring six tries), plus one apiece from Joe Bearman (18 Pro12 appearances, including 14 starts, for the Ospreys; two tries) and Rhodri McAtee. McAtee, who is moving to Redruth this summer after eight years with the Pirates, has been a thorn in our side every time he's played against us, including scoring the decisive try in last year's semi-final. The referee that afternoon was David Rose, who also officiated in our semi-final defeat at Bristol twelve months earlier, and he'll be the man-in-the-middle on Wednesday night. Hopefully the fact that he's been present when our promotion dreams have been extinguished for the last two years is just a coincidence, and not an omen.
The Kassam Stadium
A one night stand or the start of a long relationship?
There's a real danger that the furore over the RFU announcement that the Exiles would be denied promotion in the event of winning the play-offs will be a distraction to the players as they prepare for Wednesday night. The 16 point advantage should not be viewed as insurmountable, and the Pirates' players and coaches will be fully motivated by the comments from journalists and fans alike that Welsh should be allowed to take their place among the elite, regardless of the fact that we haven't yet completed the job in hand. Furthermore, it's important that the club's management don't misinterpret the current backing we seem to be receiving from throughout the rugby community as genuine support and love for London Welsh. Most commentators are merely haranguing the powers-that-be for the lack of transparency in their processes while supporting the basic principles of promotion and relegation, and this doesn't translate as thousands of new supporters just waiting for the green light to buy a season ticket in the Premiership. But it's been a few years since we enjoyed being the team everyone loved to hate at the Middlesex Sevens, so we shall revel in our new-found status as being the 'people's club' until this sorry mess is concluded, one way or the other.
One thing we can say for certain is that Wednesday night will bring the 2001-12 season to a close. I do love a good cliché, and it has been a roller-coaster ride: the highs of topping the table in October and coming within 60 seconds of a bonus-point win at Bristol; the lows of failing to beat either Esher or Moseley at home over the Christmas period. But, much like Exeter two years ago, that blip at the turn of the year has been forgotten as we've hit a rich vein of form at exactly the right time. We've all criticised Lyn's selection policy during the regular season, but now he's settled on his first-choice XV we've had a consistent line-up throughout the play-off phase, and with the club just 80 minutes away from their greatest achievement in our 127 year history, Lyn and his players are on the brink of writing a new chapter in the proud history of London Welsh. The fat lady isn't singing yet, but she's gargling a pint of Pride in anticipation.

Old Deer Park
When will I see you again?
More London Welsh headlines
London Welsh Poll