London Welsh v Gloucester Preview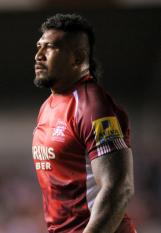 By Mark W-J
September 27 2012
London Welsh confounded the critics again last Friday night, with a 29-19 win at Sale giving them back-to-back victories over opposition who will be representing the Aviva Premiership clubs in the Heineken Cup this season. For about 18 hours, up until mid-afternoon on Saturday, we even sat proudly in sixth position, albeit by virtue of having played one game more than the teams around us.


This Sunday the Exiles entertain Gloucester at Stadiwm Kassam, in a clash of two of the form sides in the division. Welsh are one of only three teams - along with Harlequins and Northampton, currently first and second in the table - who have won both of their last two games, while the Cherry & Whites are the only other team to remain unbeaten in the last fortnight, with last weekend's victory over Wasps following on from a draw at Sixways seven days previously. They are, however, on a three-game unbeaten run following a 40-31 win at London Irish in round two, while Quins and Northampton each have a 100% record after four rounds. We have met Gloucester on three previous occasions in competitive fixtures, all in the RFU Knockout Cup, and on each time the visitors have emerged victorious. The first was in the inaugural year of cup competition, when Glaws won 9-4 at ODP in the quarter-finals en route to claiming the silverware in a highly fractious (some said disturbingly violent) final against Moseley at Twickenham. Peculiarly, our first ever game of cup rugby, two rounds earlier, was at Oxford on a Sunday afternoon. Plus ҫa change, and all that… Eleven years later, on 22nd January, 1983, we recorded our biggest ever win at Kingsholm with a 14-3 third round win, with tries from Bob Ackerman, Clive Rees and Ian George, while Clive Griffiths' record-breaking side lost a 4th Round Tetley's Bitter Cup match at ODP on 3rd January, 1998 by a 34-18 margin which tells only half the story. We've never met in the league due to the fact that Gloucester are one of four clubs to have spent the entire 25 years of league rugby in the top tier, although no supporters on either side should need reminding that we won a pre-season friendly at Kingsholm just thirteen months ago, with Gordon Ross' conversion of Rob Lewis' last-minute try securing a 24-23 victory.

Many supporters of rival Premiership clubs have made reference to the importance of winning your own 'mini-league', and even after only four rounds it's clear to see how these are developing. It's not too dissimilar to the situation in the Championship, where the four semi-finalists in each of the three seasons have been permed from six clubs. Exeter and Worcester have each spent only one season in the newly-branded second tier competition, each winning promotion at the first attempt, but Bedford, Bristol, Cornish Pirates and London Welsh have, between them, contested the knockout stages ten times in three years. Below them, the likes of Nottingham, Doncaster and Rotherham invariably qualify for the top eight, while Plymouth, Moseley, Bees and Esher have, more often than not, been scrapping to avoid the dreaded drop. The Premiership table is already taking shape, with last season's top four - Quins, Saints, Leicester and Saracens - occupying the same positions after just two rounds of the season. Bath, Exeter, Gloucester and Wasps (strictly in alphabetical order) currently occupy the mid-table places, while Welsh, Worcester, Irish and Sale, the four clubs who failed to win in the opening two rounds, are expected to be involved in the relegation dogfight. Even that represents progress of sorts for the Welsh, as we were supposed to have been cast adrift even at this early stage of the season. Picking up an away win at one of our supposed rivals last week, on top of the win over upwardly mobile Chiefs, has put a real spring in the step of everyone associated with the club, and given us the belief that survival is possible, although with Worcester entertaining Irish on Friday night any breathing space we currently enjoy could be quickly wiped out before we take to the field on Sunday.
.


Ross and Hills stop Andy Powell in his tracks
in the win at Sale

In the opening three rounds of Premiership fixtures, it had taken, on average, fewer than 14 minutes for London Welsh had conceded two converted tries, and you don't need an RFU coaching badge to recognise that this isn't conducive to winning matches. We did turn it around against Exeter, of course, and on Friday night at Sale it was the Exiles who led 13-0 after barely ten minutes, with a penalty from Gordon Ross inside the opening 90 seconds being followed just two minutes later by a converted try from skipper Jon Mills. The (admittedly biased) commentary team from Radio Manchester seemed sure that the visitors would tire following their first half blitz, especially once a concerted period of attack from the Sharks around the hour mark eventually produced a try for winger Tom Brady after the Welsh defence had repelled countless forward drives. But, even with only a five day turnaround following the win over the Chiefs, the Welsh held firm, and they still had the physical and mental fortitude to snatch the losing bonus point from their hosts with the very last play.
Gloucester Academy graduate Freddie Burns

Welsh and Gloucester have each scored seven tries so far this season, which puts them joint 7th in the attacking stats, ahead of both Bath and Saracens on five apiece. We have, however, conceded more tries than any other club (fifteen) with our line being crossed a total of five times in the opening 20 minutes of each half. Gloucester, by comparison, have scored all of their tries in the latter 20 minutes of each half. The Gloucester back division is arguably the most potent in the league, with fearless youngsters such as Freddie Burns, Jonny May, Henry Trinder and Charlie Sharples bringing out the best in the likes of James Simpson-Daniel, now the Premiership's fifth-highest try scorer. Many people have suggested that England would benefit from seeing these guys in the white shirt, but the Kingsholm faithful would no doubt prefer that they are kept as far away from the national squad as possible, for fear of having all of their attacking instinct sucked out of them.
The fearless Jonny May

This weekend also pits the new Gloucester coach, Nigel Davies, against another former Welsh regional boss following last week's victory over Dai Young's Wasps. That win took his new charges up to sixth place in the table, climbing above the Wycombe-based side and fierce local rivals, Bath. Davies joined from the Scarlets in the summer following four years as Head Coach, and he's joined a club who have been threatening to become a force in the domestic game for the best part of a decade, but who, for one reason or another, have never quite taken that final step up to the top table. In 2001-02 it had been announced that the Premiership Champions would be the winners of an eight-team play-off which would follow-on from the regular league season. However, following a public outcry it was decided halfway through the season that the team finishing top after 22 games would receive the trophy; the play-offs continued regardless, and Gloucester duly beat Bristol in front of 27,000 spectators at Twickenham in early June, while Leicester - who had lost at home to Bristol in the first round of the play-offs after topping the league - were crowned champions. Twelve months later, the Cherry & Whites finished top of the pile, fifteen points clear of second-placed Wasps, but it was Warren Gatland's side who took the silverware, beating Glaws 39-3 in the final to become the first club to win the title via the play-offs. They also finished the 2007-08 season in pole position, only for Wasps to steal the crown once again. The Anglo-Welsh cup offered some solace, a 34-7 thrashing of Newcastle in the 2010-11 final at Franklin's Gardens - their third consecutive final appearance - providing some hard-earned silverware after demoralising defeats to the Blues (50-12 in 2008-09) and Northampton (30-24 in 2009-10). They are the third most successful club in the history of the cup in its various guises with five wins, behind Bath (ten) and Leicester (seven).

Under Bryan Redpath the Cherry & Whites lost their last six games last season - the former Scotland scrum-half's losing streak now extends to ten matches, including four this season at Sale - and they only once managed a three game unbeaten streak in the entire 2011-12 campaign. For Welsh, ODP was never much of a fortress - it has always been a favourite of visiting supporters, and we somehow made the place too welcoming, unlike the Pirates, for example, who manage to provide great hospitality while still demonstrating their authority on the field. With Gloucester actually being closer than Richmond to Oxford we can expect some raucous travelling support on Sunday, but the Welsh thrived on their travels last season, winning at every ground except the Memorial Stadium, where we silenced the locals for long periods on both visits. We might not be the loudest supporters in the league, but you can rest assured that London Welsh are not going to go quietly.