Guide to The Kassam Stadium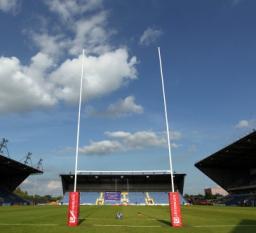 By Dragons' Den
October 3 2012
Dragons' Den, thanks to contributions from London Welsh supporters, brings you an unofficial guide to The Kassam Stadium. Tickets, travel, parking, food and (most importantly) drink are all covered.




THE STADIUM


The Kassam Stadium Grenoble Road Oxford OX4 4XP

Good overhead cover on the stands (south stand in particular has large canopy) South stand holds 4600, North 5000, East 2800. Large TV screen is set up where a West Stand would be. Good views from all seats.

At present it is still unclear as to whether the North stand will be available for sale, whilst the East stand almost certainly won't be.



TICKETS
We advise that you should book tickets in advance to guarantee the seats you want and to avoid the possibility of queues.

Buying online

Currently you can't buy concession tickets online, other than senior citezens, for that you'll need to phone the Club Office (020 8940 2368), but the online process (www.london-welsh.co.uk) is easy, quick and allows you to select your seat. The tickets get posted through quickly too. Currently there's a £1.50 'booking fee' plus a 'web sales fee' of 50p per ticket. And if you're buying for a group it seems the software currently limits you to buying a maximum of 6 tickets. If you leave it too late for them to be posted then you pick the tickets up on the day (go to the South Stand reception to collect pre-booked tickets).
Please note that apart from concessions there is a £5 discount on all tickets if purchased online.

Buy on the day

Although the ticket system at the stadium is much improved DO NOT leave it untill 15 mins before the game to start queuing up for a ticket... especially if its raining as you may get wet...
Click here for ticket prices and to book online

PARKING

Yellow lines on the road outside the stadium (a couple of areas where parking is allowed but these fill up quickly). It is patrolled, don't end up with a parking ticket. The stadium is part of a leisure complex with cinema/bowling alley/eateries so plenty of parking and it's free, BUT there is only one entrance in/out and this is the problem at the final whistle. Everyone is escaping at the same time and with fans crossing the road and holding up traffic it's every driver for himself and a bit chaotic. Expect delays getting out or alternatively go for a bite to eat, or back to the barfor a drink and wait for it to clear.

UPDATE: Although parking arrangements have greatly improved during the season, the more popular games can still create very long delays at the car park and in the surrounding roads before and after the match. Please ensure that you allow plenty of time!
The stadium/leisure complex is immediately off Grenoble Road, which is PARTLY regulated by double yellow lines on both sides, but there are a number of VERY long parking bays on this road. Use this area and avoid the car park and the after match chaos... Do not try parking in the housing estate nearby as the residents will not like you and there's no need as Grenoble Rd has plenty of capacity.

The Grenoble Road bays right by the stadium get filled up quickly (now that the regulars realise there's a problem with leaving the car park after the match), but if you are able to walk 300-400m the on street bays east of the stadium entrance will probably be empty.

There are some bays to the west of the stadium entrance too on the westbound carriageway.


PUBLIC TRANSPORT

If coming from the station then take the number 5 or if from town then either the number 1 or 5, they both stop at the same place on St Aldates. Ask for the last stop on Pegasus Road and then turn left and it's hard to miss the stadium from there. About £3.20 for a return ticket. It's a 30min bus trip.

A taxi from the station to the ground will be about £14 each way and will take 5 people.


The official LW travel directions can be viewed here


DRINKS & FOOD (click here for map)
With the recent demise of the Priory, pre and post match watering holes are a bit harder to access, but the favourites seem to have been narrowed down to the following.
The Royal Blenheim is a great city centre pub which is less than a 10 minute walk from the rail station, usually has 7 or more well kept real ales on at a time and a rugby friendly Welsh landlord, also does some pretty decent pub grub.
There are of course plenty of other city centre pubs and restaurants for those coming from the station.
Closer to the ground in Sandford is The Catherine Wheel, which is a good 20 minute walk, the landlord may however run a mini bus shuttle as he does for the football, there may also be some food similar to the Priory if numbers prove sufficient.
About 10 mins on foot but easier to access from the station/city centre bus route is Littlemore Rugby Club, they have invited us to use their clubhouse bar on matchdays and may put on a BBQ if numbers prove to make it worthwhile. Their clubhouse is contained within the grounds of The Oxford Academy school and is accessed either via the schools front gates on Sandy Lane West or via Northfield Close.
A little further away about 10+mins by car is The Kings Arms a river side pub which does afull menu all day.
Those coming by car on the Northbound M40 can leave the motorway at junction 7 and use The Coach and Horses in Chislehampton which is a nice country pub with a good restaurant.
There is also of course the stadium's Atrium Bar or the concourse bars for those of you who take their seats early and sometimes a beer vendor in the carpark
The stadium are quite happy for you to take your own drink into the match but do not allow glass or cans, so take plastic glasses to drink from, they will tolerate discrete filling of plastic glasses from cans.
Also note the club recieves NO revenue from the stadium bars.


Also on site...

Cinema/Bowlng complex on site with food outlets inside, which include a Frankie and Bennys, a chinese buffet and the Aziz Express which is an excellent indian restaurant , offering both a buffet and a la carte menu. The bowling alley also does the usual bowling fare, burgers, hot dogs, pizzas etc. You can also get a drink here too.
To the East of the stadium is a Holiday Inn which opens it's bar to non-residents

Post-match Food (click here for map)

If you fancy a curry after the match then don't go all the way into town, but get off along the Cowley Road (on the bus route) there are several excellent Indian and Nepalese restaurants along here and only a couple of average ones in town.
As well as several pubs, all of which are on the station bus route and marked on the map whose link is below.


ACCESSIBILITY INFORMATION

Parking

91 accessible parking spaces are available on a first-come basis. They are located around the stadium close to each set of turnstiles. Drop-off facilities are available.


Tickets

Disabled seating is not available online. To purchase seats in these areas call the Ticket Office on 0208 940 2368. This also means you can specify an area in which you'd like to be situated and confirm you require a parking space.


Spectator Viewing areas

There are over 100 spaces for wheelchair users available and these can be found at the pitchside and on raised platforms accessible by lift to the second (VIP) and third floors. The third floor is not suitable if you have sight difficulties, it's rather high up and far away from the pitch. Disabled supporters with ambulant disabilities have access to over 200 amenity/easy access seats. The main lift in the south stand can get rather busy so don't leave it until last minute if you're going upstairs.


Accessible amenities

There are accessible toilets inside the stadium, all of which (I think) require a RADAR key. However, the stewards usually can open them for those who haven't managed to get a key. I cannot recall if there are lower-level serving counters in any of the bars.


Accessible services & information

Facilities for assistance dogs are available. The concourses do not have rest areas included. The stewards/staff are generally very helpful and will try to help you out.


Other locations for food and drink (click here for map)

About 200m from the main entrance (you would have to wind through the car park) is a Cinema/Bowling complex with food outlets inside - this is a modern build so is therefore wheelchair accessible.


(Some of above accessibility info taken from Level Playing Field)



Click here for link to Google map showing the bus routes & stops, parking and recommended places to eat and drink and other places mentioned in this guide


WE HOPE YOU ENJOY YOUR VISIT TO THE KASSAM STADIUM!