London Welsh v Saracens Preview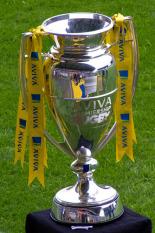 By Mark W-J
October 4 2012
With almost a quarter of the Premiership season gone, London Welsh have far exceeded expectation, collecting two wins in the opening month, and as a result we sit in 9th place, eight points ahead of the bottom club, Sale. It's a measure of how much we've achieved in such as short space of time that last weekend's losing bonus against Gloucester felt like three points lost rather than one gained.


The last round of fixtures before the Premiership takes a two week break for European competitions pits the Welsh against Saracens. Mark McCall's side inflicted a first defeat of the season on champions Harlequins last weekend, winning 18-16 at the Stoop thanks to six penalties from England fly-half, Owen Farrell. They haven't scored a try for 260 minutes, since Chris Ashton crossed on the hour mark in their second game of the season, a 23-16 win at Sale. The opening weekend suggested that they'd shaken off the image of playing dour but effective rugby, running in four tries in a 40-3 win over London Irish in the London Double Header. But since then they've reverted to type; a 9-9 draw with Leicester at Wembley was widely condemned as one of the most boring games in Premiership history, while they were out-fought by Exeter, 14-12 at a wet and windy Sandy Park. While some clubs take a cavalier approach, aiming to win games by scoring more points than their opponents, Sarries favour the more conservative methods - no matter how few points we score, we'll make sure you score fewer. It may not be entertaining, but, boy, it's effective. They won the Aviva Premiership title for the first time in 2010-11, beating Leicester 22-18 at Twickenham in front of over 80,000 fans, and holding the Tigers at bay through an incredible 32 phases after the 80 minutes had elapsed, and they have the best win:loss ratio of all of the Premiership clubs in the last three seasons.
.
Owen Farrell kicking three of the 18 points
that beat Quins

London Welsh's first ever fixture, in October 1885, was against London Scottish at Saracens' then-home at Palmerston Road, Walthamstow. Formed in 1876, they had eleven different home grounds before settling at Bramley Road, Southgate, at the start of the 1939-40 season - although, following the outbreak of war, they didn't actually play their first home game there for six years. They moved, initially to Enfield FC, upon the dawn of professionalism in 1995, but stayed for less than two years before settling at Vicarage Road, Watford, for the 1997-98 season. In recent years they have played games at Wembley, and this year will host matches at Stadium:MK and the King Baudouin Stadium (formerly known as the Heysel Stadium) in Brussels, plus one LV=Cup match at Bedford's Goldington Road, before their new ground at Barnet is opened in February. Last year Sarries' game with Harlequins at Wembley attracted a crowd of 83,761, yet the Allianz Park, as Barnet Copthall Stadium is to be renamed, has a capacity of just 10,000, making it the smallest ground in the Premiership. It seems strange that on one hand the club can go to such lengths to attract a world-record crowd for a one-off fixture, yet on the other build a stadium that means they effectively have to tell 88% of those present at Wembley that they're not welcome at Barnet the following week if they enjoyed the experience and want to come again.

England winger Chris Ashton is Saracens' top try-scorer this season with three of their five tries, but he's also 'enjoyed' two spells in the sin-bin in the opening month of the season, as has flanker Kelly Brown. Ashton will have fond memories of playing the Welsh from his time at Northampton; he made his debut off the bench against us on the opening weekend of the 2007-08 season, scoring with his very first touch of the ball in rugby union following his cross-code switch from Wigan, and in the return at ODP ten days before Christmas he repeated the feat, after coming on as a 54th minute replacement for Neil Starling. Two of his current team-mates spent time on-loan at Welsh before making the grade at Vicarage Road: Alex Goode made three appearances (two starts) at the tail-end of the 2007-08 season, scoring in a 29-3 win over Doncaster, while Andy Saull played ten minutes off the bench in the opening match of the following season at Moseley. Gordon Ross, of course, spent two years with Sarries, scoring 79 points in seventeen Premiership appearances, while in the early years of professionalism we benefitted greatly from the experience of Andy Lee, Gregg Botterman and Steve Ravenscroft, who made a combined total of 283 appearances in the scarlet jersey.

Alex Goode
Three apearances on loan to LW in 2008

Saracens were our first opponents in league rugby way back in September 1987, when we won 23-7 at Bramley Road. It was our biggest league win of the season, as we finished ninth of twelve clubs in Courage Two with three wins and two draws from our eleven games, but the following season we lost nine, including 37-4 - our heaviest defeat of the campaign - at Southgate, as we were relegated and Sarries promoted. We have also met twice in the cup - in round two of the inaugural competition in 1972, which resulted in a 33-7 away win for Welsh, and a 14-3 first round victory at ODP six years later. The very first meeting of the two sides took place on 16th November 1895, after the club had been reformed after its demise at the end of the 1893-94 season, and resulted in a draw at our then home at Tufnell Park. The return fixture was played at Crouch End on 21st March 1896, the home side winning 9-0.

With Saracens seemingly unable to make the most of their talented backline - Goode, Ashton, Farrell, Brad Barritt and David Strettle have all been capped by England in the last year - many London Welsh fans fancy our chances of springing a surprise this weekend. Sarries' strength-in-depth is such that Farrell shares fly-half duties with the Premiership's all-time leading points scorer, Charlie Hodgson, while World Cup winning captain John Smit, who has 111 caps for the Springboks, hasn't managed to force his way into the starting XV this season. The pack also contains former England internationals Matt Stevens and Steve Borthwick, as well as Mouritz Botha and Scotland's Kelly Brown. There are concerns that injuries to key players such as Neil Briggs and Sonny Parker may leave Welsh exposed given our relatively small squad, but it's likely that key players would have been rested for the upcoming Amlin and LV=Cup games as we prioritise Premiership survival above all else. We have as many wins as the combined might of the three teams below us in the table - Wasps, London Irish and Sale - but Wasps, in particular, have shown the importance of bonus points in keeping ahead of the rival teams in your own 'mini-league'. They welcome Worcester to Adams Park on Sunday, so we know that we need to take something from our match in order to stop a gap from opening-up just above us in the table. But given that the experts told us we'd be cast adrift by this stage of the season, why shouldn't we target the win?



Seb Jewell gets caught
by Gloucester's defence


More London Welsh headlines
London Welsh Poll