London Welsh v Stade Francais Preview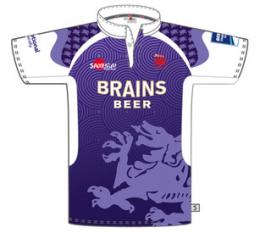 By Mark W-J
October 9 2012
When our children start a new school in September, Parents' Evening gives us an opportunity to find out how they're settling-in to their new environment. London Welsh fans can take comfort in the fact that their boys are making lots of new friends, and are slowly but surely acclimatising to their new surroundings, and showing every indication of achieving pass marks next spring.

Only the most optimistic London Welsh fan would have dared to suggest that we would reach this stage of the season with two wins and ten points in the bag. To put our achievements into context, Worcester had to wait five matches to get a first win under their belt back in 2004-05, dispatching Harlequins 33-7 at Sixways at the beginning of October, and not achieving a second victory - and first away win - until round ten, when they won 17-6 at Northampton. Yet by the end of that season they had won nine matches to finish the season in 9th place, with 42 points, as Harlequins were relegated. But Quins' six wins and 38 points that season represent the best playing record of any team to be relegated from the top flight since bonus points were introduced in 2000-01; in four of the last twelve seasons the bottom-placed club has accrued fewer than 20 points over the course of the season.

Our ten points to-date have been gained from a punishing fixture list which includes matches against five of the current top six clubs. Our only game against bottom-half opposition was at Sale, who find themselves in danger of being cast adrift, a phrase which was used to describe our prospects by more than one respected rugby journalist. To be fair, Sale's fixtures have been almost as tough as ours, the Sharks having faced four of the top six; but Exeter, on the other hand, are sixth in the table having also played four of the teams above them. And while the bottom six clubs have only claimed ten wins between them, just two have been achieved against clubs in the top half - by Welsh against Exeter, and London Irish versus Northampton. We have conceded more tries (19) than any other club, but eleven of those were scored in the opening two rounds, with eight following in the last four games, and last Sunday we became the first team to cross Saracens' line twice this season, and scored more points (23) than any other team they have faced so far - a list which includes Harlequins, Leicester and Exeter.

Jon Mills
Inspirational captain and a prince among men

And so we move into European competition; specifically the Amlin Challenge Cup. We actually have a more favourable pool than we're entitled to, as the draw was made in mid-June, with Newcastle Falcons included as one of the Premiership's six representatives. Newcastle are currently ranked as the 32nd best team by the ERC (European Rugby Cup), with seedings based upon a club's performance in the last five years of European competition. Ranking points are earned either by competing in the Heineken Cup or by qualifying for the knockout stages of the Challenge Cup, but equal weighting is given to each of those years, meaning that Edinburgh's achievement in reaching the semi-finals of the blue riband competition last season is worth as many points as London Irish and Saracens earn for accomplishing a similar feat in 2007-08. As a result, the Falcons were in Pot Two for the draw, and were drawn with the competition's top-ranked club, Stade Francais, Italian side Cavalieri Prato, who have a record of one win and eleven defeats in two seasons of European competition, and the unranked French club Grenoble, newly promoted to the Pro12 this season. Thus, by taking the place of the team seeded second in the pool we have avoided being drawn with other big names in Pot Two, including Gwent Dragons, London Irish and Worcester.

The standout name in the draw is Stade Francais. They are ranked 10th by ERC, ahead of the likes of Harlequins, Toulon and Perpignan, but this is the third consecutive season that have failed to qualify for the Heineken Cup. They were runners-up in the Amlin two years ago, losing 19-18 to Harlequins at Cardiff City Stadium, and lost 32-29 to Toulon in the semi-finals of last year's competition, courtesy of a 79th minute drop-goal from Jonny Wilkinson. Stade were formed two years before London Welsh, in 1883, and won their first French Championship just ten years later, claiming the title eight times in the next 15 seasons. They had to wait another 19 years for their next appearance in the final, losing to Toulouse in 1927, before dropping out of the top flight and spending over 50 years in the lower divisions of French rugby.
.

Stade Lock Pascal Pape
Career includes 42 caps and 5 tries for France


When 'flamboyant' entrepreneur Max Guazzini assumed control of the club in 1992 they were playing in the third tier, but had returned to the top flight within three seasons, and under the guidance of Bernard Laporte they were crowned champions for the ninth time in 1998, 90 years after their last triumph, with a 34-7 demolition of Perpignan in the final. Despite adding a domestic cup in 1999 and four further championships (2000, 2003, 2004 and 2007) the club narrowly avoided relegation to the amateur ranks (Federale 1, or level three) in 2010-11 due to financial irregularities following the collapse of an affiliated advertising company. But for many people, the name Stade Francais conjures up images of a non-rugby playing nature; specifically the outrageous playing kits and the 'Dieux du Stade' calendar, which make 50 Shades of Grey look, well, grey and drab by comparison. Gauzzini was a wonderful showman, also pioneering the 'Big Game' concept which Harlequins have aped so successfully, with the girls from the Moulin Rouge providing pre-match entertainment for sell-out crowds of 80,000 at the Stade de France.

This season Stade are again struggling in the lower-reaches of the Top14. Although the squad still contains such luminaries of the modern game as David Attoub, Felipe Contepomi, Julien Dupuy, Jerome Fillol, David Lyons, Martin Rodriguez, Pascal Pape, Jerome Porical, Morgan Turinui, Paul Warwick and captain Sergio Parisse, they lost plenty of equally imposing talent over the summer, including Tom Palmer, Rodrigo Roncero, Dmitri Szarzewski, and Gonzalo Tiesi. They currently stand in 11th place with three wins and a draw from their eight games, moving up one place following last weekend's 28-30 win at bottom side Mont-de-Marsan, a result which gave their opponents their first point of the season.
.

Argentinian rugby legend Felipe Contepomi
now in second season at Stade

It will be interesting to see whether Lyn decides to rest many of his first-choice players, with thirteen of the squad having started at least five of our six games to-date. For Stade, you get the feeling - even in early October - that another difficult domestic season could be salvaged by winning the Amlin Challenge Cup and qualifying for next year's Heineken Cup. They certainly have far greater strength in depth than we do, but one big difference seems to be the way Welsh are playing as a team - one for all and all for one, to quote another famous Parisian outfit - whereas our visitors' results tend to suggest that they are a group of highly talented individuals who lack cohesion. So will it be Stade who are partying like it's circa 1999, or will the team in purple reign?