B and I Silverware Rounds Off Welsh's Season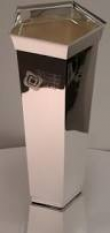 By Dragons Den
April 11 2016
Those fans that made the long journey up the M1 to Leeds, were rewarded with an almost flawless performance by the London Welsh boys, who overcame Yorkshire Carnegie to lift the British and Irish Cup.
Being London Welsh's first cup final since 1985 and following on from what has been a season of frustration the Welsh boys were in no mood to let this one slip through their fingers. and despite Yorkshire being the first to trouble the scorers with a Kevin Sinfield penalty, Welsh came roaring back with tries for Keiran Murphy, Nathan 'try machine' Trevett and a fantastic hat-trick for James Lewis.
It might have only taken Kevin Sinfield 4 mins to open the scoring, but Welsh hit back strongly with two first half tries from winger James Lewis. The first came from a line break by Jack Gilding which left yorkshire undermanned and scrambling in defence followed by some patient play which led to James forcing his way over in the corner.
Yorkshire may consider themselves a little unlucky as they ripped back down field with Taylor Prell touching down only for the score to be controversially deemed a knock-on by the officials.
Then followed a period of pressure by Yorkshire, with the home side turning down three kickable penalties in a row only to be thwarted by some resolute defending by the Welsh side on their own line.
Some great scavenging work by the Welsh back row earned them their own penalty and a clever little grubber by the outstanding Rob Lewis saw Yorkshire under pressure with a lineout close to their own line. Koree Briton who had been very lively so far pounced on the overthrown throw and the two Lewis twins linked up beautifully with a chip over the top from Rob, with James running round the back to pounce on the ball and touch down.
Despite going in 3-12 up at half time with their tails up, Welsh once again took a few minutes to realise that the second half had begun, something that had so often been their downfall earlier in the season and this lapse saw Chris Walker cross the whitewash to put Yorkshire right back in the game.
But this was a very different side to the London Welsh of the first half of the season, this was a side brimming with confidence borne out from playing accurate mistake free rugby and Welsh sapped the Yorkshire players spirit by playing 15 minutes of great possession rugby starving the home side of any meaningful possession of their own.
The next ten minutes effectively finished the tie firstly from a great move which was started by some typically strong work by Guy Armitage and some superb offloading by Will Skuse and Chris Elder to put Keiran Murphy over in the corner.
The final nail in Yorkshire's coffin came just five minutes later after James Lewis was deemed to have been held up over the line, but from the resulting Welsh penalty, try machine Nathan Trevett was once again across the line for his fifth score in four games.
By now Yorkshire needed to score three times, something they failed to do even once and in reality it was Welsh who went sniffing for another as Ryan Hodson just failed to make it over the line, for what would have been fair reward for the industry he ahd shown all afternoon.
Not that it mattered as it was Welsh who deservedly had the final say, when a fantastic sixty meter run by Chris Elder ripped open the Yorkshire defence and who should be there but James Lewis to greatfully take the offload to cross for his hat-trick.
Off of the back of some great defence and hard work by the forwards especially Ryan Hodson, Keiran Murphy, Koree Britton, Will Skuse and Ben West, who all day worked so hard and weren't afraid to stick their heads in some nasty places, Welsh created some great play with Rob Lewis looking strong, not afraid himself to go into contact drawing players, producing some great kicking and linking well with Joe Carlisle, who himself has recently seen an upturn in form and has himself been playing some good creative, if at times heart-thumping rugby. All season Guy Armitage has been massive for us, with fantastic balance and strength often taking three players to bring him down and again he was instrumental in a couple of our chances
I'm sure the Yorkshire boys will be disappointed with the way they played today, but thats to take nothing away from the Welsh side who played with a high intensity especially when within sight of the Yorkshire line, where they were ruthless and took the chances that opened up in fronnt of them.
It was a performance that epitomised the recent confidence within the side, a confidence that has come about through hard work. They are now playing the error free high intensity rugby, we all knew they were capable of and lifting the British and Irish Cup was a just reward for the way they have turned the season around.