The wins keep coming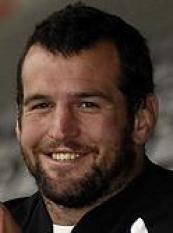 MOTM
By Leipziger
February 28 2009
The Falcons today won a fourth successive match and second successive away game in the Premiership for the first time since September 2004, securing a second win in three visits to Franklin's Gardens and condemning Northampton to their first defeat at home in any competition for two years.
On what should have been a monumental day for the Jimmies, the Falcons were roared on by a small but vocal black following and put in some absolutely mercurial defending to restrict our opponents to just one score in almost 70 minutes of home domination.
There were only a couple of minutes gone when the Falcons were hauled down in front of the line but former Saint Jon Golding, restored to the starting XV in place of David Wilson, popped up to go over on the touchline for our opening try. Tom May's conversion was short and wide, but 0-5 was still a great start.
It was improved upon quickly when Jamie Noon made a fast break into the 22 through an attempted high tackle for which we received an advantage, and May unexpectedly chipped over to the right. As the ball hung and I was probably not the only Falcon looking on in horror, Danny Williams caught it and scored, May converting this time.
What a start! So imagine how we felt when May broke in midfield and tore through the Saints half to score under the post after just TEN minutes! The simple conversion made it 0-19.
It is a measure of how poor the Falcons have been in general in recent years that it was only after the third try that some of us began to genuinely believe we could win. But it was also clear that we would not longer have the game all our own way, as Saints went on the attack but Stephen Myler (the bloke who would've won the game at KP in September on his own according to some) missed what looked like a simple kick.
Myler did kick Saints' first points with a penalty, and Danny Williams was forced to palm into touch to prevent a try, yet somehow avoided a yellow card. But the pressure told just a couple of minutes before half time as Paul Diggin scored on the left, and the conversion left us nine points ahead at the break. Good, but unlikely to be enough.

Our saviour so far had been that although we had made a lot of silly errors and given away a number of penalties, Northampton's discipline and handling was just as poor, and a couple of scraps suggested they were getting frustrated too. I wonder whether Lee Dickson was thinking he should have stayed with the winning team, then again we now have a quicker, nastier and likely to become better version in Micky Young.
Williams was replaced with Tim Visser, returning to the Gardens for the first time since a loan spell with our hosts last season, and the Dutchman showed aggression in our few attacked in the second half, although overall we probably had more chances than in the last 25-30 minutes of the first period.
Soane Tonga'uiha almost went over on the left but was put into touch by Noon and replacement scrum-half Hall Charlton in one of Saints' better opportunities, but still they couldn't find a way through. Home replacement Barry Everitt's penalty was all they could produce to bring them within a converted try six minutes from the end.

In a second half full of errors, we tried to close out the game with just minutes to go, but Saints received a penalty and kicked long, missing touch, but Alex Tait kicked and kept the ball in play himself with just seconds to go. Fortunately, with play moved over to the right Saints were put into touch and the referee blew the final whistle.
Woo-hoo! I suppose after three successive wins took us 16 points clear of Bristol, on its own today's was the least significant of our run of now four consecutive victories. But for the first time in four and a half years we have won four league games in a row, and for the first time since 2005/06 we will end the season with more than one away win in the Premiership.
What's more, with Saints unbeaten at home in all competitions until today it shows we CAN go to difficult places and win. We have had some absolute stinkers away from home (and at home for that matter) this season – whatever The Master and his apprentices are doing, lets hope they repeat it this week and get us another win at Sale next Sunday!
Onwards and upwards!
More Newcastle Falcons headlines
Newcastle Falcons Poll