Danny the kicking champion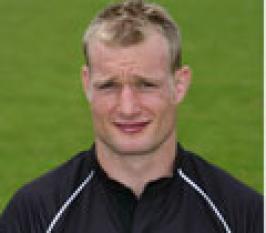 Back to form
By Leipziger
April 5 2009
Following a poor first half at Adams Park, the Falcons will be disappointed to have left High Wycombe with just a bonus point after a second 40 in which we dominated territory and possession but couldn't find the elusive try.
Two Tom May penalties were all our boys had to show on the scoreboard while dodgy handling, most notably from John Rudd and Phil Dowson, let us down.
Both sides began chasing potential Heineken Cup qualification should seventh place in the table turn out to offer such a prize, although the Falcons still have a knock-out route open to them, and Wasps began as much the better team with Danny Cipriani kicking an early penalty. Micky Young again had a kick charged down in the 22, but unlike last week it came to nothing.
May's first attempt at goal went wide but Cipriani doubled the lead and though his third kick missed seconds later Mr Kelly Brook sent over an incredible drop-goal from inside his own half which you just had to stand and applaud. Think May's goal against Leicester last week, but even better.
The Falcons struggled to get any foothold in the game in the first half, another penalty missing touch and Rudd's spill ending our most promising attack, although that was barely in the opposition's half of the field. The cause hadn't been helped by Alex Tait succumbing to a warm-up injury after barely ten minutes, being replaced by Steve Jones.
Right on half-time, Cipriani's third penalty made the score 12-0 and to be honest it was hard to see how the Falcons could have hoped to get back into the game, especially with the headgeared fly-half sending numerous kicks into touch in our 22 to keep us penned back.
But with Matt Thompson and David Wilson coming on at the break, Newcastle took the game to the hosts in the second period and Tane Tu'ipulotu, continuing his barn-storming form, was held up on the left. From the resulting scrum Dowson fumbled with the line at his mercy.
Some strong forward play and incisive running from our backs kept Wasps penned in their own half and Young might well have scored but for a check by replacement prop Charlie Beech on the 22.
Two relatively simple penalties from May got us onto the scoreboard and within six points of Wasps, who let us not forget are the reigning Premiership Champions, and Beech was again lucky to escape a sin-binning for an off-the-ball charge on Tim Visser after our favourite Dutchman kicked forward.
Rudd had a chance to run at the defence on the left but knocked on again, a rare blot on another strong performance by the ex-Insect, and as Jamie Noon attacked and was tackled in the 22 in a desperate search for a try, referee Dean Richard gave Wasps a scrum and blew for full-time. Shaun Edwards leaped in joy and relief before quickly marching stone-faced down the tunnel.
This was a true game of two halves, though played almost entirely in one half of the pitch between two sides who made a lot of running, put in a lot of endeavour, but ultimately with so many little errors and their respective defensive strengths neither created a great deal of clear-cut try-scoring chances.
In terms of the league, we are now tenth but still have a chance to get a better position if we can win our last two matches and other results go for us. It's a shame though that we have lost our last two away games – both could have been won and if they had been we would be in contention for sixth!
But we have bigger fish to fry – South African, fez-wearing fish indeed. And with key players like Hayman, Sorenson, Balding, Young and Noon in decent form we have every chance of winning on what could be our last trip to Watford.