What to expect if your loved one goes on tour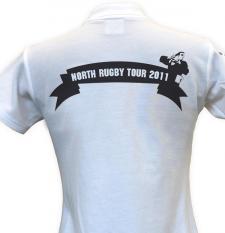 By Citizen-Slacker
May 17 2012
It has reached that time of year where some parents, partners, wives & assorted others, may lose sight of their nearest & dearest for a few days, on a Rugby Tour.
To prevent unnecessary worry & to allay some of the unfounded fears for those having a member of the family go on tour for their first (or more) tour, I have compiled a few hints & tips as to what might happen.*

Firstly, a tour is generally an end of season trip for members of a club or team, to relocate somewhere, take stock of the season, review the good, the bad & indifferent, whilst immersing themselves in the local culture.

Don't be surprised should your loved one return to you tired & a little bruised. There is a lot to fit in in a small amount of time. The local places of interest can include exceptional buildings, galleries of fine art, there may be somewhere that the locals perform their traditional dancing & mating rituals, whilst imbibing the local brew.

It is not unusual for a game to be arranged against a local side. Now whilst there are rumours that if you shy away from the contact there is a greater risk of injury, don't believe a word. These games are convivial, filled with fancy footwork, tricks & a final attempt to do all those things the player meant to do during the season, but failed to fulfil. This last game is the ideal opportunity to have on last crack of the whip.

Talking of craic, both teams are likely to withdraw to the bar after to exchange local folk songs. Indeed, singing can become an integral part of any tour, with themes being recurrent, or ditties being hummed long after the event with a wistful smile playing about the lips. There may also be a element of fancy dress, so do not become alarmed if in the weeks leading up to the tour he asks to borrow some of your undergarments. Or over garments. Or asks you to go shopping with him to buy a dress.

The last thing to be aware of, forewarned & forearmed, is the kangaroo court. A tour tradition of such simplicity it is genius. Worry not of the alleged forced drinking, the forfeits or punishments, these are few & far between. It is the fines that kill most people.

Your loved one will return, maybe not in the best of shape, but they will return, refreshed, reinvigorated, a little the worse for wear having lived & breathed the life elsewhere for a few days. Go easy on him (or her), for this can take its toll, avoid brightly lighting rooms, loud music or early mornings. Getting some non-alcoholic drinks in may be an idea too. But let them go & they will return to you as better people, more learned, more able to deal with life's pressures & enjoy life's pleasures.




* All events are of course subject to change & there will be the caveat of what goes on tour, stays on tour.