Five thoughts from Newcastle v Sale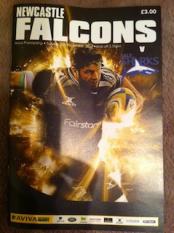 By Leipziger
November 30 2014
Stuff you think about while pounding back over the A69 and M6, while also wondering whether you will be pulled over for the rear number plate being too dirty:
1) Lineout woes
A lineout is, most of the time, a four-man operation at least and if one of those players doesn't get their job right then possession can be lost, and the hooker will normally get the blame. I'm not going to condemn George McGuigan or anybody else for today's lineout failures, but when you've had two or three go over the whole line and lost possession, surely it makes you think. So when you have a lineout on your own five-metre line, you might stick an extra player at the back as insurance in case the throw goes too long. This afternoon we didn't, and almost paid for it.
2) Still royal
Rory Clegg had a really good game I thought, I don't remember him missing a kick from the tee and he went after long kicks like he hasn't so much before, though still perhaps not as fast as I would like. Some good kicks to touch, and nice play with the ball in hand. A decent partnership with JP Socino is developing too. Well done, Rory.
3) Hammering it
Simon Hammersley injected a bit of pace and liveliness into our attack when he replaced Alex Tait, and really gave Sale something to think about. Tait was solid enough in defence during his time on the pitch, and looked to spark some attacks, but he doesn't really have Hammersley's speed. Who plays at Harlequins in December will depend on what we want the full-back to do, and may well depend on whether Gonzalo Tiesi is fit to lead the defence. It's great to have two really good options at full-back though.
4) Speed at scrum-half
I like Ruki Tipuna a lot, this guy has a lot of speed and trickery, exactly what we've missed at scrum-half since probably when Micky Young first came onto the scene. However, today Mike Blair and his replacement Warren Fury looked to keep quick ball flowing at the right times and the result was some exciting play by the Falcons in attack. It was ultimately fruitless, but there was none of the frustrating dallying that we have seen from Falcons nines in the past.
5) Slippy Cipriani
Danny Cipriani appears to be back to somewhere near his best. Creative, fast and mostly reliable from the tee, the controversial fly-half managed the game very well for Sale and certainly shouldn't be discounted for a World Cup spot if Stuart Lancaster feels he can risk playing such a maverick. It's so good to see Cipriani in the papers for all the right reasons now and I can't help but feel pleased that such a talented player seems to have finally got his head right and is doing the right thing – putting top effort into his rugby.
Bonus thought) Winter sun
An odd-ball here: driving out of The Village of the Damned this morning, I was confronted by the twin menaces of the low winter sun and a wet road. It is a problem I've encountered before, but not on this scale – at two points I literally could not see in front for a few seconds. Hopefully the drivers of the coaches bringing Kendal and Kirkby Lonsdale's juniors over from South Lakeland had no such frights.
More Newcastle Falcons headlines
Newcastle Falcons Poll