South Stand Choir Awards 2014/15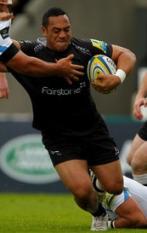 By Leipziger
June 11 2015
Some serious, some less so… the best, the worst, and the oddest of the last nine months.
Player of the year: As always, a few contenders here. Mark Wilson's consistent 7 or 8 out of 10 performances may have seen him slip under a few of our radars in terms of regular praise, but he was selected in a few pundits' dream teams and then the England XV to play the Barbarians. Juan Pablo Socino has had a brilliant first season in the Premiership, even if his kicking hasn't always been up to expectations, and Tom Catterick has performed admirably at fly-half after moving there mid-season. But overall, you can't look past Sinoti Sinoti, the Samoan flyer who scored nine tries including a blockbuster against Bath, and continues to get Geordies off their seats week after week. Ended the season with a deserved call-up to the Samoan World Cup training squad.
Young player of the year: Not so many contenders this year, with George McGuigan and Dom Barrow now established Premiership players. The award for me would have to go to Simon Hammersley, who began the season like a house on fire and despite a little dip in the middle, his attacking skills showed up again in the final weeks of the season. A real find if he keeps developing.
Best home game: Harlequins was good for so many reasons, but for pure tension, relief and joy, it has to be Exeter. Losing to a team that would go on to just miss out on the playoffs, the Falcons turned it around in the later stages and held on to break a 20-game losing run in the Premiership. Though I drove sobrely back to Cumbria myself after the game, in my mind the champagne corks were popping.
Best away game: For the second year in a row, I'm going for Gloucester. A try bonus point and what would have been a famous win snatched away from the Falcons with the final play. Who could forget the sight of Adam Powell fighting back the tears post-match? That's the kind of passion that lets you see that the Falcons are on the right path.
Worst game: London Irish at home wasn't great, and if I'd been at either of the Exeter away games I might have gone for one of them. As I wasn't, it'd have to be Irish away for that dire first half.
Best away trip: I really enjoyed the friendly against Edinburgh in Hawick again, a lovely summer's drive through the country to get there, a game in a nice traditional rugby ground, and then a drive back through the pitch dark making you feel at one with the world. Another one soon please Falcons!
Biggest disappointment: Last season we had enough for two years, this time I'm struggling. Neither are criticisms of the team, more a measure of where our sights are now set – just not being able to close out wins at Saracens and especially Gloucester were gutting.
As I've said, the first half away to London Irish was pretty bad too, but lets stay positive.
Most painful moment: Well for me it was about 70 minutes. I strained my back on a Saturday morning, was lying in a lot of pain on the sofa, but I thought listening to the Falcons' Valentines Day game at Exeter would cheer me up. 70 minutes in and the radio cut out. Probably just as well.
Try of the season: For the second season in a row, it's Sinoti Sinoti for that fantastic solo effort against Bath, beating at least four opponents. I'm sure you're not tired of watching it, so enjoy it yet again here.
Best night out: Saracens away in February is one that will remain in my memory for a long time – though it's amazing that I remember much of it at all. Singing with one of the Saracens pioneers on the bus back to Edgware with the NFIT guys (all the old classics came out – Micky Ward you're not forgotten!), then a quick kebab, a pint in a dodgy bar with pink walls and a strictly Romanian (and Geordie, apparently) clientele policy, then a few Brown Ales at a more common pub.
How we made it back to the hotel at Old Street is a slight mystery, but I think we got the last Tube.
Good times.
Quote of the season: Follows in the footsteps of previous winners Falc Dancer and an anonymous Gloucester fan, Mrs Leipy takes this prestigious trophy. We're sitting in a bar in Madeira watching the second half of the Bath home game, and George Ford steps up to take yet another kick at goal, and Mrs L says: "I hope Ford walks into a bin". Me having walked into a bin on the waterfront earlier that day for absolutely no reason.
Best new signing: The little wizard Juan Pablo Socino has moved seamlessly into the Premiership, formed a great partnership with Adam Powell and even shown he is a serviceable Premiership fly-half if the need arises. A very creative player when he can get into the game in the right way, as highlighted by BT Sport against Wasps in February. Rewarded with a deserved new contract and now in the Argentina fold.
More Newcastle Falcons headlines
Newcastle Falcons Poll