Newcastle Falcons 30 - 25 Saracens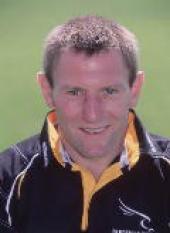 The 9th Forward
By aidanb
September 13 2017
This happened 20 seasons ago during the 97 /98 season. I was at the game at KP on Wednesday 25 March 1998 with a 19:30 kick off, as were 6867 others.
Newcastle Falcons 30 - 25 Saracens (FT). with a Falcons lead of 17 – 10 at halftime
Newcastle that day were made up of these players;
15 FB Stuart Legg
14 W Jim Naylor
13 C Jonny Wilkinson
12 C Alan Tait
11 W Martin Shaw
10 FH Rob Andrew
9 SH Gary Armstrong
1 P Nick Popplewell
2 H Ross Nesdale
3 P van Zandvliet
4 L Garath Archer
5 L Doddie Weir
6 F Pat Lam
7 F Richard Arnold
8 N8 Dean Ryan (c)
Replacements
16 Neil Frankland
17 Tim Stimpson
18 Peter Walton
19 David Barnes
20 Richard Metcalfe
21 Chris Simpson-Daniel
It looks odd to see a certain J Wilkinson not at 10, but in those early days he played at centre and just look who was lined up against him at 13 for Saracens, only one of the most wonderful centres France ever produced. I wonder if the Wilkinson nerves were jangling before that game.
Saracens that day were equally as star studded;
15 FB Matt Singer
14 W Ryan Constable
13 C Philippe Sella
12 C Steve Ravenscroft
11 W Brendon Daniel
10 FH Michael Lynagh
9 SH Kyran Bracken
1 P Roberto Grau
2 H George Chuter
3 P Paul Wallace
4 L Paddy Johns
5 L Danny Grewcock
6 F Alex Bennett
7 F Francois Pienaar
8 N8 Tony Diprose (c)
Replacements
16 Ben Sturnham
17 Marcus Olsen
18 Andy Lee
19 Gavin Johnson
20 Brendan Reidy
21 Gregg Botterman
Wednesday night game eh, oh yes the leagues were a bit odd back then.
I'm going to focus on the forward battle in this game because it's the one I remember the most from that game, even though it was all those years ago and it was beer fuelled.
One memory stands out for me that day as a mark of the quality of the Newcastle pack, a certain P van Zandvliet was involved in a tussle with the rampant Francois Pienaar. The tussle, on the floor, resulted in the former Springbok captain and world cup winner having to leave the field for a few moments; when he did come back on the cotton shoved up his now even flatter nose gave a clue just as to where the decisive and conclusive contact was made. These days there would have been an enforced HIA and certainly a match citing; but in those days the rough and tumble was accepted to a certain extent. If I was able to ask Francois what he thought of the matter I am sure it wouldn't even raise a mention. RIP Paul, safe in the knowledge that you brought cheer to a lot of people during your time.
Now that certain memory has been aired I'd like to consider the game as a whole.
20 years ago and with no notes it is hard to put this game back together but I do know it was a tense affair later in the season as Newcastle were pushing to get their hands on the title and Saracens were doing a good job of that themselves. The more tense it got the louder the crowd got and the more beer we seemed to have.
At half time it was 17 – 10; with the game ending at 30 – 25 we lost the second half and our three tries from Stuart Legg, Nick Popplewell and Peter Walton's second half effort topped a huge late game defensive effort to hold Saracens to just the one Tony Diprose try along with 6 Michael Lynagh penalties.
It was a fantastic effort from our guys to think that quality such as Inga Tuigamala, Alan Tait, John Bentley and Tony Underwood who all played in our backline that season.
Just look at the list of opposition superstars in there and you can bet that our marauding No8, Dean Ryan, will have collided with them happily; Danny Grewcock in the Saracens second row alongside Paddy Johns were no shrinking violets and they would have been mightily annoyed by Richard Arnold's offside position all night. But Popp was there to defend his players on a number of occasions and probably dig Dean Ryan out of a couple of holes he'd gotten himself into. Saying that Ryan was more than capable of playing excellent rugby and resolving any differences of opinion with the opposition.
This was a momentous forward battle with clashes all night and as well as the first event described there was no quarter asked or given and I'm sure some of you might even be able to find it on youtube. If you do find one then link it in here, we will get to see Garath Archer and Doddie Weir in all of the second row majesty. Those two were excellent in there and it was great watching their different skills in action.
I think it is fair to say the Falcons had an abrassive pack which was also highly motivated and highly skilled. Ross Nesdale at hooker was a massive find from New Zealand and his subsequent discovery of Irish Roots allowed him to demonstrate those skills when he was capped for Ireland. Talking of skills we come to the majestic Pat Lam who was a fans favourite for his ability to be right in the heat of it with ball in hand or disrupting opposition play. He was quick alsoand one of those players you loved having in your team because of the work rate and skill.
Finally, the last forward in the starting lineup to get a mention is Gary Armstrong. Forward ? I can read you now saying he was the scrum half. Scrum half was the incorrectly named job description he was given. He was an absolute legend at 9 and spent as much time doing flanker work as he did getting the ball onto Rob Andrew's boot. For those who can remember him, the game he played was perfect for the aforementioned abrasiveness of the Falcons forwards and he didn't lack in pace around the fringes either. Woe betide any flanker leaving a body part over the ball too long or not having the defensive gaps covered; he was expert in making the opposition think it was Rob Andrews ball all day long and then going in past their creaping defence to open up a big hole.
One question not related to the match is to name the Bar which was in the corner between the South Stand and the West Stand? It was manned by one young lad in particular who did a great line in humour and seemed to have a particular skill in serving ice cold beer in the depths of winter.
Bearing in mind the ground was very different back then. The South Stand [as the north stand then also] was a set of paving stone steps about 6 or 7 rows deep and fully exposed to the elements. The West stand was a temporary scaffolding structure which was a threat to life and limb in high winds.
So, having given a fleeting mention to the game and the backs it would be good to hear from anyone who wants to add to the topic and describe the players and the game itself.
More Newcastle Falcons headlines
Newcastle Falcons Poll