Curate's Easter Egg Crushes Connacht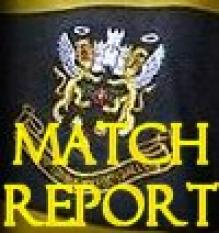 By Jonathan Stockham
April 12 2009
After some strong showings in the league, Northampton Saints took their improving form into the sudden death scenario of the ECC, with a place at the Heineken High Table a tantalising prospect for the winners. In a curate's egg of a match (good in part - in this case the 2nd half) Saints finally emerged as worthy winners after some resistance, not all of it legal, from the Irish visitors.
Curate's Easter Egg Crushes Connacht
European Challenge Cup

Quarter Final, 11 April 2009, Franklins Gardens

Northampton Saints 42, Connacht 13

Visiting teams bring with them their squad, a few supporters, a van load of kit and some hope and expectation. Connacht brought their own weather as well and the game kicked off in what the Irish might call "a fine soft day." Half time mercifully arrived 40 minutes later after a first period of some pretty dire rugby.

Saints tried to inject some pace, whilst Connacht wanted to go slow. Northampton perhaps tried too hard in the early skirmishes and dropped ball or wayward kicks ruined good work elsewhere.

The home pack quickly learned that the opposite front five were there like spring lambs awaiting early slaughter and once Euan Murray had sent the Connacht loose head off to the treatment table, his replacement soon departed to the sin bin after referee Romain Poite lost patience with the visitors inability to scrummage anywhere close to the standard set out in the Laws. Uncontested scrums therefore for 10 minutes.

A half time score of 9-6 pretty much summed it up, Saints' points coming from Steve Myler's boot after Connacht indiscretions and weak scrummaging, whilst a penalty and a drop goal had kept the visitors in touch.

During the break we were entertained by a ladies rugby team, dressed (in some cases) in unfeasibly tight little black numbers and Terry McDermott wigs, who bounced their way around Piggy's Patch doing some Irish jigs. Nice!

The good part of the curate's egg duly arrived, with the Saints playing towards their favoured Lake End. Three more points to Myler were soon available after Ben Foden ran into the heart of the Connacht defence to put early pressure on the visitors. As Paul Grayson leapt up to bring the kicking tee on for Myler, he failed to clear the top of the advertising board and so Grayse, tee, water bottle and dignity went sprawling right in front of his team mates! Doh!

After 5 minutes, Connacht were back to 15 men with the return of their prop and contested scrums. You could see Euan and Soane licking their lips in anticipation. Sadly, they were denied a full feast as the replacement prop went off injured later in the half leading to more uncontested scrums but not before the Saints' pack wreaked havoc amongst the Connacht front five.

Also wreaking havoc was Connacht No8 Ray Ofisa, who took advantage when the referee missed a blatant knock on by Connacht to thunder over for a try, converted by Ian Keatley. 12-13 to the visitors!

Saints took the lead again from the restart with a penalty when Lee Dickson was taken out in the air and now started to exert some real pressure. The home pack drove their opposite numbers back 10 metres in midfield to win a penalty and, soon after, another colossal scrum drive from Saints saw the supply of visiting props run out and uncontested scrums resumed. Euan Murray had done enough for the day and left the field with a satisfied grin, to be replaced by Mark Easter.

Myler kicked another three points as Johnny O'Connor left for a visit to the bin of sin where two chairs had to be hastily arranged as Gavin Duffy joined him soon afterwards. From the resulting penalty, Saints opted to take the scrum and in two phases of play, Neil Best was over for Saints' first try of the day. Myler added the extras to make it 25 - 13 with 10 minutes to go.

Four minutes later Saints scrapped for loose ball on the right and moved cross field at pace for Joe Ansbro to whiz in on the left. The conversion was missed and Myler left to be replaced by Barry Everitt.

Saints were running Connacht ragged now and Bruce Reihana charged down the left touch to score another try. Everitt struck the conversion superbly to rattle the scoreboard up to 37-13 with full time approaching.

Saints were not finished yet however and Best sent Paul Diggin dancing and jigging down the right to set up a try for Chris Mayor, although the rest of the team helped out with about 12 phases of recycling in between! Everitt missed this conversion and Mr Poite blew the whistle for no side with Saints moving through to the semi final of the Challenge Cup after an emphatic 42-13 victory.

Like all officials, Poite may have not been perfect throughout but he had a clear grasp of what was happening in the front rows and Saints mastery here went rewarded. Tit for tat referees take note!

So, a home semi beckons on 1 - 3 May against Saracens.

Steve Myler won the official Man of the Match, but for me it was a close run thing between Murray, hugely dominant in the tight and Best, a mobile wrecking ball all afternoon.