News: Northampton Saints - The Road to the Final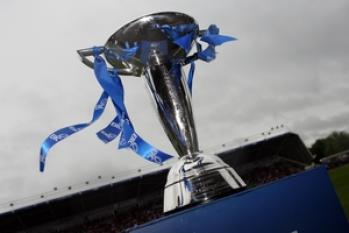 By Chris Gleadell
May 18 2009
In the second of our articles to be published this week in the build-up to the European Challenge Cup Final on Friday, Chris Gleadell takes a look back at how Northampton Saints now find themselves just 80 minutes away from a place in next year's Heineken Cup...

THE LONG AND WINDING ROAD
TO THE STOOP
As a few of us sat outside a harbour side bar in early October soaking up the sun looking forward to that evenings game against Toulon I am sure not too many of us really thought that eight months later here we would be in turn looking forward to the final of the same competition. But then again through some twists and turns that is where we find ourselves.
The story however started a couple of months earlier than that Med excursion. As always in mid-summer people waited on tenterhooks for the European draw wondering just who fate would through at us. Out of the bag came Bristol, Montpellier and Toulon. The announcement was met with mixed feelings.
For the travellers sure we had two new venues to explore, even though they both ended up being on a Thursday night, but after a year in Division One we were somewhat the new boys on the block and had been drawn in what looked like the strongest of the European Challenge Cup pools. Of course that might have panned out quite differently in the end but on first viewing we were in a group that contained two French and two English sides and looked to be up against it.
For a start we had Bristol, fellow Guinness Premiership stable mates but all in all an unknown quantity at that stage of the season. From France we faced Montpellier a team riding the post Rugby World Cup interest in the game in the Languedoc and with real ambitions (and some real cash) to break into the top five monopoly over the channel. To complete the group we had Toulon, like us promoted from the second tier that season. Underpinned by the many, many millions of chairman Mourad Boudjellal their squad list in their promotion season read like a who's who of world rugby and whilst many had moved on with the likes of Jerry Collins in their ranks, and with them at that time being tipped as possible contenders in France, a team to be very wary of.
TOULON AWAY
First up on that balmy (and somewhat barmy) night mentioned earlier we had what many thought would be our toughest test of all, the trip down to Toulon and the legendary cauldron that is the Stade Felix Mayol. However we turned up at a Toulon Rugby Club that had not so far that season lived up to the high hopes of the townsfolk and certainly not of Monsieur Boudjellal. Languishing near the foot of the table the chairman had been openly critical of his teams efforts and the skill of coach Tana Umaga. It was clear progress in the ECC was the last thing on their minds, even then in October the talk was only of Top14 survival. A second string team was announced by the home side and the locals were telling us beforehand we would win by fifty points at least. How right they were but then you can only beat what is in front of you and Saints did with something to spare.
Despite an Sebastien Fauque penalty giving the home side an early 3-0 lead with the chants of 'Pilou, Pilou' still ringing in our ears it was one way traffic from then on in once the team had gathered their thoughts. On ten minutes Sean Lamont got the first try of the night and two others by Joe Ansbro and Paul Diggin, with his first touch of the ball, and the metronome kicking of Steve Myler who was slotting them over from all over the park, sent Saints in 30-3 up at the break.
To give credit to Toulon they rallied somewhat at the start of the second period and it took nearly twenty minutes before Chris Ashton, after some fine work and a deft grubber through by Bruce Reihana, secured the bonus point with Saints fourth try out on the wing. Further tries followed through Ben Foden, a second from Joe Ansbro and the fifty points was put on the board with Lee Dickson's score in the last minute. So at 56-3 a job well done and as the six hundred or so Saints fans celebrated (too) long into the night and those back home who had watched the game on Sky went to their beds thoughts turned to the Gardens the following Saturday and the visit of Montpellier.
MONTPELLIER HOME
Saturday October 18th, another evening kickoff, another French side and for Saints another half century of points as Montpellier Herault were put to the sword. A try in the first minute of so from Scott Gray after a lineout set the tone early on but the French side hit back with a try of their own through Goncalo Uva before normal service was resumed. A Joe Ansbro try after fine work from Chris Ashton and a Stephen Myler penalty extended the lead before what became the talking point of the night. Around the half hour a brawl broke out and Saints hooker Dylan Hartley appeared to suffer a flurry of punches from French international scrumhalf Julien Tomas whilst returning none in return. The decision was a clearcut one for referee Jimmy Jones and Tomas saw red to sit out the rest of the game. He would not be the only Montpellier player to see la carton rouge that night.
A penalty try quickly followed Tomas's dismissal and after the break further scores from Soane Tonga'uiha, Chris Ashton and Paul Diggin wrapped up a 51-7 win but not before Fabien Rofes also saw red for about the most cynical case of stamping you are ever likely to see.
So two wins out of two, maximum points and people were starting to think that maybe we could go far in this competition and it was not lost on a few that this could be the route into Heineken Cup rugby next season. However we would have to wait with the ECC going on the back burner for two months before the next European action a double header against Bristol.
BRISTOL HOME
On the first Saturday in December the home tie against Bristol came first and there was some concern over the team sent north to play. Just like Toulon earlier in the tournament it was clear that Bristol coach Richard Hill had little regard for the ECC and sent a team that was in no uncertain terms taken to the cleaners by the Saints. A ten try demolition followed including a hat trick for Chris Ashton in a 66 – 3 win. There were also braces for Paul Diggin and Mark Easter and singles for Roger Wilson, Bruce Reihana and Jon Clarke to seal the win and Saints supporters looked forward to a similar cakewalk the following week.
BRISTOL AWAY
However the Bristol support understandably went home very unhappy and there were harsh words for Coach Hill on his team selection some even going as far to say the performance was an embarrassment to their once proud club. Whether Hill took note or whether he had an eye on the following weeks GP game is arguable but Saints saw a completely different Bristol side in personnel and attitude the following Sunday but then it even took them sixty minutes to get their heads into gear.
The first hour was all Saints and on fifty minutes Ben Foden's second try of the afternoon, after other scores from Chris Mayor and Jon Clarke, secured the bonus point and Northampton were cruising with a healthy sixteen point lead. Then however Bristol woke up and two quick fire tries from Lee Robinson and Luke Arscott put Saints under real pressure but they held out just to preserve not only the unbeaten record but those maximum points.
With two games to go those maximum points were starting to look all the more important as people started to eye up the seedings for the quarter finals. Should Saints keep up their winning ways then a first or second placed seeding would see not only a home quarter but also a home semi final should they be successful in the first. As up to that time we had not lost at home and already had some notable scalps under our belts perhaps it was not outside the realms of possibility that we could go the whole way in the ECC. Time would tell.
MONTPELLIER AWAY
We had to wait until the first month of the New Year and the two return legs against the French sides to see if we could progress. First up, and again on a Thursday night, was a trip to Montpelliers Stade Yves du Manoir. As temperatures dipped towards freezing point (it would be minus4 later that night) there was certainly plenty of heat on the pitch as both Saints and MHRFC fought tooth and nail for an edge. The lead changed four times but ultimately a bit of clever running by Sean Lamont, sending his defender this way and that sealed the game at 28-24 for the Saints. With just two other tries on the night, from Chris Mayor and Steve Myler the first bonus point was dropped but this hardly seemed to matter given how close the game had been and the 500 or so hardy souls that travelled out to the game went out on the town to celebrate the victory long, long into the night (it's a bit of a theme isn't it?).
TOULON HOME
So just Toulon remained to visit the Gardens to wrap up the pool games and Saints knew a five point victory would secure one of the top two seedings and those precious home draws. Surely given the drubbing they got on home soil Toulon would be there for the taking in the return leg, well for an hour no one told them that! Indeed at half time just two points separated the teams a Mark Easter score being cancelled out by Mafileo Kefu as Saints really appeared to have the jitters.
A Soane Tonga'uiha try settled some nerves straight after the break but Toulon still held their own until around the hour mark but then a yellow card for winger Marc Andreu appeared to break their resolve and Saints took full advantage. In the remaining twenty minutes a further five scores were put on the board with Tiny and Mark Easter getting their second, Chris Ashton adding a pair of his own and Steve Myler getting one of his own along with thirteen points from his boot. The 52-11 victory had indeed secured the second seeding going into the quarter finals just behind tournament favourites London Irish who took the top spot. That second placement meant Saints were to take on seventh seeds Connacht at Franklins Gardens at Easter.
CONNACHT HOME
Before this game I am sure a few people looked at how Connacht's last visit to England had resulted in them shipping over seventy points to the Exiles and given how a matter of a couple of weeks before this game we had given Irish more than a run for their money then it would be a formality, surely? Well not exactly. There was of course a bit of history to this fixture. A decade earlier a Warren Gatland coached side had performed a smash and grab at the Gardens, including a 14 man lineout, when Saints on paper only had to turn up and then again when has knock out rugby ever been about logic anyway?
Connacht came to play a certain brand of not too pretty rugby and for the totally forgettable first hour Saints were happy to oblige as both sides cancelled out kick after kick. It was not until the Irish side finally edged ahead through a Ray Ofisa try on fifty minutes that Saints sparked into life. Sensing that perhaps all their hard work might go for nothing the pace was upped and perhaps overall fitness started to tell on the Connacht side.
As Gavin Duffy and Johnny O'Connor were rapidly dispatched to the bin for illegally trying to stem Saints new found flow, the floodgates opened. In the remaining ten minutes the Saints we were used to seeing in Europe returned and four rapid fire scores from Neil Best, Joe Ansbro, Bruce Reihana and Chris Mayor put rather an unfair slant on the score at 42-13 but whatever, the Saints were in the semis and Saracens were next up on May Day. One thing was sure though, play like we did in that first hour and we could forget it.
SARACENS HOME
And so to May 1st and one of those special Gardens nights. The Fezheads turned up in their thousands to add to the occasion and the Franklins Faithful took on the challenge and raised their collective voices to match.
After Steve Myler and Glenn Jackson exchanged early penalties Saints finally took the game by the scruff of the neck and dominated the half but the scores would just not follow due mostly to some tenacious last ditch defending by Sarries. On the half hour the deadlock was broken, a bullocking run from Soane broke the gainline before quick hands sent skipper Bruce Reihana over for the score. Saints were in the ascendancy going into the break and surely now the result was not in doubt.
But then if we have learnt anything from this cup run, and reading this column, it is not to count those chickens too early. A different Saracens side, in application at least, took the field for the second period and Saints were on the back foot doing some of that defending with tenacity themselves. They held out until the 73rd minute then the line broke and Rodd Penney went over in the corner. Jackson slotted the pressure conversion to tie the teams at 13-13 with just minutes to play. Things were looking bleak given what had happened in the previous twenty minutes, surely now Sarries had the impetus they needed. But then just as the Saints support started to doubt up stepped young Steve Myler.
Sensing perhaps that it was still within our grasp there was no panic, instead fine work by both forwards and backs set up the ruck and just about every man woman and child in the crowd just knew where Smyler was going to be. The ball was slotted back to him and bang it was over straight between the posts.
16-13, less than three minutes to go.
That breathing space was all the forwards needed though as they ground the life out the game keeping Sarries pinned back and after a very loud countdown from ten the final whistle went and yes you've guessed it everyone went out to celebrate long, long into the night.
BOURGOIN - STOOP
So, that's how we found ourselves at the Stoop on Friday taking on Bourgoin in the European Challenge Cup Final. I will not go into too much detail leaving the match preview to others but I would dearly like to return to this article in a week or so and add another couple of paragraphs and perhaps change the title to 'Saints long and winding road to European glory'. Be nice wouldn't it?
Come on you Saints!!!