Super soaraway Saints stroll successfully in the Sept Sun...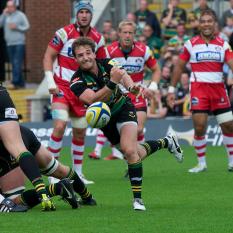 By Howlin'
September 5 2011
Well not quite. But a win is a win is a win as they say and just think, there are worse places to be; you could be waking up on Monday morning as a Leicester supporter having just lost at home to Exeter.
Aviva Premiership 2011/12
Round 1
Northampton Saints v Gloucester Rugby
Franklin's Gardens Sept 4th KO 3:30pm
Score Saints 26 Gloucester 24
To any sensible observer it was always going to be a challenging afternoon. Whilst having home advantage Saints were up against a team that did the double over them last season, won the LV cup and were fellow losing semi finalists in the league. There couldn't be much tougher opposition on the first day of the new season. Add to that the sheer unpredictability created by the many absentees from both sides due to the impending World Cup tournament (if you doubt me just look at Saturday's results, especially Leicester against Exeter) and not many punters would have placed their mortgages on an easy home win.
Then stop one minute to remember that Saints lineup was also missing Lee Dickson, Roger Wilson, Brett Sharman and John Clarke who surely would have been certain starters and new boy Sempere, and then maybe you might have started to doubt whether a win was indeed possible at all. Maybe you would even realise that this would truly be a test of the "strength in depth" that has already been heralded ad nauseum in many quarters even before a ball had been kicked in anger.
Certainly with the World Cup's impact, the start to the season does not contain the huge impetus usually felt as teams race from the blocks seeking to gain an early advantage. More so, to this writer at least, it feels like the stuff they do at a Grand Prix to decide the starting order for the main event. They are all jostling for position so that they are in place for a good race and finish when the "real event" commences later in the year.
For me therefore today's game was largely about assessing our replacements. The new starters and the young pretenders. Will they be good enough to put us where we need to be ? Will there be any real contenders to hold their place when the "big guns" return ? Of course a win was also on the agenda, but by no means an automatic right.
For me the match didn't disappoint. To date, of the other matches, I have only seen Saracens v Wasps (although I also believe Exeter beat Leicester at Welford road) and in comparison thought that match to be turgid and uninspiring. With Saints and Glos we had two teams that play at pace and want to win a game. As with past encounters the match was highly entertaining and very physical.
The first half saw both sides willing to carry the ball creatively and directly to be met by equally forthright tackling. The pace of the game was impressive for an opening match. Mistakes were inevitable , but not numerous as the usual opening pens were traded.
Myler showed his growing maturity with a very solid game and provided the first opening with a clever break and sumptious back handed pass to the man of the match Dowson for the first score.
When Roberts , who is surely a genuine challenger for Dickson's shirt capped an impressive
league debut with try on 34 mins , Saints were firmly in control. Despite scoring a try from a charge down , Glos had never really threatened the Saints line and didn't look like doing so again.
So although the half time lead was slender, I was fairly confident of a positive outcome. For the third quarter nothing happened to change this opinion. The impressive Burns had come on for Glos and found his mark with a pen, but Saints still looked comfortable. The pace had however dropped a notch and further tries from either side appeared unlikely.
This was to change on 70 mins however as following an attempted break from deep Saints spilled the ball and from the resultant scrum and juggled passes Sharples scored for Glos. Although Burns missed the conversion he soon followed up with a smart drop goal and Glos were ahead with only four minutes to go.
Thankfully , from a Saints perspective, a punch was thrown at a ruck giving Lamb the chance to atone for a previous miss and slot the winning pen. (although no red card was shown for this blatant misdemeanour ) Not an easy kick against a former club on his debut having just missed his previous effort. Well done that man.
And well done to all the debutants. I've already mentioned Roberts who I think played a blinder (ooh did I mention Leicester lost at home to Exeter) , Nuttley was amazing for a 19 year old, my pre season tip for the top Manoa showed his promise, Cato worked hard and had a solid game, May showed his class (and a little rustiness) but overall very, very encouraging. Consider the age of the finishing front row and just think how many more players we are yet to see pull on the GB& Green over the coming months.
I think it's going to be a cracking season.
TIMELINE
2mins GLOS Miss pen Taylor
14mins SAINTS Pen Myler 3-0
19mins GLOS Pen Taylor 3-3
21mins SAINTS Try Dowson 10-3
23mins GLOS Try May Con Taylor 10-10
30mins GLOS Pen Taylor 10-13
34mins SAINTS Try Roberts Con Myler 17-13
HALF-TIME SAINTS 17 GLOS 13
46mins SAINTS Pen Myler 20-13
51mins SAINTS Pen Myler 23-13
56mins GLOS Miss pen Burns
60mins GLOS Pen Burns 23-16
71mins GLOS Try Sharples 23-21
76mins GLOS DG Burns 23-24
78mins SAINTS Pen Lamb 26-24
FULL-TIME SAINTS 26 GLOS 24
Pictures Courtesy X Block Dave
Caption Competition