Last Chance to Register for SWH 10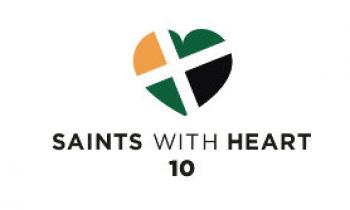 By Simon Robinson
March 28 2012
This is your last chance to register for the tenth Saints With Heart walk, raising money for the British Heart Foundation. This event has raised over £115,000 for the BHF in the last nine years, and we already have 70 walkers signed up this time around.
This year's walk takes place on May 5th, before the last league game against Worcester. We need to place the order for the walk T-shirts in the next week, so please register your interest by then or you may miss out…
Anyone who can't take part in the walk, but wishes to order a T-shirt, please get in touch by emailing saints_with_heart@hotmail.co.uk – shirts are £15 each of which around £10 will go to the BHF.
Send an email to the address above to register -if you can provide the following information for everyone who wants to take part, I will post out all the paperwork including sponsorship forms:

* The name and home address of each person intending to walk in SWH10
(if there are several people at the same address, we need to know to keep track of numbers, and so we send you enough sponsorship forms)
* Mobile number & email address for each walker
* Which route you will be following (Wolverton fast, Wolverton slow, Blisworth, Rothersthorpe)
* Whether you want to use our Cashback scheme (this allows you to keep 25% of the sponsorship raised for another good cause)
* T-shirt size for each walker (sizes from S - 3XL)

Just to explain about the routes - all the walks will begin at the time advertised, if you're late then you may have to run to catch up!

Both long (17 mile) walks start from Wolverton Station, the "fast" walk takes a different route at the start and has shorter breaks along the way. You should only be attempting this route if you are physically up to the task. These walks will depart at 6am PROMPT – make sure you set the alarm, you will need to be there by 5.45am at the latest to register and collect your T-shirt.

The medium (8 mile) route from Blisworth will begin from the canal bridge on the High Street, 9.30am PROMPT departure (again, arrive at least 15 minutes before the scheduled start time). This is a very popular route, so please be patient and arrive in plenty of time so we can get everyone registered.

The short (3 mile) route starts from Rothersthorpe, in a short pull-in off Banbury Lane - 11am start. Make sure you get dropped off by someone as there is no room nearby to park without upsetting local residents.

The reason we need to know your shirt size: as long as you raise at least £15 in sponsorship, you will get a free Saints With Heart T-shirt. If you don't raise the amount, you will be required to cover the amount out of your own pocket. The T-shirts will be handed out at the start of the walk.

If you have any questions, please do not hesitate to get in touch.