The Easiest COYSDC Summer Quiz ever…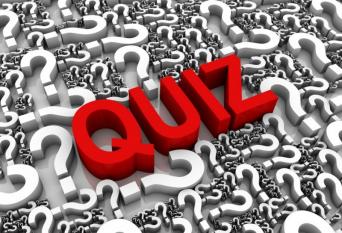 By Jon in Alaska
June 17 2012
…or is it? The answers to all these questions are obvious, once you know the answer. Until then, they may seem impossible or just plain convoluted! Let's start with some easy ones, and then it gets harder.
1. What two letters come next in the sequence?
W T L C N I ? ?
2. What is the next number in the series?
1, 11, 21, 1211, 111221, ?
3. What are the elusive characters? Missing two letters or numbers?
W A T E ? M ? L O N
4. Which doesn't belong in this set?
Seven, Button, Run, Dog, Which, I, Antidisestablishmentarianism, Rugby
5. Remove five letters from the word below to get another word.
AFPIVOELLETOTGEIRESS
6. How can you add two to eleven and get one?
7. If a clock takes 2 seconds to chime 2 o'clock, how long does it take to strike 3 o'clock?
8. Two fathers and two sons go fishing. They each catch one fish to be served at dinner when they get home. Three fish are served. Where is the other fish?
9. In this Jubilee year, why are 2012 pennies worth more than 1952 pennies?
10. In which year did New Year's Eve and New Year's Day actually happen in the SAME year?
11. Jim Mallinder's wife likes looking at Jim Mallinder, and Jim Mallinder likes looking at Jim Mallinder's wife. How many Ls in that sentence?
12. A man slices open a woman in a theatre, where she eventually dies. No one is arrested. Why not?
13. It gets pretty cold here in Alaska. I overheard a conversation this winter between two friends. One said that the coldest he had experienced in Alaska was -50F. The other, a physics major who knew that Celsius was always lower (82F is bearable, but 82C is HOT!), said that it had been colder the previous year, where he had seen temperatures down to -50C. Who had the colder winter?
14. I need to go to the store to buy some ingredients to cook with. I write down the following.
Butter
Milk
Eggs
Baking Soda
Treacle
Walnuts
Oranges
Vinegar
What am I making?
15. On a drive across Alaska, my car headlights suddenly burn out. Luckily, I am just about to enter a town. However, the town I come to doesn't have any street lights. All the buildings are painted black, and the windows are all covered. The pavements are painted black, and the road is brand new, black, and with no road markings yet. As I come to the centre of the town, a black dog runs in front of my car. Luckily, I am able to jam on my brakes and not hit the dog. How was I able to see it?
16. After my drive, I take a hunting holiday. For safety, I buy some rope. I look at one piece that is 100m long, but I have no idea how long it is (there are no labels on the spool). How can you tell the length of the rope?
17. Once out on my holiday, I leave my cabin one morning and hike 3 miles south before taking a break. I then turn due east and hike 5 miles before I shoot a bear. I then drag the bear 3 miles due north back to my cabin. What colour is the bear?
18. On the second day of my hunt, I am 3 miles due south of my cabin when I realise that I forgot my lunch. I hike back to my cabin, get lunch, then walk 2 miles due south to carry on hunting. I then realise that I left a box of ammo at the site where I originally forgot my lunch, so I hike the five miles back to it. Where is my cabin located?
19. In some parts of Alaska, the nights can get long, and send people crazy. I went to one house where, next to the bath, they had lined up a spoon, a pint glass, and a bucket. When I asked what they were for, I was told that it was a sanity test. After the woman in the house took a bath, she would call her husband in to empty it, and he would be able to use anything in the bathroom to do so. What would you use to empty the bath?
20. Once people go crazy in Alaska, they can do some pretty weird things. There's a farm nearby, and one day, the farmer's wife put all their female horses in the stable, all the female lobsters in a tank (she was from Maine, and brought them with her!), all of their male owls in a tree, and all of the male dogs in to the back yard. I saw her the following day, and she was in a panic. "I can't remember where I put the hens," she wailed. Where are they?