Death in Jimmies End - Chapter 8 - the penultimate episode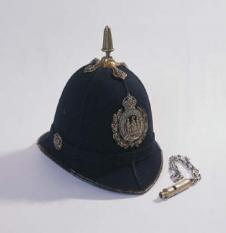 By Lundy Langer
July 14 2012
Chapter Eight – Our confusing tale nears its end -but some ends will remain loose - just so that you dear reader can come up with your own theories as to what actually happened. So onwards to the denouement – or thereabouts.
Very late Friday night / Saturday morning - Pete Shadwell emerged from the back door of the 69 club which closed behind him . He heard bolts being drawn as he paused to look at his watch - 1.37 am it said . He felt in his jacket pocket and carefully turned off the tape recorder he had had concealed therein.
Ronnie had been slow to speak at first but a mixture of vodkas and tonic and a fat brown envelope containing £ 500 had loosened his tongue and Shadwell was confident that he had it all on tape. If he was right then he had the full story of Ivan Spinks relationship with the recently deceased Celia Weedon Smythe the consequences of which would be explosive to say the least.
He couldn't wait until the morning to tell and show all to David St Albans the ebullient editor proprietor of the Midhampton Monitor and although he anticipated some harsh language he keyed in his editors private number" only to be used for an end of the world exclusive" were St Albans words - and just prayed that this was the one story worth getting the old git out of bed for.
Saturday 08.30 The Home of Lionel Rathbone.
Rathbone sat at the breakfast table drinking his second cup of coffee and wondered about his son Joshua. Did the boy actually know what he , his father had done for him - no was the short answer and he must never know .
Rathbone had two secrets - one was his predilection for young men who he picked up on his occasional and he hoped discrete visits to the 69 club. This secret which he on reflection thought that his erstwhile wife had guessed at before she left with her painter chappy for France , was one that he was prepared to reluctantly allow to come it as it were - as a cover for the bigger secret.
That was the one that involved finding the body of Joe Falattu behind the Bingo hall - after he had dropped him off . Rathbone had not driven straight off for his home but had sat in his car and thought about Falattu and whether he should have followed him to the latter's flat - who knows what might have developed he had thought. In any event after ten minutes or so of pointless imaginings he had got out of his car and walked slowly around the back of the Bingo hall intending to approach the flat block where Falattu lived from the darker side.
Just as he rounded the Bingo hall car park and started towards the Flats he saw Falattu lying on his back staring sightlessly at the street lamp to his right. In the middle of his forehead was single small but fatal hole.
Rathbone had looked around just in time to see a figure run away past the flats and back out onto the Weedon Road. It was a figure he thought he recognised - the floppy blonde hair was perhaps enough but the old style Angels away shirt in its characteristic dark green and gold hoops was quite telling. Rathbone was absolutely sure that the running figure was none other than his son Joshua.
Now as he sat at the kitchen table he wasn't sure whether his subsequent actions had been those of a cold and calculating operator or had been some sort of aberration of the mind. What he had done was certainly complicated and for someone used to surgery and the physical acts involved in cutting the human form professionally – most distasteful. The fact that he had had a medical bag with emergency surgical instruments including a bone saw in his car was somewhat fortuitous but the really hard part had been the movement of the body to the allotments and the decoration of the corpse with the vegetables .Anything to mislead had been his thinking.
Now it was done - that is but for one missing piece of the jigsaw of deception that he had so carefully plotted. The gun had to be found and disposed of because the head had been found and the bullet could lead back to him Lionel Rathbone.
He knew where it should be where he hidden it so carefully after the closure of the shooting club and the end of his hobby as a target shooter. He had put it an old filing cabinet in the garage concealed amongst the musty files and records from his time as a house surgeon at Leicester Infirmary. But now it was gone and the evidence – god he hated that word – pointed to Joshua.
There were no two ways about it he was going to have to confront the boy and get at the sordid truth. His son was a killer – but why – how ?
A loud banging on the front door stopped his frantic thoughts - he rose from the table and went to the door and opening it found himself looking into the steely eyes of Frank Malcolm who was accompanied not only by that attractive young constable but two rather heavily built uniformed officers as well.
Malcolm was holding up his warrant card and the constable – Goodbody - was holding up an official looking piece of paper.
Malcolm spoke - Lionel Rathbone -" we have a here a warrant to search these premises in connection with the murder of Joe Falattu - it is in your interests to co- operate with us ."
10.00 that morning Offices of the Midhampton Monitor
"So my young friend" boomed David St Albans" you had better play me this tape – and it had better be worth getting me out of my bed at one am for or you young man will looking for another career."
Shadwell inserted the cassette into the tape machine and turned up the volume. St Albans listened apparently without emotion until gradually a very satisfied grin spread across his face. It stayed there until the tape finished.
He looked up and positively beamed at Shadwell " Well , Pete, isn't it ? That would appear to be more than we could have hoped for."
" Mind you" he said as Shadwell smiled back at him" We can't use all of it and we will of course have to inform the Police.
" But Mr St Albans Sir - Shadwell spoke carefully" If we are careful and just drop hints and talk about sources then we can finger Spinks and let the police in when they came to ask for more. That way we get to publish a dynamite story and the Police can follow up on what so far is only hearsay."
Ok let's try it let me see the roughs by midday meanwhile we will hold the front page .
10.30 Rathbone's house
Rathbone was sitting again at his kitchen table - waiting for the police to finish with whatever they were doing. He had followed them around at first as they opened draws and cupboards but in the end had retreated to the kitchen.
As he sat there Frank Malcolm and DC Goodbody entered the room.
" And did you find whatever it is you imagine you are looking for ?" said Rathbone with more than a hint of sarcasm.
Malcolm paused and looked around as if unsure of his next move. He decided that he had to confront Rathbone.
" Mr Rathbone do you or have you ever possessed a .22 pistol ?
Rathbone visibly blanched - I 'm not sure what you mean" he stuttered . The elegant composure had slipped markedly.
I think you do sir - replied Malcolm - You see we do know that you used to be a member of the Kingsthorpe Shooting Club and participated in competition pistol events."
Rathbone stood up his fist clenched at his sides and then as if suddenly deflated sank back into his chair. He spoke softly and not without emotion." Ok I did have a pistol and it was a .22 but - but its missing ."
"When did you notice it was missing" asked Malcolm
Last Saturday morning I was in the garage where I keep it in an old filing cabinet and I just thought I would check on it and it wasn't there."
Goodbody intervened " Was there any particular reason why you decided to check on it Sir ?
Rathbone looked confused " ER no I just did"
" Right Sir" said Malcolm Apart from yourself who else lives here ?
Rathbone swallowed hard " My son Joshua - he's a schoolboy – just seventeen"
"And where would we find him if we wanted to talk to him ?" asked Malcolm .
I don't know replied Rathbone his hands now visibly shaking" I JUST DON'T KNOW . He went out last night and hasn't come home."
______________________________________________________________________________-
Saturday 13.30 pm Match day
It begins as it always does -individuals and groups of people – men and women boys and girls many wearing the distinctive green black and gold shirt of the Angels making their ways towards the ground . Some would go straight there while others made for favoured hostelries to meet up with friends .
Whatever other clubs might say about themselves there was something special about a match day at the Angels. There were no raucous and manufactured gatherings of recently acquired renta mobs - just a quiet almost dignified assembly of people with a common purpose and belief .
The talk in the pubs was light and spiced with humour - even extending to friendly conversation s with the Gloucester fans who ventured into the pubs around the ground.
This was after all rugby where mutual respect between rival fans was a cardinal virtue of the game and Gloucester was recognised by Midhampton folk as another true rugby town .
At the ground itself Hillary North was nervously thinking about what he should say to the team as they got ready for the afternoons battle. He was missing Jack and wasn't happy to be so suddenly thrust into the hot seat. Some singly and sometimes in pairs the players had arrived - changed into their warm up kits and gone out to prepare .
North looked them over and noticed that one was missing - Gerry Flynn wasn't there.
" Bloody Irishman is late again" thought North and followed the players out onto the pitch top start their warm up drills.
As the crowds assembled and the players prepared for the match the presses began to roll at the Midhampton Monitor.
SPECIAL EDITION
NIGHT CLUB OWNER LINKED TO SLAIN LAWYER
By Pete Shadwell.
The Monitor is able to reveal that are strong links between the well known entrepreneur and club owner Ivan Spinks and the murdered lawyer Celia Weedon Smythe.
Sources close to the sleazy world of Midhampton Night life have told our reporter that Spinks had been in a secret long term on – off relationship with the legal lovely .
Spinks aged 52 is single but is known to have had several clandestine relationships with a succession of women over the past few years. While in the past he was always happy to be seen and photographed with an attractive woman on his arm it appears that he took extraordinary steps to keep his latest liaison quiet.
Our informant told your reporter about secret rendezvous and unexplained absences when Spinks was unobtainable.
Anything that this paper can do help to bring to justice the killer of Celia Weedon Smythe will be done and we will be 100 % behind our fine police force in their efforts to catch her killer. We are not accusing Spinks or anyone else of anything .
But , We believe that Spinks has questions to answer and he should be prepared to give a full account of his relationship with the tragic lawyer to the appropriate authorities.
________________________________________________________________
At the Angels – 5 minutes to kick off
By now the ground was full with the black green and gold shirts of the Angels fans predominating. That is except for two small sections of the crowd where the Cherry and white shirts of Gloucester could be seen.
The players were finishing their warm up drills and began their run back to the tunnel from which in five minutes they would emerge in to then traditional massive wall of noise that only the Angels at a home game could generate.
As the players ran off to the rhythmic chanting of Angels ; Angels - Hillary North remained tense and concerned Flynn had not turned up. When with the players he got back to ten dressing room there was still no sign of him.
He looked around at the players - he would sort out Flynn later - right now he had to get a team out there . He turned to Alfie Turner -" Ok lad get a shirt on - you're playing."
Turners grin was as wide as the pitch beyond the dressing room door.
___________________________________________________________________________
Rathbone's House 13.00 hours
As Malcolm and his team prepared to leave a shattered and humbled Lionel Rathbone a dishevelled figure shambled up then drive of the impressive house and stood somewhat startled in the doorway as Malcolm and Goodbody came out.
Malcolm addressed the new arrival " You are guess are Joshua Rathbone ?"
The young man nodded sheepishly and followed Malcolm and Goodbody back into the house.
Inside the house they went back to the kitchen and Malcolm gestured for the young man to sit . Joshua sat opposite his father looked at him and started to sob quite loudly.
Malcolm waited until the boy had composed himself and then asked" Joshua do you know anything about a missing .22 pistol ?"
Joshua started to shake and with a trembling lip all but whispered" Yes - I took it but I sold it"
Malcolm stared hard at the lad while his father with total miscomprehension registered on his face shouted out " You what - you sold it ?"
" Yes" said Joshua" there's this bloke I know who offered me £ 200 quid for it - I only took it because I needed the money and I knew someone who would buy it."
" What did you need the money for" intervened his Father.
" What do you think" replied Joshua" to buy gear –to sell on"
Goodbody looked at him" You mean drugs don't you ?"
Joshua looked at the table" Yeah - not for me though - for kids at school".
Malcolm had listened intently to this exchange and realised that there were some very interesting questions that were yet to be answered. He looked at Rathbone and then at his son" Mr Rathbone , Joshua I think that you both have a lot of explaining to do. I think that we had all better go back to Police HQ and we can conduct formal interviews there.
Rathbone sat shaking his head and murmured" Oh My God what have I done - have I got it all wrong ?"
__________________________________________________________________
The individual who called himself Longshanks when posting on the Come on you Angels message board took his seat towards the front of the Shoemakers Stand and felt around inside the green Angels duffle bag on his lap. His fingers found the mobile phone and he was contented that it was there.
He had been coming to Angles matches for many years and was a season ticket holder of long standing. In his late -forties he was not a big man. Indeed in the dark with a slim figure and floppy blond hair he looked almost effeminate and had many times been mistaken for a girl or a much younger man than he actually was.
He was wearing as he always did on match days a slightly faded older version of the Angels away shirt .
Longshanks was a loner - unmarried he lived alone and appeared to earn his living security guard which meant that he worked a lot of nights. He didn't earn much as a security guard but an army pension secured after 22 years' service kept the wolf from the door. He also had a lot of time to himself , time which he used to brood and feed his resentment .
He had always regarded himself as a patriotic Englishman and he resented the incursions of foreigners be they Asians ,Poles or whatever into his country. This was of course sadly not an uncommon attitude but Longshanks took things one step further. He believed that English should mean English and as far as the Angels were concerned they should be an English team throughout. For Longshanks that meant that foreign players – non English players had no place in the team .
What had stirred his resentment into action had been the signing of Joe Falattu which had occurred at the same time as two promising local lads had been let go by the Angels Academy.
But today- using the knowledge he had acquired during his army service he planned to make his point explosively.
_______________________________________________________________________
Gerry Flynn opened his eyes and felt both sick and as if his head was being pounded by a large heavy object from the inside.
He carefully looked around – he appeared to be lying on mattress . There was a little light coming into the room if that is what he was in from under a door . No it was an up and under door like in a garage .
He could move - slowly he sat up and a wave of nausea almost caused him to wretch and fall back on to the dirty mattress. He tried again and this time succeeded. He looked around. He was in a garage - shelves with jars of screws and other bits lined the whitewashed walls.
He got up and pushed against the door it wouldn't move. He looked around again and saw a length of metal pipe in the corner of the garage . Flynn was a big man and normally strong and fit. He was sure that the pipe could be used as a lever to shift the door.
He looked at his watch 2.15 -"Mother of God the boss is going to kill me" he thought .
And with that he inserted the pipe under the door and began to rock it too and fro.
Midhampton Police HQ 14.30 hours
Both Rathbone and his son had been formally interviewed. In each case they had been accompanied by Rathbone's solicitor.
Joshua between sobbing fits had told how he had established himself as a supplier of drugs –mostly skunk but also some cocaine to sixth formers and others at Midhampton Collegiate School. He had told how he needed money to pay his supplier and had discovered the pistol by accident while rummaging through the garage looking for something he could sell. Joshua had realised the potential value of the pistol and was certain that he knew someone who would buy it.
He had been able to describe the purchaser - a man of about forty or fifty – slim -medium height with longish fair hair. He didn't know his name but he hung about with some other blokes in the White Lion a public house well known to the police as a favourite watering hole for adherents of the so called England First movement.
Rathbone seniors interview had been more difficult both in terms of the painful realisation by Rathbone that he had done what he had done to protect his son believing him to be the killer of Joe Falattu and the fact that he , a pillar of the Midhampton medical establishment had used his knowledge and skills to mutilate a corpse and ridicule the deceased by the additional humiliation of the placing of the vegetables.
What Malcolm now knew was that Rathbone's bizarre deceptions had succeeded in letting the real killer remain at large.
He was about to call the team together to debrief them when Goodbody rushed up to him brandishing a copy of the Monitor . He saw the front page
"Don't get any easier does it Boss" said Goodbody.
At roughly the same time as Acting DI Malcolm took in the implications of the Monitors lead story the subject of that story was packing a bag .
Spinks had read the story and after cursing everything and ever body had sat down and thought about things.
No one could understand the rage he had felt when Celia had taken up with that fat stupid copper. True they had had problems but hadn't he always sorted things out. It had been a betrayal . That was the only word to describe what she had done to him and people who betrayed Ivan Spinks paid the price.
Of course it was probably that little runt Ronnie who had spilled the beans – and he would get his when the time was right. But right now it was time to disappear for a bit. No one could prove anything and given a bit of time it would blow over.
His first instinct had been to get out of the country - Spain would be nice – but. that was so obvious - no he would just go and visit his brother in the smoke for a few days.
At The Angels 15 – 45 pm
It was half time and the Angels were leading Gloucester by 7 points to 3- . A push over try by the formidable Angels pack converted by Ryan Myler to a penalty goal for Gloucester. Just on the stroke of half time the young tyro Alfie Turner had what the faithful were convinced was a try disallowed for an alleged knock on.
As the crowds moved about – stretching their legs – replenishing their beer intake – queuing for pies and pork rolls – or just standing under the archway entrance smoking - a police car pulled up at the main entrance to the Angels admin bloc and a very dishevelled Gerry Flynn got out accompanied by two uniformed officers.
They made their way -led by Flynn to the players dressing room.
Exclamations and Expletives filled the air as both players and coaches saw Flynn and the two policeman enter then dressing room.
Flynn briefly explained to Hilary North why he had not turned up for the match - North was incredulous
" Reckon you was drugged do you ?" asked North
" Seems like it" replied Flynn" but I'm OK now and I have got to go with these gents here to the cop shop, to make a statement. " You see I saw the guy – who did this and Im pretty sure I've seen him before at games – here.
____________________________________________________________________
Illtyd Williams had been one of those standing having a half time cigarette under the archway and he had seen the police arrive with Gerry Flynn. His already troubled conscience was disturbed further by this sight. There is something going on he thought and maybe I know something that I ought to do something about.
He discarded his cigarette and moving away from the rest of then smokers took out his mobile phone and a small card with the direct line number to Clare Goodbody and keyed in the number.
" Hello, Detective Constable Goodbody - how can I help you"
" Look I've got some information – its Illtyd Williams – you remember me - right Ok – it's this Longshanks thing - I think that you need to know who he is – I think he's involved in the murder of Joe Falattu and other things as well .
" Yes well he's probably here - at the match - he always sits in the same place. OK I'll wait here for you.
Williams paced up and down while waiting for the police - the game had restarted and Angels were pressing hard going through then phases on the Gloucester 22. It was hard not to drift back under the archway to watch the game.
Then a police car swept into the village area and Clare Goodbody and two uniforms got out.
" Mr Williams" said Clare" what can you tell us ?"
Williams told her who Longshanks really was and where he would be – he also told her about then killing of his cats after he had warned Longshanks about his postings in the message board.
" Ok" said Clare" Let's go and see this Longshanks" and she led the two uniforms followed by Williams out onto the concourse and the pathway that went around the pitch.
Williams pointed towards the Shoemakers Stand" See there - by the aisle just behind the players tunnel - the bloke in the darker shirt with fair hair."
" Is there a back way around ? –asked Clare we don't want to panic him or anybody else"
" Yes" said Williams" Come with me – we can go round the outside and come into the Shoemakers from the top at the back.
Unfortunately Longshanks had seen them.