Death in Jimmies End - Denouement at no side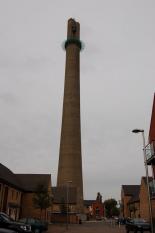 By Lundy Langer
July 16 2012
And so, to the relief of the picture editor - we reach the final episode of our "Nortampton Gris" detective tale
So we bring our twisted tale to an end - it's been both a bit of fun and a struggle – the struggle has been in trying to condense into reasonably sized episodes what really required much more explanation and thought and time than we could give to the project.
Apologies are due for the inconsistencies and seemingly odd lurches in the plot as your author desperately tried to remember where we were supposed to be going with it all.
Your author has learned a lot from the experience – mostly that writing stuff is a lot more difficult that you think it is.
The TV rights are available and Sir Kenneth Brannagh is on standby to play the role of Sergeant Malcolm.
Well that's it and I'm off down the Hop Bin for pint of "Old Pete."
CHAPTER NINE - Conclusions and loose ends
The Angel's rugby ground - 16.05 pm - Angels 13 Gloucester 15
As Goodbody and her uniformed colleagues made their way around the back of the Shoe Makers Stand all eyes were on the action on the pitch where the Angels heavy weight pack were driving hard 10 meters from the Gloucester line. It was pick and go just to then right of the posts. The Blind side was tempting as only one Gloucester player was in a position to defend a fast and determined thrust by the Angels
The whistle went and the referee Rowdy Ashton signalled that Angels had knocked on and a scrum was indicated with the Cherry and Whites to put in.
All around the ground teeth were gritted and jaws tightened in disappointment but then this was replaced by a surge of support – surely the pack could do it – push Glaws off their own ball. Angels ; Angels ; rang out thunderously around the ground as the scrum was set.
The hit was good and although the Gloucester pack stood firm a second shove from the men in gold black and green started to push them back. The noise levels rose to a crescendo. Gloucester really were going backwards and the referee was scuttling around the scrum - whistle ready and arm poised to be raised.
At the same time oblivious to the drama on the pitch Goodbody reached the aisle just behind the scruffy looking individual who Illtyd Williams had identified as Longshanks. She reached forward intending to tap him on the shoulder when he reached into his duffle back took out an mobile phone and keyed in a number.
Now Longshanks was quite good at electronics and thus had been able to set up a device that would activate as a result of receiving a pre-set signal from his mobile phone. The device was secreted inside the padding at the foot of the left hand post at the Gloucester end of the pitch. The signal worked.
Longshanks was not , however very good at chemistry and the mixture of ammonium nitrate weed killer which was to be the main charge in his device was not well prepared. It had been left overnight exposed to the air in the thermos flask Longshanks was to use as his "bomb". He had not screwed on the lid until the last minute. The highly deliquescent properties of ammonium nitrate now conspired against him as although his stolen detonator went off the main charge was very very damp.
So as the scrum went backwards and Rowley Ashton's arm went up to signal a penalty there was a sharp crack - and a cloud of smoke from the base of the left hand post – the post swayed a bit but that was all.
Longshanks saw Goodbody and her colleagues and rose in his seat. He stared at the post at the far end of the ground which was still smouldering but otherwise unharmed. He had failed . With an unintelligible bellow of range he leapt forwards running down the few steps to the barrier at the edge of the pitch and with an athleticism that belied his age and demeanour vaulted the barrier running out into the centre of the pitch.
Play had stopped as the referee and players from both sides looked alternatively at the smouldering post and now at the strange figure running onto then pitch.
Yellow jacketed stewards ran after him – but he was too fast for them and within seconds was advancing towards the main group of players who were stood about under the posts at the Gloucester end of the pitch. As he drew near he pulled from his jacket an object that he waved about - it was a .22 pistol.
He ran towards the players screaming incomprehensibly . Suddenly players and officials and spectators realised what he had in his hand. He stopped and started to lower the pistol as if to take aim.
He raised his arm which was shaking and seemed to point the weapons at one of the Angels players when like a great dark missile the long form of Winston Rules the Angels giant lock forward flew through the air and flattened him. Longshanks did not get up.
Players gathered around his prone form as Clare Goodbody and the two uniforms rushed up.
Longshanks lay pale and moaning on the turf. Goodbody leaned over him and said
"Gordon March , I'm arresting you on suspicion of the murder of Joe Falattu and for other offences under the firearms and anti - terrorism acts. "
Longshanks looked up at the Detective Constable as she prepared to handcuff him.
"You fools "he said "you fools !! "
Goodbody ignored him and pulled him to his feet and with the help of the two constables ushered him from the pitch into a waiting police car.
______________________________________________________________
Rowdy Ashton blew long and hard on his whistle – and called the players from both teams together. "Did they want to play on ? "There were seven minutes of game time left .
Both captains said yes they did and Ashton re set the scrum five meters out from the Gloucester Line with as before a Gloucester put in. This time the Gloucester pack held up and managed to get the ball away. A long kick down the pitch failed to find touch and suddenly the Angels fullback was cutting through defenders with one of his characteristically fast and mazy runs. He was tacked just outside the Gloucester 22 but off loaded to Alfie Turner who stepping on the gas bursts past the last defender to score in the corner.
Angels 18 - Gloucester- 15 and 4 minutes to go.
Ryan Myler steps up to take the difficult attempt at a conversion which will mean that Gloucester have to score twice in a few minutes to win the match. He lines up on the ball and as he always does looks up at the posts . He steps up and kicks. The ball flies through then air. - breath is held around the ground as in absolute silence 13,000 people watch its journey. Is it on course – yes – no - NO it hits the left hand upright and bounces back into the field of play.
Red and white shirts gather to collect the ball but two players go for it once and collide leaving the ball bouncing loosely towards the onrushing Angels players - Local lad Phil Biggins gathers it and sprints over the line TRY !! The crowd go wild and the chant of Angels ,Angels can be heard far beyond the confines of the stadium.
The match is won.
Midhampton Police HQ 20.30
Acting DI Malcolm and Clare Goodbody sit in the DI's office. They have taken a break from questioning Gordon March.
Malcolm shakes his head and looks at Clare "You know what gets me is that he actually came into this building to complain about me and my boat on the river. Bold as brass he was and I just thought he was some busybody ."
Clare nodded "Yes that was odd but probably in character – we sent some of the lads to look for his boat and we found out that what he was in that morning on the river wasn't his boat – he had hired it for the week. Its where he kept all his gear – his electrics , bomb making stuff so that there would be no traces at his home. Mind you when we searched his home we found all sorts of unpleasant pamphlets from that England First mob and who knows what's on his computer?"
Malcolm – grimaced "I knew I should have followed up on "his boat "after he came in here but we were totally misled by that damn doctor. Makes charging that idiot with wasting police time a bit thin don't it ? "
Clare smiled "Oh I think failing to report a death ; mutilating a corpse - and a lot of other things could see our Mr Rathbone facing a very embarrassing and costly day or two in court."
"Yes , you're right there "replied Malcolm. "Any way despite then garbage that our friend March is spewing out – I think that once ballistics confirms that we have got the weapon that killed Falattu – he will break.
Clare got up "Sir - we can hold March for another 24 hours so there's no hurry now and I could do with a drink "
Malcolm grinned back at her "I think you right - so let's go have a drink - oh and when we're in the pub – you can drop then Sir stuff – it's Frank .
"Right then Frank "replied Clare "Let's go
EPILOGUES
Two days later - Bert's Shed
Bert Haddon was reading the Monitor's account of the bizarre incident at the Angels match and arrest of Gordon March when Clare Goodbody appeared in the doorway to the shed.
"Hello Bert , I just thought I would call in to see how you're doing now it's all over."
Bert Looked up "Oh hello Love – so you got him in the end then – cup of tea ?
Clare said that would be nice and sat down in the other chair. While Bert rose from his battered easy chair and set about making tea.
"Course "he said "You should have come back and asked me about that nutter - known about him for quite a while. Him and his mates ."
"Really? "queried Clare "what did you know then ? "
Bert paused to stir several sugars into his cup and gave the other one to Clare. "Well it's like this "– he replied "I makes it my business to know what's happening on my patch and apart from his daft stuff on that message board I seen him pushing them nasty leaflets through peoples letter boxes."
Clare sipped her tea - which was quite strong "Didn't you think to tell anyone about your suspicions ? "
Bert looked shocked at this suggestion "Nah - who'd listen to an old fool like me – anyway what do think I am some sort of policeman ?
Later that evening Bert went home and after his tea went upstairs to his bedroom. He opened his wardrobe and moving aside the two old tweed jackets and his one good suit he stared at the jacket and trousers neatly handing at the back of the wardrobe.
Bert had first appeared in Jimmies end some thirty years ago and had told people how he had once worked as personal driver and mechanic for Lord Masters the motor racing enthusiast and at the time a government spokesman on Civil defence in the house of Lords.
This may or may not have been true because even through the plastic cover all the garments at the back of Bert's wardrobe were identifiable . They were clearly a uniform of some sort – actually a very particular sort - a light brown –not quite khaki with very obvious shoulder boards,. These were a distinctive blue with three small gold stars on them.
Bert smiled to himself and said out loud without a trace of Midhampton accent – "Well I never did get to wear it - some sort of policeman indeed!! "
Six weeks later - Near Twickenham West London.
Pete Shadwell had decided to make a weekend of it and was walking along the road towards the pub where he was going to meet up with some Angels fans down for the League Final against Harlequins.
As he neared the pub he passed in a shop doorway a very sad looking sight. A man was curled up under a sleeping bag . He was dirty and next to him was an empty can or three of strong lager. He was also wearing – it was just visible and despite the tares and soiled appearance - the very distinctive multi-coloured shirt that betokened Harlequins.
"Blimey "though Shadwell "I always thought that their fans were supposed to be quite classy ? "
He looked again at the man who remained huddled down with his face turned away. and carried on towards the pub.
About twenty yards or so further on Shadwell turned again and looked towards the shop doorway. The man had stood up and was unsteadily gathering together his belongings. Then he turned and looked straight at Shadwell who looked straight back at the man.
Recognition bounced between them . The man turned and scuttled off back down the road . Shadwell stood staring after him " It can't be - no it can't be I , we all thought he'd gone to Spain.
Pete pulled out his mobile phone
"Hello News Desk - yes it's me Pete Shadwell – you'll never guess who I've just seen ?
____________________________________________________________________
THE END