News: A grand day out. - Cherries picked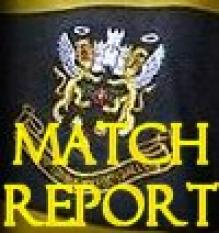 By Lesley Jarvis
September 2 2012
The first day of the new season brought nervoursness in bucketloads for the Saints faithful. So many unknowns, sow many known unknowns - Donald Rumsfeld would have had a field day. Instaead the Saints had the better of the day, with an immense perdormance Lesley was there as was Ugly.




Aviva Premiership Round 1
Gloucester Rugby vs Northampton Saints
Kingsholm 1st September 2012 K.O. 3p.m.
Gloucester 19 Saints 24
The last time that your matchday reporter was at Kingsholm,dear reader,was the day that Air Bruce broke his leg - not a happy day for him,yours truly and indeed anyone of the GBG persuasion.I was hoping for a lot better today,and didn't my hope turn to reality!
Our weekend of rugby began on Friday,leaving home at lunchtime in holiday mode and heading South West,we arrived at our hotel in time for tea and cakes,just 2 hours after leaving home.Not the warmest of days,there was a distinct feel of Autumn in the air.But the weather forecaster said to expect 22C by 3pm on Saturday.Now that would be fine for the start of Saints 2012/2013 season.With the Paralympics in full flow and many Saints' Supporters still on holiday,rugby wasn't foremost in my mind.
Saturday began for us with a healthy and filling breakfast,before we went in search of some non-shopping entertainment.We went to the RSPB's Highnam Woods...and saw just 1 bluetit and a grey squirrel! But the bank balance felt the benefit and so did my complexion...so much mud.
Lunch was a rare treat - the Kingsholm Chippy.We dined Al Fresco...well we leaned on a garden wall and chatted to some Cherry and White supporters.Then we found our way to Spartans RFC.There were plenty of Gloucs and Saints supporters there,and it was nice to have a chat and catch up...As time was moving on,we headed for the ground..and the quiet roads were due to pipework replacement.No traffic to speak of,but after the game,getting out was as difficult as leaving Welford Road!
Inside the ground not only the teams were warming up...The Shed was in fine voice..they certainly know how to cheer their team.I was hoping that our dear Wendy would be heard.
On top of the Shed roof,a figure in red lit a red flare...and we started looking skyward.Sure enough,a plane appeared shortly before KO,and out jumped not one,but six Red Devils.They all landed safely on the pitch,the last one who carried the Glaws flag,skidding across the turf and landing on his rump.Excellent stuff!
Saints were awarded the first scrum,much against the advice from the Shed! Then Saints won a lineout and drove towards us and Gloucs collapsed it.Another lineout,with all around me calling for Saints to take the points.Another scrum to Saints,but offside they go and the ball is cleared by the hosts,much to the relief of the home crowd.But it wasn't long before Saints were in control and Pisi (G) scores in the corner.A lovely try,converted by Lamb. Saints follow this up with more exciting,running rugby but knock on just before the tryline.The scrum to Gloucs sees them robbed and Cap'n Dyl scores by the corner flag.The conversion was good and Saints are flying,Glaws aren't at the game.The home team have a penalty,kicked by Burns and the score is 3 - 14.More blistering stuff from Saints,then Gloucs have their second penalty.With 2 mins to go before half time,Saints elect to kick the next penalty and as the half ends,it's 6 - 17.
It's a different Gloucester team that start the second half.Saints seemed to play some sloppy stuff and give away penalties.With the score at 12 - 17,Saints need to score next...and so they did! Pisi scores again and the convertion took the tally to 12 - 24.Saints start to throw the ball around a bit too much and gave the hosts a scrum,but the turnover comes.Saints next rolling maul sees them trundling toward the docks and are awarded a penalty...which they miss! The restart sees a penalty given to Saints as Gloucs take out a man in the air.The kick doesn't find touch and they return it with interest.From the lineout in Gloucester's half of the field,a pass was intercepted by the man in Cherry and White...was it young Twelvetrees? No matter,he galloped hell for leather towards the tryline,but was caught by Mr Pisi,I think.That run had all supporters on the edge of seats and roaring both players on.Lamb cleared the ball safely and is then replaced.
Gloucester did cross the line but only for Mr Pearson to say "held up".They had an advantage and took a kick for the lineout.They won the ball,but their number 7 was clotheslined by our 8,who saw his first yellow card in GBG. For their penalty,they made the excellent choice to take a scrum.It looked as though they were within 10 meters of the line and Saints were under pressure.After 3 resets,the following collapsed scrum sees Saints down to 13 men.The Mooje returned and Woody leaves the field...and then the inevitable penalty try was awarded.But it had eaten up a goodly portion of the first sinbinning time.
When DD awarded the PT,Castle Grim errupted in a wall of noise.The place was rockin'!
Woldouck was injured and stayed down for quite some time...and his legs seemed wobbly when he left the field.Young Mr Burrell replaced him and play continued.
A very tense scrum held up for Saints,long enough to clear the ball,but Gloucs attack once more,only to knock on.But again they turned the ball over...but the ball manages to go loose and Lee Dickson hacked upfield to safety.By this time,with less than three minutes left on the clock,Saints are back to 14 players.In the final moments of this very well fought opening game,Saints gained a lineout ball and drove towards the hosts 22 only to give away another penalty.But Mr P decided that time was up.
So 4 points go to Saints at Kingsholm on the opening day of the season.A very good start,but some injury worries for next week.I will let Jim and his team worry about that one.Now I need to go and raise a glass to our boys.
I am sure Lesley will not mind this addition from Ugly!
From Ugly - Put in here for posterity
With all due deference to the bard...

God's will! I pray thee, wish not one man more to come to Kingsholm.
No, faith, my coz, wish not a man from England or Northampton.
God's peace! I would not lose so great an honour
As one man more methinks would share from me
For the best hope I have. O, do not wish one more!
Rather proclaim it, St Rich, joe, Niamh and Sam's Dad,
That he which hath no stomach to this fight,
Let him depart and all his Eif - his passport shall be made,
And crowns for convoy put into his ahrse;
We would not ruck in that man's company
That fears his fellowship to maul with us.
This day is call'd the feast of Giles.
He that outlives this day, and comes safe home,
Will stand a tip-toe when this day is nam'd,
And rouse him at the names of Giles and James exalted
He that shall live this day, and see old age,
Will yearly on the vigils feast his neighbours,
And say "To-morrow is Saint Giles."
Then will he strip his pantaloons and shew his jewels
And say "These sunburnsI had i on St Gile's day."
Old men forget; yet all shall be forgot,
But Howlin will remember, with advantages,
What feats we did that day. Then shall our names,
Familiar in his mouth as household words-
Flatt, Marlowe, FlintstoneSaint, Moanjam,
Saints Francis, Vincent, Tim and Tedge
Be in their flowing cups freshly rememb'red.
This story shall the good Saints teach their sons;
And Giles nor All Saints shall ne'er go by,
From this day to the ending of the world,
But we in it shall be remembered-
We few, we happy few, we band of brothers;
For he to-day that shed his blood with Pisis
Shall be my brother; be he ne'er so vile,
This day shall gentle his condition;
And gentlemen in England now-a-pub
Shall think themselves accurs'd they were not here,
And hold their manhoods cheap whiles any speaks
That fought with us upon Saint Gile's day in fayre ShedSturia
Photographs courtesy Red Hat