News: HC Pool 4 Saints v Glasgow, Saints win 5 points to Nil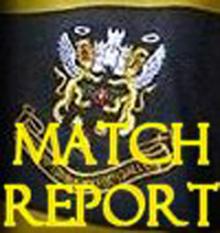 By Serious Saint
October 14 2012
At Last, European Rugby is back. After months of Heineken discord, squabbles, breakaways and resignations (pick your own headline) we finally get some meaningful action. As a first time correspondent for COYS I travelled to The Gardens today in a high state of anticipation. Whilst the lunch time kick off served to bring into sharper focus the much debated lack of chicken balti pies the alliteration potential of two Tongans in the tight (one called Tint) at least had my literary juices flowing. I was hopeful, from a Saints perspective, that the rugby would be flowing too.
Heineken Cup Pool 4 Round 1
Northampton Saints v Glasgow Warriors
Franklin's Gardens
Sunday 14th October 2012 KO 12:45
Saints 24 Warriors 15
Match Report - Serious Saint
The stats favoured the Saints with a head to head record of 3 wins to 1 from the four times that these two clubs have met in Europe. Added to this the Glaswegians inability to beat a Premiership side away in this competition boded well. However, after the recent final quarter shenanigans against those other Warriors and last week's disappointment at Irish, nothing could be taken for granted. Glasgow, whilst suffering something of an injury crisis, still travelled with a strong team littered with internationals. Sean Lamont on the wing and Gregor Townsend, in the dugout, were returning to a previous place of employment and it was good to see them back.
Jim had made four personnel changes to the side that had started the previous weekend with Dylan Hartley, James Wilson and George Pisi all back from injury and Rhys Oakley reclaiming the number 8 spot. There were a number of positional changes as a result with Vasily Artemyev returning to his preferred wing berth, Lawes moving into the second row, Dowson to blindside and Dom Waldouck to inside centre. Needless to say Dylan returned as captain and his reassuring figure lead the team purposefully onto the pitch to receive the usual Franklins Gardens welcome.
Glasgow started the game with good attacking intent and looked the better of the two sides in the early exchanges. It took a pressure relieving 70 metre break by Ken Pisi to actually get Saints out of their own half
but the cover defence brought him down 20 metres or so from the try line. The relief was short lived and before long Glasgow were knocking on the door again. A penalty for a collapsed scrum against the Saints and Horne took the points on offer. With the exception of a missed penalty from Myler and a trip upstairs for a "No Try" verdict from the TMO, against Ken Pisi, it was all Glasgow for the first half an hour. Even though they had lost full back Hogg early to injury Glasgow were unaffected and were relentless. Almost inevitably on 24 minutes, after concerted attacking phases, soft hands from skipper Kellock sent in the bear-like Strauss for the opening try. Horne added the extras and it was 0-10 to the viitors. Glasgow were in control and within 4 minutes had increased their lead as Lamont evaded Artemyev, G.Pisi and Waldouck to score out wide. It was a disappointing try to concede although Horne was unable to convert.
0-15 down after 30 minutes and Saints were looking down the barrel as Strauss, in particular, made inroads all over the park. However, the half was to reach an unlikely conclusion as Manoa put in a barrelling run down the middle and passed onto George Pisi. George's attempted inside pass fortuitously bounced off a defender back into his arms and over he went. Saints were on the scoreboard at last although the usually dependable Myler missed the conversion from the touchline.
At this point most of us would have been happy enough with a half time score of 5-15 after all the Glasgow pressure. Not Ken Pisi who, within minutes of the previous try, set off on a glorious arcing run from close to thehalf way line. He glided through the defence and put his brother over for a photographer pleasing finish in front of the Sturtridge. Myler at last found his kicking boots and the players headed off for half time with the score of 12-15 to Glasgow but the Gardens feeling like a hopeful place.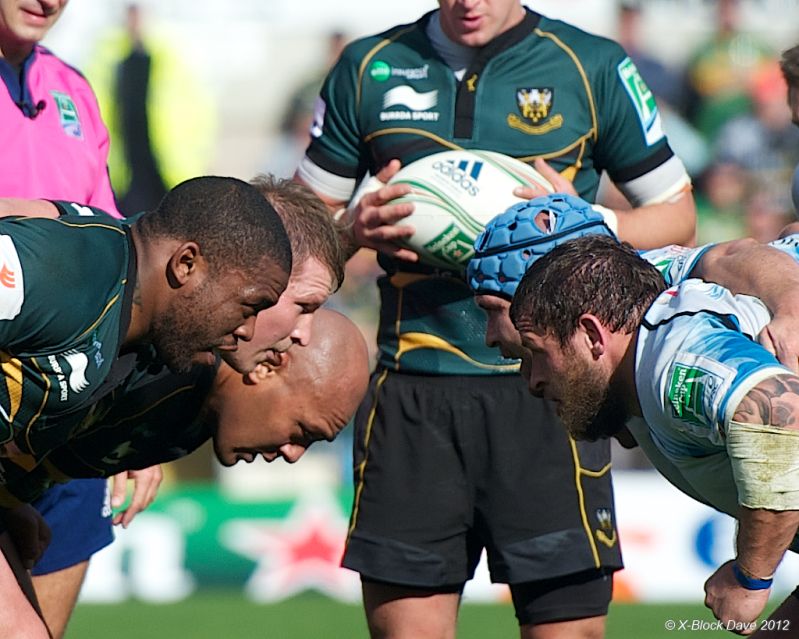 Saints had begun their comeback but this game changed at half time and whatever Tiny Tonga'uiha had with his oranges I want some! He and captain Hartley came out after the break and laid waste to Glasgow creating a platform from which this game was won. Just 2 minutes after the restart an attacking lineout was caught by Lawes and Tiny, with Dylan in tow, pushed forward. The move was carried on by Waldouck, Tiny (again) and Tom Wood before recycled ball found it's way to Myler, via Hartley, for a simple finish. His conversion bounced off the woodwork but Saints were 17-15 to the good and at last had a lead that they would not relinquish. Saints were now looking good and almost immediately another lineout saw Tiny once more on the charge with Hartley in support forcing Glasgow to infringe. The volume in the ground was increasing and Saints opted for a lineout with Oakley taking clean ball. Tiny, Mujati and Manoa took the opportunity to soften up the defence before Tom Wood was just forced into touch 2 metres out.
Wilson limped off after 57 minutes with Myler switching to full back and Lamb coming on at number 10. Although the score remained close there was only going to be one winner and after another unsuccessful visit to the TMO, on behalf of Dylan, and a final missed Myler kick, Saints put the game to bed. After several attacking phases a beautiful cut-out pass by Lamb to Stephen Myler enabled the stand in full back to put Artemyev in in the corner on 71 minutes. Lamb nailed the touchline conversion and Saints had the bonus point win. The clock ticked down and the crowd of 12,115 applauded the 24-15 victory. Also appreciated was the much deserved award of Man of The Match to Ken Pisi who, is the find of this season, as his brother was last.
Late in the game Waller replaced Tonga'uiha as, simultaneously, his fellow countryman Fainga'anuku entered the fray for the opposition. So my chance to describe a Tongan tussle had gone but by then we had all seen the sensational Samoan siblings and I was happy enough with that.
Richard Lewis
Photos courtesey Tusker and X-Block Dave
Post Match reaction